If you're a high school student and are already eyeing a career as a nurse, the good news is that you're ahead of the curve. While many of your classmates are still trying to figure out what they want to do with their lives, you can start planning now to make your career a success. There are many ways high school students can start preparing to earn a nursing degree.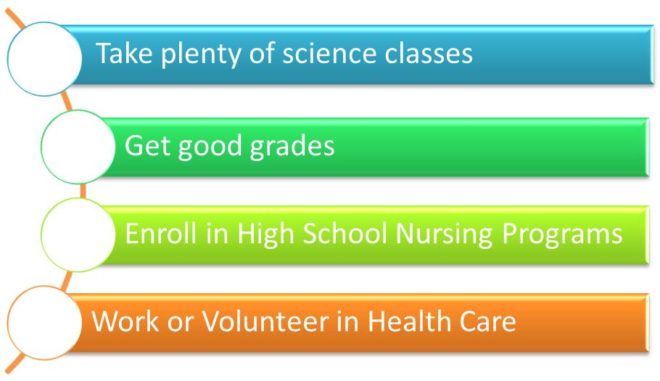 Make the Most of Your High School Courses
To prepare for the rigorous coursework of a nursing degree program, prospective nurses should take plenty of science and mathematics classes while in high school. By choosing the right classes, you can start to learn subjects like biology, psychology and anatomy and physiology even before you graduate. Many high schools also offer some opportunity to learn more about fields like psychology, the study of human behavior.
Health and physical education classes can also help students to learn about the basics of nutrition, disease and how the body works. Even if your school does not require students to take health education courses, these subjects can be helpful for any student planning a career in the health care industry.
Math and science courses may make up most of your major studies in nursing school, but you still need to do your best in your other courses, as well. Though you may not be interested in majoring in English or history, a Bachelor of Science in Nursing (BSN) degree program will most likely require you to complete some liberal arts studies. Successful nurses need to have excellent communication and critical-thinking skills, which often develop from experience with reading, writing and participating in critical discussions.
College degree programs in nursing require students to take classes in biology, chemistry and anatomy and physiology, according to the United States Bureau of Labor Statistics (BLS). 
Shoot for Straight A's
Learning the foundations of these different disciplines of science and mathematics is the primary reason for taking these classes during high school. However, it's also important to keep your grades up in every subject. Getting into nursing school is far from easy, and having poor grades in high school can make it even more challenging.
Even at the most accepting community colleges that admit every student regardless of past grades, nursing programs can be highly selective. Students often need to complete prerequisite math and science courses at the college level before they can officially be accepted into the nursing program. In some programs, students may need to earn minimum grades (even straight A's) in all of their courses just to get into a nursing degree program. There are several reasons nursing school is so competitive, some of which may surprise you.
Thanks to a combination of nationwide shortages in nursing instructors and a scarcity of clinical space for students to gain hands-on experience, nursing is a notoriously competitive field of study.
Enroll in Nursing Classes in High School
You need more than a high school diploma to become a nurse, but you can jump in and get your feet wet even before you graduate. High schools and vocational-technical schools sometimes offer programs that train students to become licensed practical nurses (LPNs), licensed vocational nurses (LVNs) and nursing assistants. Not only do these programs introduce you to the knowledge you will need to ultimately become a registered nurse (RN), but they can also qualify you to begin working in the field of health care alongside RNs.
Starting your career as an LPN, LVN or nursing assistant won't reward you with the same salary you would earn as an RN. However, this education can help you get started working in the health care industry so that you can gain valuable experience.
The education program required for LPNs and LVNs takes about one year of study, but nursing assistant programs can be completed in a matter of weeks.
Gain Real-World Experience
Though it won't replace the required clinical work within a nursing degree program, any hands-on health care experience you gain now can be invaluable. You will get to see for yourself what the daily work of a nurse or other health care provider is like. You can make professional connections and perhaps even find a mentor. The experience you have can even help make your application for nursing school stand out from the rest.
Of course, it's difficult to find even a non-clinical role in a health care facility if you don't yet have a high school diploma. Volunteering at a hospital or finding a nurse to shadow can be the first step. These options will allow you to become accustomed to working in health care and possibly even give you the opportunity to get to know some patients and see the patient side of the nurse-patient relationship.
Shadowing a nurse before starting your college education can help you make sure nursing is the right career for you, according to U.S. News & World Report.
It takes a good deal of time and effort to become a registered nurse, but high school students who are serious about their career goals can take steps now to achieve success. Taking and earning high grades in the right classes and programs during high school and devoting time outside of school to forging a path into the health care industry can help you make your dreams of becoming a nurse a reality.