If you've ever had a good massage, you know how therapeutic the experience can be. Massage professionals are trained to use specialized, therapeutic touches to manipulate the soft tissues of the body to achieve relaxation, stress reduction, improved circulation, pain relief and other therapeutic effects. There are plenty of career opportunities for massage therapists, who are expected to see double-digit increases in job growth.
Generally, becoming a massage therapist requires the completion of a massage therapy training program.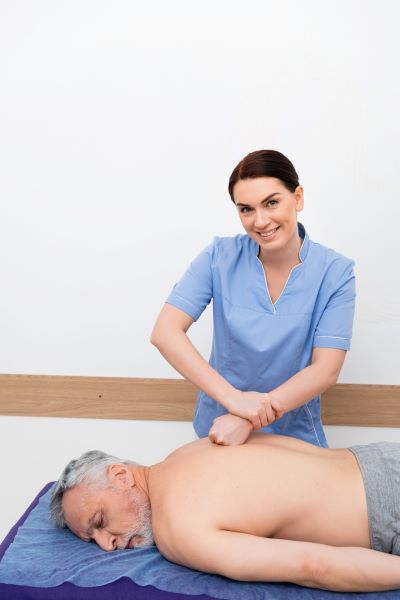 What Is Massage Therapy?
It takes more to become a massage therapist than being able to give a good back or shoulder rub. Licensed massage therapists are classified as actual healthcare workers, according to the United States Bureau of Labor Statistics (BLS).
Massage therapy is the term for the use of massage skills and techniques by formally trained and licensed practitioners. Most formal training programs in massage technique characterize themselves as massage therapy programs.
The Effects of Massage Therapy
Massage therapy can include a variety of massage techniques, modalities and types. Some massages are performed with a specific goal in mind, like the treatment of an injury, while others are performed purely for relaxation and physical comfort.
What all types of massage have in common is that they are performed in service of achieving increased wellness and well-being. Some of the ways that massage therapy can improve health and wellness include:
Alleviate stress
Heal physical injuries and improve physical symptoms of injuries or illnesses
Stimulate nerves to reduce pain
Increase blood circulation
Promote relaxation of the body and the mind
Research has shown that massage therapy can have effects like improving sleep patterns, reducing pain levels, decreasing stress and anxiety that can contribute to depression and even reducing side effects from serious medical interventions like cancer treatments, according to the National University of Health Sciences. In general, massage therapy can improve quality of life for both healthy people and people suffering from serious or chronic medical conditions.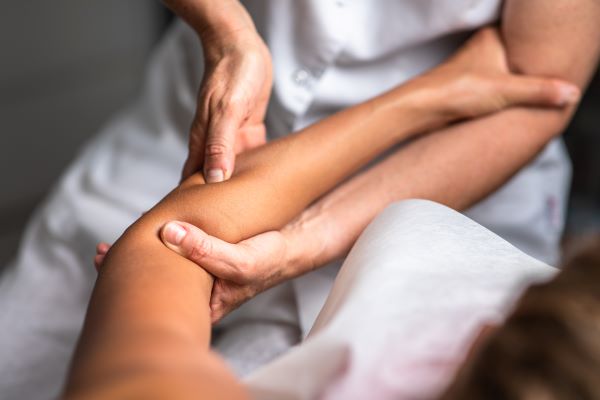 Therapeutic Massage
Massage therapy is not to be confused with therapeutic massage. While massage therapy encompasses the breadth of work performed by qualified massage therapists, therapeutic massage is one specific kind of massage therapy.
Therapeutic massage, also known as medical massage, is the physical manipulation via touch that is tailored to the medical needs of the individual, according to the Cleveland Clinic. Because therapeutic massage is unique to the patient's specific needs, there is no one technique, modality or routine that constitutes therapeutic massage.
RELATED: What Can I Do With a Degree in Physical Therapy?
Sports Massage
Despite all the benefits of being an athlete, playing sports can put a great deal of strain on your body. A sports massage is a massage that is meant specifically to address sports injuries, the impact of sports on different parts of the body and the capacity for improving physical performance and exertion through the manual manipulation of the soft tissues of the body.

Deep Tissue Massage
The deeper within the body tissues are located, the more challenging they are for a masseuse to reach and manipulate – but manipulating these tissues is important for treating certain conditions, like musculoskeletal sprains and injuries. Deep tissue massage techniques use firm pressure, slow strokes and targeted movements to manipulate the deep tissues of the body.
Where Do Massage Therapists Work?
Massage therapists work in any number of settings. Spas and salons employ massage therapy professionals, as do fitness centers and health clubs. Some massage therapists work on cruise ships that offer massage services or at high-end resort destinations. According to the Bureau of Labor Statistics, 31% of the massage therapist workforce was employed in the personal care services industry, and another 5% of the field worked in the accommodation industry as of 2020.
With the training and certification required to provide therapeutic massage services, a masseuse may look for job opportunities in doctors' offices, orthopedic offices, physical therapy clinics, chiropractic offices, hospitals and other clinical facilities. Around 8% of massage therapists worked in chiropractors' offices in 2020, and 11% of massage therapists worked in the clinical offices of other healthcare providers.
The largest share of massage therapists – 38% of the workforce – is self-employed. Massage therapists who start their own business may offer massage services out of their own house, travel to clients' homes or open their own massage studio, spa or salon on a commercial property.
Massage Therapist Salary Potential
How much can a massage therapist expect to earn? The median annual salary the Bureau of Labor Statistics reported for massage therapists as of 2021 was $46,910, about on par with the $45,760 median salary reported for all occupations.
Chiropractors' offices constituted the best-paying industry for massage therapists, with a median annual salary of $58,930. The massage therapists working in the accommodation industry reported the lowest earnings, with a median salary of $29,600, although part-time work is common in these employment settings.
A self-employed massage therapist has more control over their earning potential, but they also take on more financial risk and greater costs, like providing their own equipment and materials, such as a massage table and the pillows, sheets and body lotion used in the massage.
While PayScale reported the average self-employed massage therapist base salary as $59.80 per hour in 2021, this doesn't mean that a self-employed masseuse takes home this full amount or that most self-employed massage therapists earn this hourly wage over full-time hours.
Presented as a yearly base salary amount, rather than an hourly wage, PayScale's figure changes to just $37,500. This discrepancy is likely caused by a combination of the part-time, rather than full-time, work schedules that are common in a massage therapy career and the costs of running the business, which fall directly on self-employed massage professionals.
Massage Therapist Job Outlook
The job market for massage therapists is booming. Between 2020 and 2030, the Bureau of Labor Statistics expects jobs in this occupation to increase by 32%, compared to the 8% job growth expected across all occupations. That would amount to an increase of 46,500 jobs over the course of a decade.
The Path to Becoming a Massage Therapist
In general, the path to a massage therapy career involves two main elements: training in massage modalities and techniques and licensing as a healthcare professional.
Massage Therapy Education
Your first step toward becoming a licensed massage therapist should be to earn a high school diploma or its equivalent, such as a GED. Having a high school diploma is mandatory for getting into a massage training program.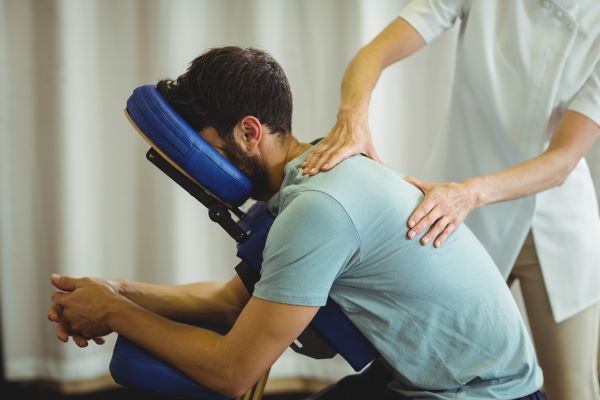 Most states require massage therapists to have some level of formal education in massage therapy. Education programs offered out of massage therapy schools typically include a minimum of 500 hours of study, and some programs include 1,000 hours of study or more, according to the Bureau of Labor Statistics. Students who want to become a massage therapist should make sure the massage therapy training program they choose is approved by their state massage therapy boards or agencies.
RELATED: What Can I Do With a Degree in Massage Therapy? 
Licensing and Professional Certification
Due to state and municipal laws and regulations, most massage therapists must earn a government-issued professional credential, like a license or certification, to be legally allowed to practice massage therapy. In addition to completing a massage therapy program, learning cardiopulmonary resuscitation (CPR), passing a background check and acquiring professional liability insurance, aspiring massage therapy practitioners typically need to pass a licensing exam.
The most common exams are the two national licensing exam options: the Federation of State Massage Therapy Boards' national Massage and Bodywork Licensing Examination (MBLEx) and the National Certification Board for Therapeutic Massage & Bodywork's National Certification Examination for Therapeutic Massage and Bodywork (NCETMB). Some states use a state-specific licensing exam instead of the Federation of State Massage Therapy Boards' exam or the National Certification Board for Therapeutic Massage & Bodywork's exam.
To keep your license in good standing, you should be prepared to take continuing education courses throughout your masseuse career. Through continuing education classes offered through professional organizations like the American Massage Therapy Association and Associated Bodywork & Massage Professionals (ABMP), you can learn new techniques, keep on top of emerging research in body mechanics and the use of massage therapy for specific health conditions or advance your business skills. In addition to continuing education classes, joining a professional massage therapy association gives you access to member benefits like liability insurance coverage and discounts on massage equipment.
Is There Such a Thing as a Masseuse Degree?
Can you major in massage therapy in college? There are college degree programs in massage therapy as well as dedicated massage therapy schools. For example, the National University of Medical Sciences USA offers a Bachelor of Science in Massage Therapy degree (BSc MT), and community colleges offer associate degrees in massage therapy. However, you don't need a full-fledged degree to work in this field. Formal training for massage therapists often takes the form of certificate programs.
Bachelor's Degrees for Massage Therapists
Online bachelor's degrees in massage therapy, like the one offered through the National University of Medical Sciences USA, consist of online video lecture classes available in an on-demand format and optional on-site classes where students develop their practical techniques in bodywork.
Bachelor's degrees in massage therapy don't end with the study of massage techniques. Classes in a bachelor's degree program in massage therapy might include orthopedics, neurology, pathology, clinical biomechanics, radiology and diagnostic imaging, diagnosis and symptomatology, sports medicine and clinical nutrition.
RELATED: Highest Paying Degrees in Medicine – Majors & Careers
A bachelor's degree in massage therapy program may even cover the basic principles and practices of business management, so that massage therapy students will be prepared for running a massage therapy practice. Through these business-related courses, aspiring massage therapists pursuing bachelor's degrees can learn everything from how to manage basic small business administration and accounting tasks to how to develop a marketing strategy and implement marketing campaigns that will keep new customers coming in.
Bachelor's degrees typically requires at least four years of full-time study to complete. In addition to classes in medical terminology, the workings of the human body and the techniques and modalities of massage therapy, students pursuing bachelor's degrees may be required to complete general education courses in a variety of subjects not directly related to their major.
Associate's Degree Programs in Massage Therapy
Since you don't need a full bachelor's degree, many students choose instead to pursue massage therapy studies at the associate's degree level. When you attend class at a community college (or through distance learning, in the case of online associate degrees), you can cover massage therapy techniques in more depth than is possible in a non-degree program while also completing some coursework in communication, science, business and general education.
RELATED: How Long Does It Take to Get an Associate Degree?
The curriculum of an associate's degree program in massage therapy may include coursework in the underlying sciences and clinical practices of the field, including anatomy and physiology, body mechanics, kinesiology, pathology, reflexology and clinical assessment and treatment planning. Students may develop hands-on skills in Swedish massage, prenatal massage, trigger point therapy, neuromuscular therapy and myofascial release. Additional studies in massage ethics, laws and regulations, business practices and self-care for massage therapy practitioners are also valuable.
Associate degrees typically take two years of full-time study to complete and, thanks to the lower tuition rates of community colleges, cost considerably less than a four-year degree would.
RELATED: Highest Paying Degrees in Nursing – Majors & Careers  
Massage Therapy Certificate Programs
Many massage therapists don't hold a college degree at all. In fact, 73% of respondents surveyed suggested that a post-secondary certificate, rather than a degree, is the required level of education for massage therapists, according to O*NET.
In massage therapy certificate programs, the curriculum is more narrowly focused on learning the fundamentals of massage therapy practice. Naturally, you can expect the classes you complete to vary depending on your institution's specific curriculum. However, students should expect to complete coursework in anatomy and physiology, kinesiology, pathology, reflexology and professional ethics, as well as study and clinical experience in massage modalities and techniques such as Swedish massage, chair massage and spa treatments. Some certificate programs include advanced modules of study in specific areas, such as maternity massage, and confer specialty certificates on students upon completion.
Certificate programs are shorter than programs that award associate degrees, measured in a matter of months or even weeks. Many massage school certificate program curricula can be completed in under a year – often, eight to nine months – and some programs take six months or less to finish.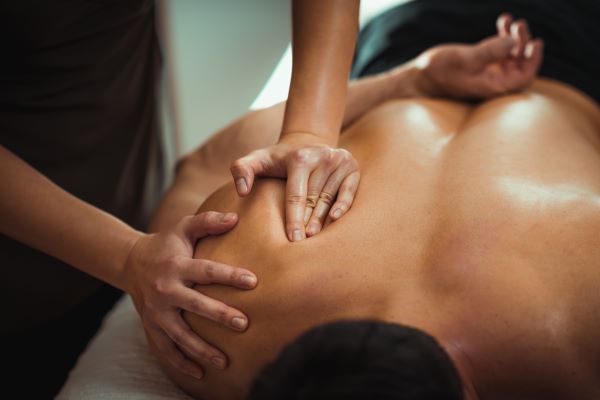 Can You Complete a Massage Therapy Program Online?
Online courses are popular, especially among students who are balancing their education with other commitments, like a job or family obligations, or who live too far from their school to commute to campus on a regular basis. You might be wondering, however, whether it's possible to complete a massage therapy education program online. After all, can online courses help you develop proficiency in the physical techniques of massage therapy?
You can earn a massage therapy certificate or degree by taking online courses, but there's a caveat. Even in massage therapy programs that offer fully online lecture and laboratory coursework, you still need to gain hundreds of hours of hands-on experience performing massage techniques and bodywork before you can become qualified to work in this field.
Your massage school may offer the option to complete your in-person massage training at a local partnering spa or facility, or it may require you to be present on-campus for a period of weeks during which you complete an intensive schedule of in-person training hours. Many massage schools have multiple campuses, allowing students to choose the campus location that is most convenient for them.
What to Look for in Massage Therapy Programs
As you begin your school search for a massage therapy degree or certificate, there's a lot to consider.
Program outcomes for massage therapists vary – as they do in any education program, but particularly in the field of massage therapy – so it's important to do the research to determine whether the massage school you choose is reputable. Ideally, massage students will choose to study at a program that has attained accreditation from the Commission on Massage Therapy Accreditation (COMTA) as well as state approval from the agencies required for licensure.
Prospective massage students should also weigh factors like what they want out of their education – for example, the extent of the hands-on training they will receive and whether they will walk away with a college degree – and what they're willing to put into earning the degree. A certificate program will generally cost less and take less time to complete than a degree program, but graduates won't gain as much hands-on training, specialized knowledge or general knowledge.
Cost is another important factor in choosing a massage school. Students might be surprised to find that federal financial aid is available for certain accredited programs. For example, the federal government awards financial aid to students pursuing associate degrees in massage therapy at the Community College of Philadelphia, as well as students enrolling in the certificate program at the National Holistic Institute School of Massage Therapy. If the program you have chosen does not qualify for federal financial aid, you may still be able to manage the cost of your education through scholarships, private grants, prepaid state tuition plans and other means, according to the Southern California Health Institute.
Additional Resources 
What Can I Do With a Degree in Massage Therapy?
What Degree Do I Need to Become a Chiropractor?
Top 20 In-Demand Healthcare Careers