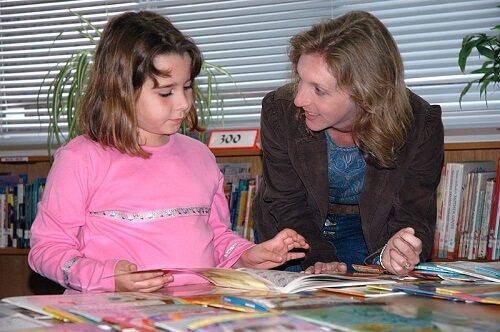 IMAGE SOURCE: Wikimedia Commons, public domain
Overview
Teacher assistants are education professionals who work with students under the supervision of a licensed instructor. They are known by several other titles, including instructional aides, education assistants, teacher aides and paraeducators. No matter what title they go by, they play an important role in the education system. Teacher assistants help teachers plan lessons and set up the classroom, including gathering and distributing the materials for a project or assignment. Sometimes they also assist with other necessary work, like keeping track of attendance and grading assignments.
While the teacher is usually the one to present new information to students, teacher assistants have the important responsibility of working directly with individual students or groups of students to reinforce the material through additional projects, assignments or reviews or the material. When students struggle with a lesson, teacher assistants may work with them individually to help them grasp the material. Teacher assistants supervise students not only during classroom instruction, but during recess periods, meal times and playtimes. They are responsible for making sure that students follow the rules and teaching them appropriate behavior for the classroom, cafeteria or playground.
Teacher assistants work in a wide variety of institutions and with a variety of students, as well. They find employment in public and private schools at the elementary, middle and high school level as well as in childcare and daycare centers, preschools and community centers. Some of them work with an entire class of students, while others work directly with a single student or a few students who have special needs.
Education
The requirements for becoming a teacher assistant vary by state. While some states will consider candidates with no further education beyond a high school diploma, most want prospective teacher assistants to have an associate's degree or to have completed two years of college at minimum. In addition to these requirements, or in place of them in some states, candidates may have to pass a test administered by the state or municipality in which they want to work.
The most common associate's degree program to help candidates prepare for this career is an Associate of Applied Science degree in early childhood education. Such programs also go by the names early childhood associate, instructional assistant associate and teaching associate. Community colleges and technical schools often offer these degree programs, which cover both practical and academic subjects, including:
How teachers and teaching assistants work together in the classroom
Ways of managing classroom behavior and evaluating student performance
Methods of working with special needs students
The creation of educational materials
Pedagogy
Developmental psychology
Employment
Teacher assistants earn a median annual salary of $23,640, according to the United States Bureau of Labor Statistics (BLS). Many – about 40 percent, the BLS reported – are part-time workers. The job outlook for teacher assistants is about average compared to all occupations, with the BLS expecting opportunities for teacher assistants to increase by nine percent over a decade. For teacher assistants, much of the job satisfaction comes from working with students to help them learn and grow. Many teacher assistants enjoy summers off pursuing other leisure or professional opportunities when school is not in session.
Conclusion
Teacher assistants are important professionals in the education system. Their work with students either one-on-one or in small groups helps reinforce academic lessons. Their supervision helps students to stay safe and out of trouble and to learn appropriate behavior.