A graduate education is non-negotiable if you want to work as a marriage and family therapist, or MFT. To become licensed in this field, you need a master's degree in the subject as well as thousands of hours of post-graduate supervised experience, according to the United States Bureau of Labor Statistics (BLS). Although you can't take too many shortcuts when pursuing this extensive master's-level degree program, you can look for accelerated structures and formats that will allow you to finish your formal education faster and ultimately qualify for a license sooner. The fastest schools for marriage and family therapy degrees may even allow students to complete the program in two years or less.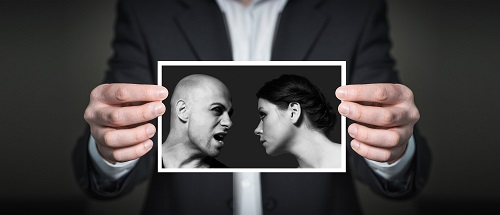 IMAGE SOURCE: Pixabay, public domain
The Timeline to Earning a Master's in MFT
In many fields of study, a master's degree only takes two years for students who enroll full-time to complete. That's not the case for most marriage and family therapy programs or for other graduate programs in counseling. In fact, one of the handful of organizations that accredits MFT programs, the Council for Accreditation of Counseling & Related Educational Programs (CACREP) only considers programs eligible for accreditation if they require a minimum of 60 graduate credits to graduate. That's twice the number of credits needed for master's degrees in many other areas of study.
If you study full-time in a traditionally structured 60-credit MFT program, you can expect it to take at least two and a half to three years of study as a full-time student, and even longer if you enroll part-time. One factor that makes the degree take so long to earn is the fieldwork requirement. Although different accreditation organizations have slightly different minimum requirements, all agree that students of MFT programs must have experience before they graduate. CACREP requires a minimum of 100 hours of practicum experience plus 600 hours of internship experience. The Commission on Accreditation for Marriage and Family Therapy Education (COAMFTE) requires at least 500 clinical contact hours in accredited programs.
Often, these lengthy supervised experiences are spread out over 12 to 18 months – which is one of the reasons why MFT degrees take so long to earn.
Two-Year Master's Degrees in Marriage and Family Therapy
Although a master's degree program in MFT can only be shortened so much, most accelerated programs that do exist condense the curriculum into just two years. How do they do it? The two-year MFT program at Valdosta State University in Georgia requires students to take full course loads year-round, with 12 credits each during the first-year fall and spring semesters, 11 credits during the second-year fall and spring semesters plus an additional seven credits each summer. By adding in summer sessions and taking on a heavier than usual workload during the fall and spring semesters, students fit all 60 credits into a shorter period.
Students can acquire some of their fieldwork experience through work at the FamilyWorks clinic, run on campus by students of the MFT program. Typically, students begin their internships during the fall semester when they begin their second year of study.
Southern Connecticut State University has a similar structure for its two-year program option. During their most intense sessions, students complete 13.5 credits in their first spring semester and nine credits during their first summer semester.
Earning Your MFT Degree in Under Two Years
Some accelerated programs are even faster, but students should pay attention to a program's accreditation status before they decide to apply for the quickest possible degree program. One accredited under-two-year program is Campbellsville University's Masters in Marriage and Family Therapy (MMFT) program. It's possible to complete the Christian university's COAMFTE-accredited program in as little as 18 months, shaving half a year off of the time it takes to graduate.
The program splits coursework between online and in-person studies on its Kentucky campus and condenses terms into eight-week sessions. This accelerated schedule allows students who complete full course loads during all six sessions per year to cram more courses into a single season than they would be able to complete in a traditional semester-based calendar. Evening courses once per week make the program accessible even to students who are working full-time or who have other professional or personal obligations.
Campbellsville University's marriage and family therapy program is specially designed for adult learners, so students returning to school after joining the workforce and other nontraditional students will feel at home there.
Additional Resources
What Classes Will I Take for a Degree in Marriage and Family Therapy?
What Is the Salary Potential for Someone With a Marriage and Family Therapy Degree?
Is It Easy to Work for Yourself as a Marriage and Family Therapist?