Before you embark on the path to earning a graduate degree in rehabilitation counseling – one of the 50 highest paying master's degrees – you should know what to expect. The intensive curriculum of a rehabilitation counseling program requires, in many cases, up to 60 hours of study will typically keep you busy for a minimum of two to three years. There's also a hefty experience requirement that will require hundreds of hours of your time. Ultimately, how long you will spend in school for rehabilitation counseling – and what you will get out of your education – depends on the specific degree structure you choose, including whether you study full-time or part-time and if you choose an accelerated or dual-degree program option.
The Credit Requirements for a Master's in Rehabilitation Counseling Degree
As of 2020, graduate programs in rehabilitation that are accredited by the Council for Accreditation of Counseling and Related Educational Programs (CACREP) include at least 60 credit hours of study. Not all master's degree programs in rehabilitation counseling are 60 credits, especially in states which don't require rehabilitation counselors to attend a CACREP-accredited program to become licensed. Some of these programs may consist of just 48 credit hours of coursework or less.
The curriculum of a master's in rehabilitation counseling covers the concepts and practices of counseling in general as well as the specialized knowledge needed for rehabilitation counseling. For example, you will learn about counseling techniques used in individual and group counseling situations, but you will also study the medical, psychological and social aspects of disabilities and rehabilitation.
In general, most master's degrees require at least 30 hours of study, and programs that require less than 30 credit hours are typically categorized as graduate certificate programs.
How Much Clinical Experience You'll Get in a Rehabilitation Counseling Program
Besides your classroom (or virtual classroom) studies, CACREP-accredited programs must include both practicum and internship clinical experiences that meet minimum standards. A practicum must include a minimum of 100 hours of work over a period of at least 10 weeks. Students should spend at least 40 of these hours working with clients in direct service roles. The internship is considerably more demanding. The CACREP requires an internship to include at least 600 hours of supervised clinical experience, with at least 240 of those hours in direct service functions.
Some colleges split the internship into two experiences, spread over two semesters and potentially completed at different sites. Internships may or may not be paid, but they should contribute to gaining valuable job skills in the field of rehabilitation counseling.
Making the Most of Your Time Studying Rehabilitation Counseling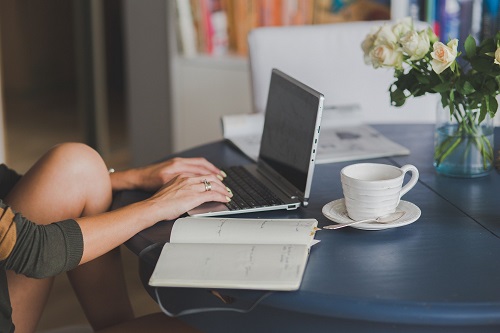 IMAGE SOURCE: Pixabay, public domain
Credits aside, you're probably wondering how many years it will take you to earn your master's degree in rehabilitation counseling. A typical program will take two to three years of full-time study to complete. Motivated students can finish accelerated graduate programs in rehabilitation counseling in just 18 months.
Full-time graduate school studies are intensive, especially if you're aiming to graduate in under two years. Working students and those juggling family obligations or other commitments often choose to pursue their master's degree part-time. Earning your degree part-time can take several years, and some colleges have a limit on how long part-time students can stretch out their graduate education in rehabilitation counseling, such as eight years.
If you're already planning for your graduate studies early on in your undergraduate curriculum, you might be able to shorten your time to earn a master's degree through a dual-degree program. Through a "3+2" program, you can complete both your bachelor's degree and your master's in rehabilitation counseling degree in just five years.
Dual-degree programs are different from accelerated graduate degree programs because they begin with bachelor's-level studies. Students enrolled in these programs typically begin integrating graduate coursework into their undergraduate curriculum, with some courses counting toward both degrees. Students in a dual-degree program might graduate with their bachelor's degree in a major like rehabilitation services, rehabilitation and disability services, or psychology.
If you want to have the option to pursue a career in either clinical mental health counseling or rehabilitation counseling, a different kind of dual-degree program that awards master's degrees in both of these areas of practice may be a better choice for you.
Additional Resources
What Are Some Good Areas to Study in My Undergraduate Studies to Prepare for Rehabilitation Counseling?
Do Most Master's Programs in Rehabilitation Counseling Require a Thesis?
What Are Some Typical Courses I Will Take in a Master's Program for Rehabilitation Counseling?