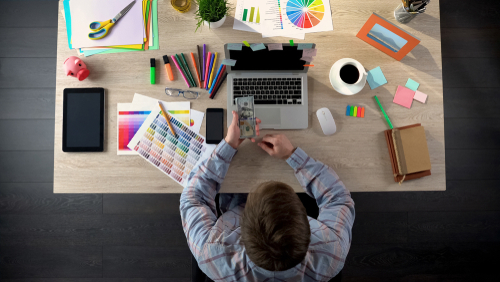 People who choose to become interior designers often choose this career for different reasons. While some choose it as a way to show off their artistic style while others choose it for its good job opportunities, and some choose it because of its potential for good wages. Many aspiring interior designers wonder if salaries differ much for interior designers depending upon their location. Surprising as this may seem, wages can vary a lot from one location to another. Here is an overview of potential wages for interior designers in different locations as well as other factors that can affect wages.
What Affects Interior Designer Wages?
An individual might choose to become an interior designer if he or she is artistic, has an eye for color and has the desire to create something beautiful. Discovering that this career can offer good wages is often just a bonus to having a career doing what one loves doing. Several factors can affect the wage potential for an interior designer.
Education – The higher the degree, the International Interior Design Association reports that having a degree is the biggest factor for high wages. They indicated that those with a degree typically earn about $15,000 more than an individual without a degree.
Experience – Work experience plays a large part in determining wages as well. Businesses are more inclined to pay higher wages to interior designers who have extensive work experience as designers.
Certifications – Interior designers who are certified in several specific areas of interior design may get lucrative job offers because they can do the complete job without the company having to hire several interior designers.
Employer – Larger businesses generally offer higher wages than they would offer to a small company or a homeowner. Famous or name-brand companies also often higher wages.
Location – Location is the factor that probably plays the largest role in determining wages. Every state or city has a different cost of living, and this all plays a role in determining wages. Higher wages are generally found in larger cities.
Potential Wages for Interior Designers
The U.S. Bureau of Labor Statistics reports that interior designers earned an average annual wage of $59,120 nationwide as of May 2018. The average hourly wage was $28.42. There is a wide variance between the lowest and the highest wages earned by interior designers across the nation. Interior designers in the lowest ten percent earned $29,970, while those in the top 90 percent earned $94,130.
How Wages Differ from One Location to Another
Interior designers are often amazed to learn that they can earn a certain wage in one city or state but earn a substantially higher or lower wage in a neighboring city or state. Here are the five states where interior designers earned the highest wages as well as the states where the lowest wages were earned in 2018:
District of Columbia – $79,230
Rhode Island – $75,110
Alaska – $71,150
California – $68,440
Arkansas – $66,840
Louisiana – $42,210
Indiana – $42,610
Iowa – $44800
Nebraska – $45,200
Maine – $46,180
As is evident from the numbers, there is a sizable difference between the highest state and the lowest state. Wages do not just fluctuate from one state to the next. They also fluctuate from one city to another. Certain larger cities often offer higher wages. Interior designers working in:
Los Angeles – Long Beach – Anaheim, California metropolitan areas: average annual wages of $77,220
Miami – Fort Lauderdale – West Palm Beach, Florida metropolitan areas: average annual wages of $51,890
Washington – Arlington – Alexandria, DC, VA, MD and WV metropolitan areas: average annual wages of $64,080
Chicago – Naperville – Elgin, Illinois, Indiana and Wisconsin metropolitan areas: average annual wages of $53,180
San Francisco – Oakland – Hayward, California metropolitan areas: average annual wages of $68,470
An interior designer with a degree and a few years of experience in this field has the potential to earn very good wages. The more experience an interior designer has, the better his or her resume will look to potential employers. Researching the wages in different locations can provide aspiring interior designers with information on where they'll be in a position to earn the best wages. Learning how interior designer salaries vary from one location to another can help an individual make an informed career choice.
Related Resources:
What Degree Do I Need To Become An Interior Designer?
Do Different States Have Different Requirements for Interior Designers?
What Does an Interior Designer Do?
What is The Difference Between an Interior Designer and an Architect?
What Skills Does an Interior Designer Need?
Can I Become an Interior Designer Without a Degree?
What Other Jobs Does Someone with Experience as an Interior Designer Have Skills For?
What Kind of Bachelor's Degree Should I Consider if I Want to Become an Interior Designer?
Do Interior Designers Mostly Work for Themselves?
Do I Need a Degree to Be an Interior Decorator?
I Like Flexibility in My Career. Will I Have That as an Interior Designer?
Where Are the Best Paying Jobs With a Degree in Interior Design?