What kind of grades do you need to get into a Master of Studio Arts degree, one of the 50 highest paying master's degrees that focuses on the practical techniques of creating fine art? Although your academic performance in courses outside the field of studio arts isn't the biggest factor in getting into a graduate art program, you should be prepared to submit your GPA to any master's degree program to which you apply. As art instruction has become increasingly formalized, schools have tended to give grades more weight in an art school application than they used to. However, prospective art students should know that not having stellar grades won't necessarily stop you from getting accepted into a Master of Studio Arts program, as long as the quality of their portfolio and other application elements makes up for their grades.
How Graduate Art Schools Look at Undergraduate Grades
Most Master of Studio Arts programs require applicants to submit their grades and transcripts as a mandatory part of the admissions process. Having a bachelor's degree is a requirement before you can apply to a master's degree program. Since you had to complete a four-year undergraduate curriculum before you were ready to apply to graduate school, all applicants have a GPA to submit.
Why do grades matter? Even though the grades you earned in math, science or history may not correspond with your talent in making art, they do speak to your ability to succeed in an academic program of study. A student who has decently good grades has presumably met skill-based standards in critical thinking, communication and expression, problem-solving and more. Having all of these skills helps to make you a more well-rounded individual and form you into an artist capable of producing work of meaningful substance, not mere visual style.
Further, getting good enough grades to progress through your undergraduate degree requirements shows that you can stick with a program to the end. A prestigious art school doesn't want to give coveted spots in its program away to students who aren't likely to complete their studies.
If you were hoping that your grades wouldn't matter when applying to a Master of Studio Arts program, you might be dismayed to find that admission trends are going in the opposite direction. Art schools and departments have begun to expect more, in terms of academic performance, from their applicants in recent years, Inside Higher Ed reported in 2017.  While the portfolio of your best artistic works used to be of paramount importance, schools now pay more attention than they once did to factors like your grades, along with your standardized test scores and letters of recommendation.
Standardized test scores are more important for getting into undergraduate art programs, which include a significant general education component, than Master of Studio Arts programs. Some graduate art programs recommend or require the GRE, but many don't.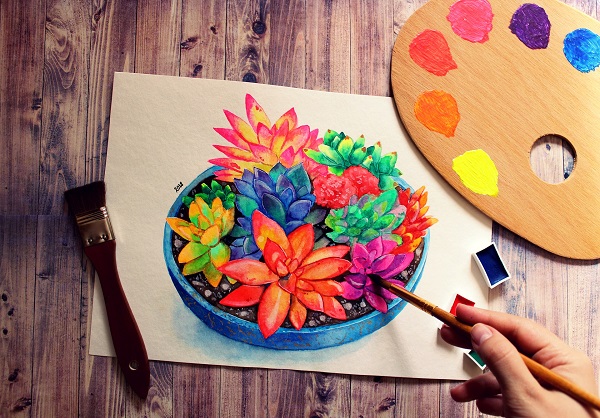 IMAGE SOURCE: Pixabay, public domain
Balancing Grades, Your Portfolio and Other Application Materials
If you don't think your undergraduate grades are especially competitive, this emphasis on GPA may come as bad news. Although your grades matter, they're far from the only factor Master of Studio Art programs are looking at in applicants.
Some graduate art schools do set a hard-and-fast minimum GPA requirement, often around the 3.0 range. A 3.0 GPA generally equates to averaging "B" grades in your overall curriculum and is still a manageable overall GPA even if your performance in some classes is less impressive. Other Master of Studio Art programs may not have a specific minimum GPA threshold in place at all.
Even though your grades are important in your application package, studio arts programs – particularly at the graduate level – are among the academic programs that are more willing to forgive lower grades if other aspects of a candidate are compelling. The artistic portfolio you submit containing samples of your work is one big reason studio art programs may be willing to overlook average grades. The insights you offer and the eloquence with which you write a personal statement or admissions essay may also make your application strong enough to offset unexceptional grades.
If your unimpressive grades result from a reason such as physical or mental illness, a trauma or a loss or a youthful failure to focus on education, you may be able to use your essay to show your ability to persevere and point to progress you've since made in your life.
Additional Resources
Do I Need to Take a Standardized Test to Get Into Most Master of Studio Arts Programs?
Do I Need to Have a BFA in Order to Apply for a Master of Studio Arts?
Is Being a TA (Teacher's Assistant) Typically Required in Getting a Master of Studio Arts Degree?