Did you know that if adult's blood vessels were laid end to end, they could circle Earth's equator four times? Or that the human heart beats over 3,000,000,000 times in an average lifespan? Did you know that the average human mouth produces about one liter of saliva daily? Or that the human nose can recognize over one trillion different scents? Each of us is the owner and user of a human body, from our first moment to our last, but few people appreciate how remarkable and complex the human body truly is.
Those who are fascinated by the human body, from its cells to its systems, may be interested in formally studying anatomy and physiology. This discipline is all about the human body, including the parts that make it up, how it works, how it develops, and even what can go wrong with it. In an anatomy and physiology degree program, you'll gain an understanding of the body's parts and how they work together through a combination of classroom learning, laboratory work, and fieldwork.
Featured Programs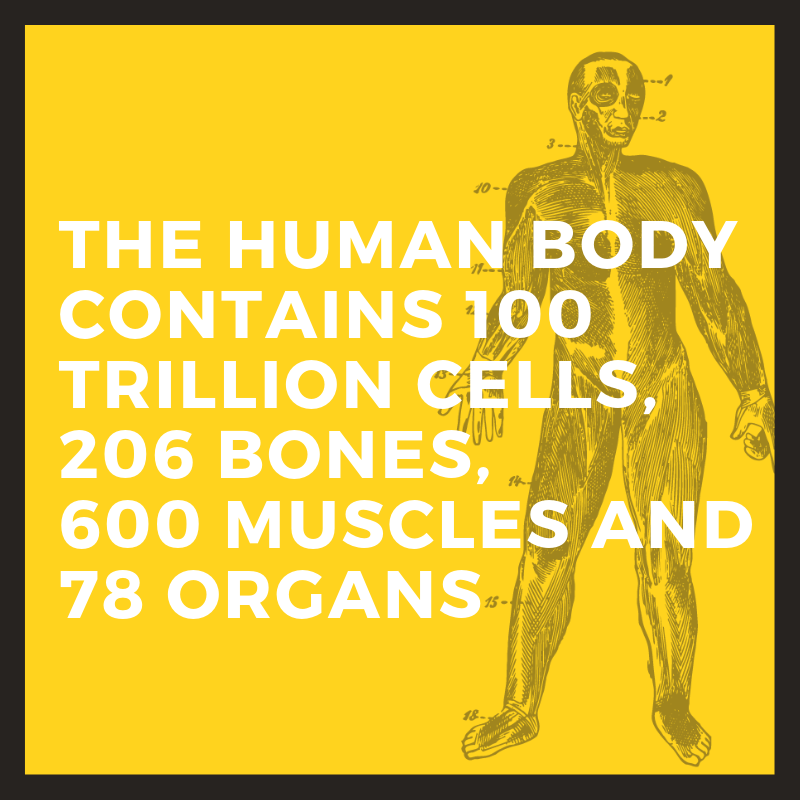 A degree in Anatomy and Physiology can provide the foundation for a wide range of healthcare careers, from physical therapy and massage, to nursing or pediatrics. Healthcare jobs with a degree in anatomy and physiology can be found to fit a broad range of professional and personal strengths, whether you're drawn to the technical focus of laboratory research or the interpersonal contact of therapeutic services. Jobs in healthcare are in high demand, command great salaries, and bring the personal satisfaction of improving patients' well-being in a meaningful way. If you're curious about the mysteries of the human body and interested in helping people through better health, you'll want to know more about degrees in anatomy and physiology. Read on to learn about degree programs, classes, and careers in anatomy and physiology.
Jump To:
What is Anatomy and Physiology?
Laypeople sometimes use the terms "anatomy" and "physiology" interchangeably. And it's true that they both cover similar areas of science related to the human body. But these two complimentary biological sciences have slightly different definitions.
Anatomy refers to the study of the human body's structure and function. It includes gross anatomy, the study of the tissues and organs that are visible to the naked eye (including cardiology, the study of the heart, and nephrology, the study of the kidneys). It also includes microscopic anatomy, the study of those structures that are too small to be seen (such as cytology, the study of cells and histology, the study of tissues)
Physiology is the study of living systems and their function within the human body generally. This includes the chemistry and physics of the structures of the body's physical structures. Physiology centers largely on the study of how the body's systems maintain homeostasis, a stable balance of conditions that indicate healthy functioning.
What is an Anatomy and Physiology Degree?
Anatomy and physiology degrees are all about the science of the human body. This includes its form and function from a health and medical perspective. An anatomy and physiology degree provides a broad knowledge about of the body's normal development and functioning, the causes, diagnosis and treatment of disease, and the body's changes across the lifespan. Students in an anatomy and physiology program can expect to study topics like cellular biology, embryology, cardiology, and neurology. They may learn about how the brain changes during the aging process, how genetics determine health predispositions, how muscles function during exercise, or how vaccinations work to prevent disease. They may also learn about hot topics in anatomy and physiology, such as gene therapy, bioinformatics, stem cell therapy, and cell cloning.
Anatomy and physiology degrees are offered at every level, from associate's and bachelor's, right up to master's and PhD, but the majority of anatomy and physiology degrees are awarded at the bachelor's level. That's because a degree in anatomy and physiology provides a well-rounded background in the general science of the human body, making it an excellent foundation for further training in a specific area of medicine or healthcare. Many people who earn an undergraduate degree in anatomy and physiology go on to become physical therapists or occupational therapists, but anatomy and physiology degrees are perhaps best thought of as pre-medical degrees.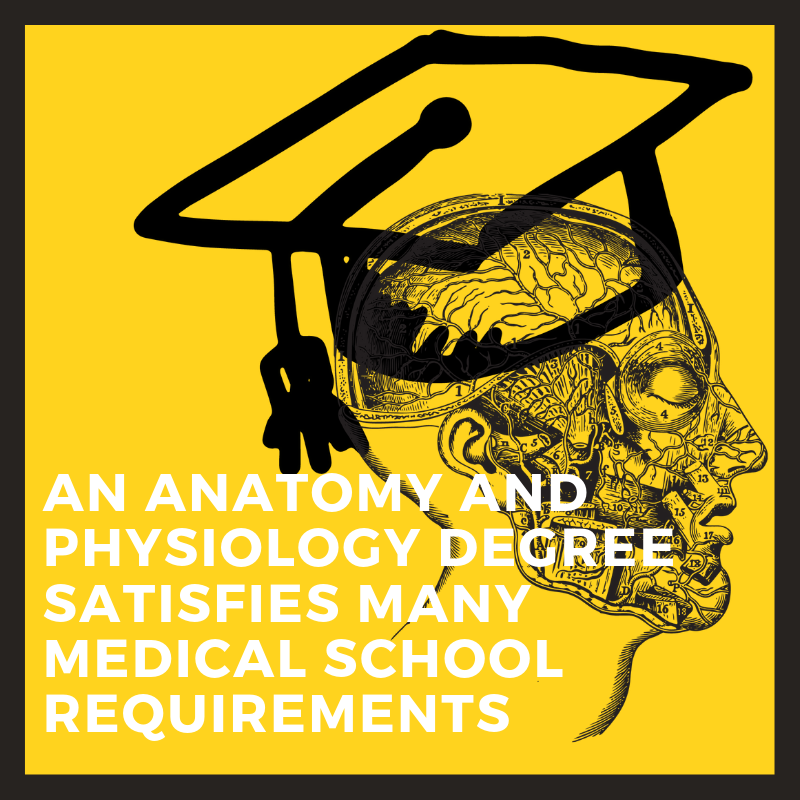 Many undergraduate students with plans to become doctors will report that they are "pre-med," but pre-med is not, in fact, a major. It's possible to apply to medical school with any undergraduate major, including philosophy or English, as long as you have satisfied all medical school prerequisites. These include:
One Year Biology (with lab work)
One Year General Chemistry (with lab work)
One Year Organic Chemistry (with lab work)
One Year Physics (with lab work)
One Semester Biochemistry
The Association of American Medical Colleges, reports that more than half of medical school applicants majored in biology as undergraduates. And while biology does make an excellent pre-med major, a bachelor's in anatomy and physiology can be an even better choice. That's because an anatomy and physiology program typically covers the prerequisites listed above, along with other classes, such as gross anatomy, that will be part of a traditional first-year med school curriculum. That means an academic leg up when starting medical school, and better preparation for the Medical College Admission Test (MCAT).
It's worth noting that degrees in anatomy and physiology simply aren't as widespread as degrees in biology, medical technology, kinesiology, nursing, and other more specific, well-established degrees. Those interested in a degree in anatomy and physiology will typically have to look a bit further to find a program to fit their interests.
What Classes Will I take for a Degree in Anatomy and Physiology?
A degree in anatomy and physiology is about as pure science as degrees come- you'll be focusing on hard science, systems, data, technology, and research skills. Over the course of your studies, you'll learn the foundations of human evolution, human development, genetics, kinesthesiology, and pathology. You'll learn about new areas of knowledge, such as the application of genetics in medicine and stem cell research. Laboratory work will play an important role in your studies, and you may find yourself dissecting a cadaver or individual organs as part of your studies. These hands-on practices are an important way that students acquire real-world, firsthand knowledge of the body.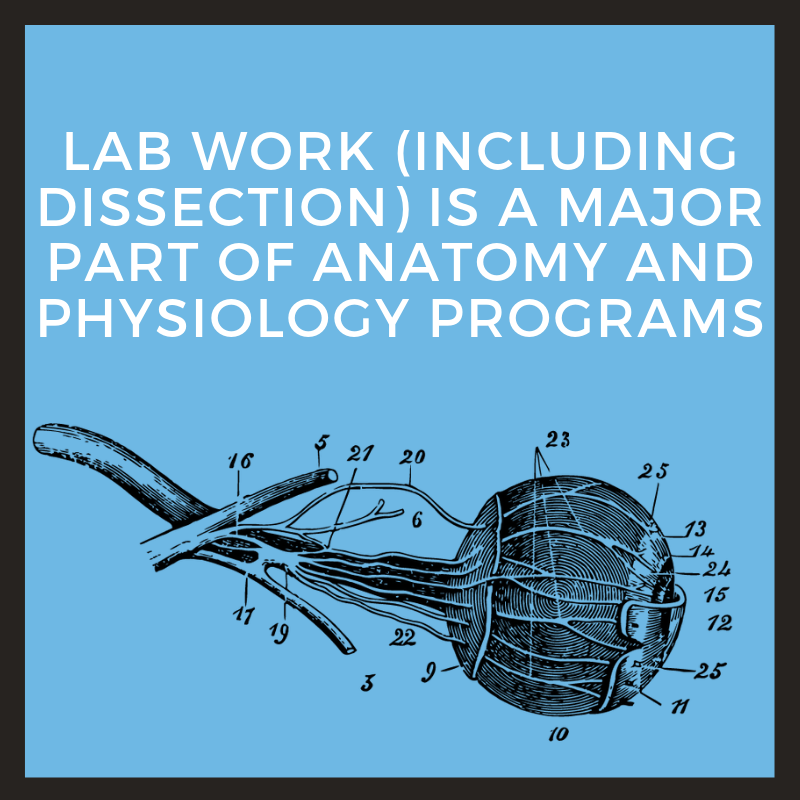 The human body is a physical object, with physical and chemical properties that determine how it works. That means you'll need a deep understanding of the physical and biological sciences in order to understand anatomy and physiology. You'll also need a solid grasp of math in order to conduct measurements, gather data, and analyze research. As part of a degree in anatomy and physiology, you can expect to take courses like:
Introductory Biology
Introductory Chemistry
Elementary Physics
Calculus
Research Writing
Statistics
Experimental Design
Classes within the specific field of anatomy and physiology will include a broad foundation in human anatomy and systems of physiology, as well as more advanced topics and areas of current growth, such as bioinformatics and genetic engineering. Anatomy and physiology major courses may include:
Cell Biology
Organic Chemistry
Systems Physiology
Human Nutrition Science
Principles of Biochemistry
Exercise Physiology
Gross Human Anatomy
Neuroanatomy
Cardiovascular Systems
Medical Ethics
Any anatomy and physiology degree program will also include a certain number of electives, with the majority usually focused on the social sciences. Your selection of electives can help you specialize in work with a particular population or field of medicine. For instance, classes in modern sociology can be useful for a future in epidemiology, while classes in developmental psychology could be useful for a future in pediatrics.
What Can I do with an Associate's in Anatomy and Physiology?
An associate's degree is the most basic level of undergraduate degree, and can either stand alone or provide a foundation for further college education. An associate's degree program typically takes two years to complete on a full-time basis. Many graduates with an associate's go on to transfer their credits towards a bachelor's degree in the same field or a related one.
For each, an associate's in anatomy and physiology can serve as a foundation, but additional post-degree training, experience hours, and certification through testing is required.
Each of these professions is growing rapidly, with job growth rates projected to be higher than average by the Bureau of labor statistics. They are also associated with healthy salaries, comparable to many positions requiring a bachelor's degree.
Personal trainer: $39,820 per year
Massage therapist: $41,420 per year
Nurse: $71,730 per year
What Can I do with a Bachelor's in Anatomy and Physiology?
According to the Guardian, half of anatomy and physiology graduates go into physical therapy or occupational therapy. Others go on to medical careers as physician's assistants. Many others choose careers in exercise physiology, the profession of improving human performance through coaching.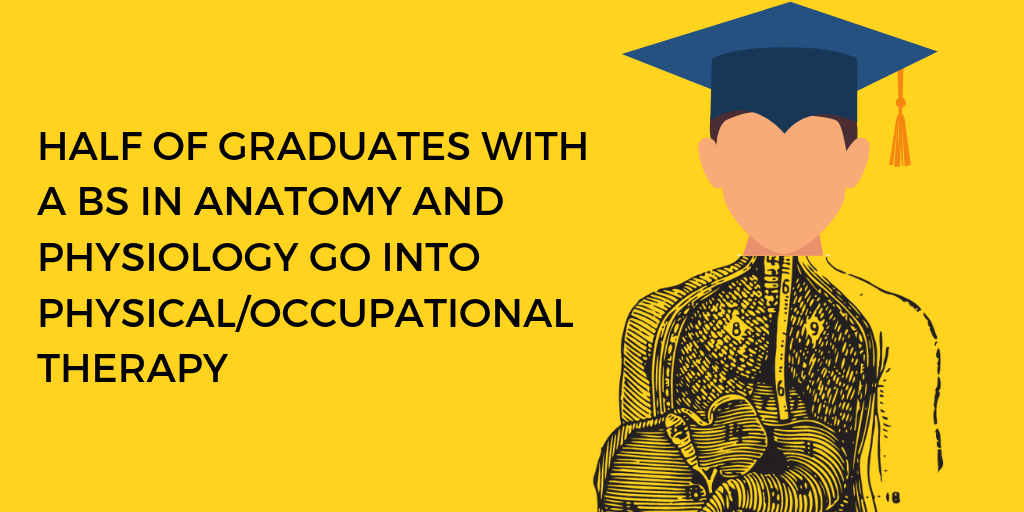 Of course, a BS in anatomy and physiology is primarily a pre-med degree, and so a great many graduates go on to enter medical school eventually becoming everything from dentists to cardiologists. Other relevant medical and allied health fields include audiology, neurophysiology, or speech and language therapy. In each of these cases, a bachelor's in Anatomy and Physiology provides a strong foundation for further medical education, since it provides a solid understanding of the body's systems and functions, and satisfies medical school requirements such as chemistry, calculus, research methods.
Job settings for medical careers starting with a bachelor's in anatomy and physiology include:
public and private hospitals
outpatient clinics
rehabilitation centers
nursing homes
in-home services
Outside of hands-on medicine and allied health, a bachelor's in anatomy and physiology can lead to jobs in the pharmaceutical or biotechnology industries, such as a position as a clinical research associate, pharmacologist, science writer, medical sales, pharmaceutical sales, or research scientist. In most of these fields, a bachelor's can lead to an entry-level position, such as research assistant, while further education in a specialized field is needed for senior positions.
If you feel like venturing outside the field of science, your skills may be applicable in the private sector. According to The Guardian, STEM graduates are sought-after in the fields of computing, banking, accounting, and other financial services, thanks to their demonstrated ability to work with data and think analytically.
What Can I do with an Advanced Degree in Anatomy and Physiology?
According to data gathered by the Higher Education Careers Services Unit and Graduate Prospects, 16.9% of anatomy and physiology graduates in 2009 opted for further study. Of these, the majority choose to go on to earn doctorates in medical school or to earn master's degrees in fields like speech pathology in order to pursue a career in hands-on medical practice.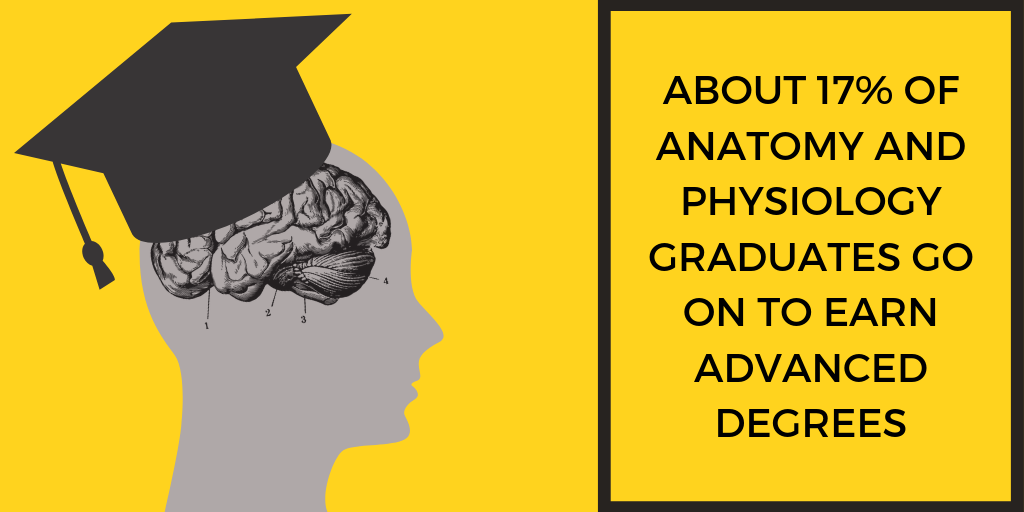 Those that choose to earn master's degrees or PhDs in anatomy and physiology are usually interested in becoming anatomy and physiology teachers or researchers. These fields allow advanced experts to develop new knowledge about the human body, increasing our understanding of how the body works and potentially leading to advancements in the field of health. Not only are these jobs important to progress and personally satisfying, they also come with high salaries. University professors as a whole make $76,000 per year, according to the Department of Labor, while medical research scientists make $84,810 per year.
A master's degree in anatomy and physiology takes two years to earn on a full-time basis, and includes a heavy emphasis on laboratory work and research. A PhD can take anywhere from 3-7 years to complete, and is centered around a dissertation, an area of original research which must be studied, written, and defended before an expert panel.
Can I Earn a Degree in Anatomy and Physiology Online?
There are virtually no degrees in Anatomy and Physiology offered 100% online. This is largely because of the importance of laboratory experience in learning about the human body. Gaining in-person, hands-on experience with observing the human body, from exercise movements to organ dissection, is a key piece of training in anatomy and physiology. That means a full only-online degree program simply cannot offer a comparable experience.
That being said, there are a number of schools offering online classes in anatomy and physiology as part of other degree programs, such as biology. It's also possible to take some of the classes required for an anatomy and physiology degree, such as statistics and chemistry, online. Students who are interested in taking some of their required classes online should look for a hybrid anatomy and physiology program or find out about an individual school's policy regarding transfer credits from online classes at outside institutions.
What is the Job Market with a Degree in Anatomy and Physiology?
As The Atlantic reported in 2018, the healthcare sector has recently surpassed the manufacturing and retail sector, the largest source of jobs of the 20th century, to become the single largest employment sector in the US. The United States healthcare industry as a whole was worth $24.7 billion in 1960; today, it is valued at $3,504 trillion. The inevitable aging of the baby boomer population, rising obesity rates, greater prevalence of chronic diseases, and life-prolonging medical innovations have all contributed to the growth in the number of patients and the cost of medical treatment over the average lifetime. And, as Deloitte has observed, what goes up is not likely to come down where the healthcare sector is concerned; there is every reason to think that this growth will only continue over time, with both demand and expenditures continuing to rise.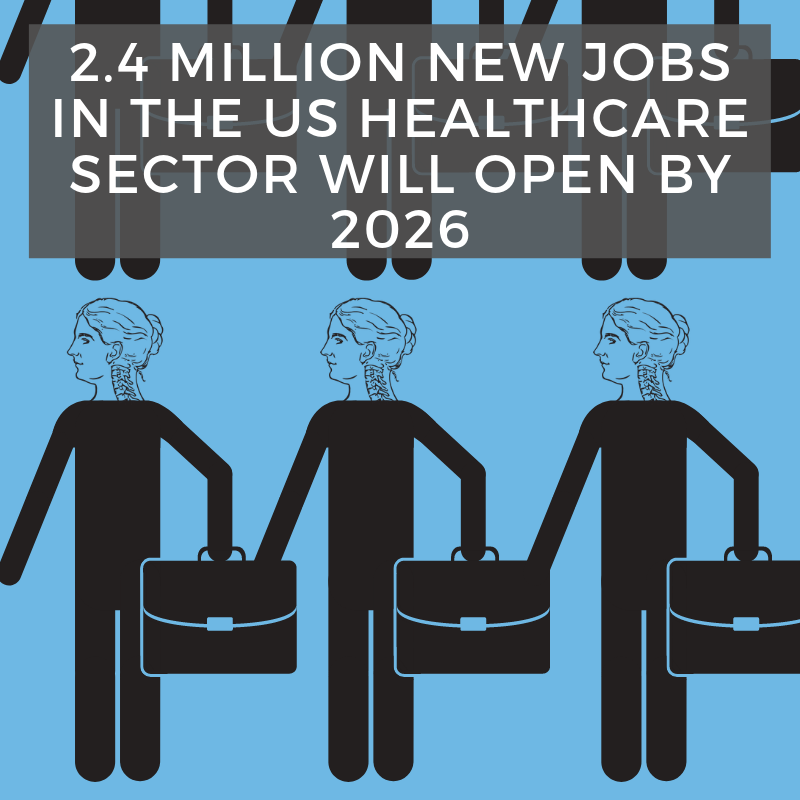 That's great new in terms of medical jobs across the board. Graduates with a degree in anatomy and physiology will be in a strong position to take advantage of new medical job opportunities. These exist in every area of healthcare; by 2030, the US is expected to have 40,800 unfilled posts for physicians and 204,000 for registered nurses, according to data reported by AMN Healthcare. The Bureau of Labor Statistics projects an 18% growth rate between 2016-2026 across the entire healthcare industry, a much faster pace than the national average. A few of the positions with the fastest growth include:
Physician Assistants: 37% job growth
Nurse Practitioners: 36% job growth
Physical Therapist Assistants: 31% job growth
Physical Therapists: 28% job growth
Massage Therapists: 26% job growth
Genetic Counselors: 29% job growth
Professors of Medicine/Healthcare: 26% job growth
A shortfall of qualified practitioners means not only great jobs prospects for prospective employees, but competitive salaries, as hospitals and clinics look to attract and retain talent. The Bureau of Labor Statistics reports that the annual median income for healthcare practitioners and technicians (including doctors, registered nurses, dental hygienists etc.) was $66,440 in 2018. With rising demand for healthcare providers and technicians, we can expect to see salaries continue to increase. A few of the current averages in the field of healthcare include:
Physical Therapists: $87,930 per year
Obstetricians and Gynecologists: $208,000 per year
Orthodontists: $208,000 per year
Dentists: $156,240 per year
Nurse anesthetists: $167,950 per year
Registered Nurses: $71,730 per year
Athletic Trainer: $47,510 per year
Students generally interested in medicine and healthcare can get an excellent introduction to the field with an associate's or bachelor's degree in anatomy and physiology. Their experience in particular classes, labs, and internship placements may guide them towards further education, and a career, in a specialty, such as athletic training or dentistry.
What are the Pros and Cons of a Degree in Anatomy and Physiology?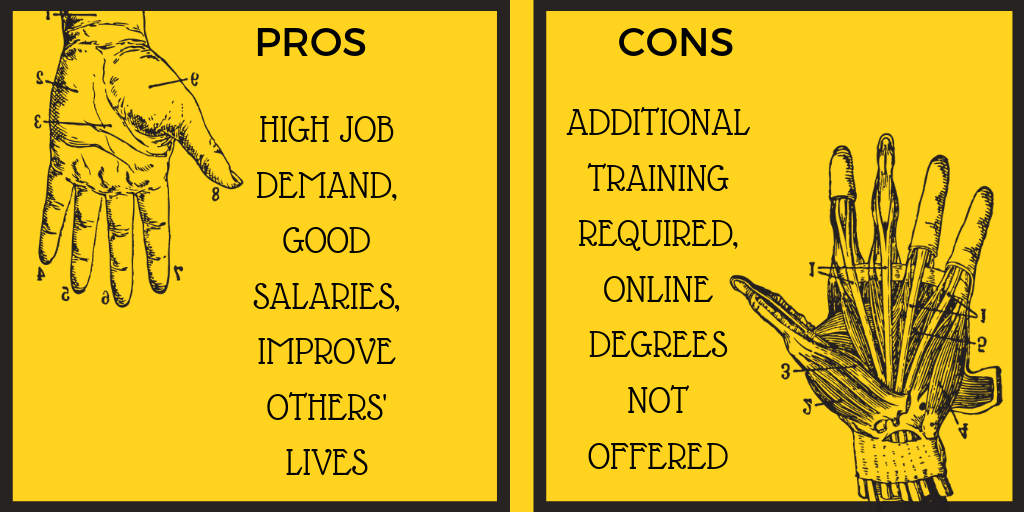 There are a lot of compelling reasons to get a degree in anatomy and physiology. The biggest of these positives are flexibility and career opportunities. An anatomy and physiology degree is flexible in terms of career path. With further education or on-the-job training, you can go on to work in exercise science, dentistry, research, biotechnology, or any number of positions in healthcare, medical science, or allied health professions. Another perk is the job market for these types of positions. Whether in the technological, therapeutic, or research sides of the field, healthcare jobs are in very high demand (and likely to stay that way). Along with high demand, jobs in health and medicine have high salaries, and those associated with hospitals and other large employers tend to come with good benefits as well.
On the other hand, there are a number of drawbacks to a degree in anatomy and physiology. The main drawbacks of this degree are the scarcity of programs and lack of clear career path. As we've noted, there are an abundance of schools offering classes in anatomy and physiology as part of their medical or biology departments, but relatively few offering degrees specifically in anatomy and physiology. And there are virtually no schools that offer fully online degrees in anatomy and physiology (thanks in part to the importance of hands-on lab work for these degrees). That means students will have to look further, and possibly relocate, to attend an anatomy and physiology degree program. Another potential drawback is the lack of a clear career path with this degree. Some students will appreciate that a degree in anatomy and physiology can be used to enter a number of medical and allied health fields. Others, especially those with a clear medical career in mind, such as nursing, may want to opt for a more targeted pre-professional degree program.
Further Reading: