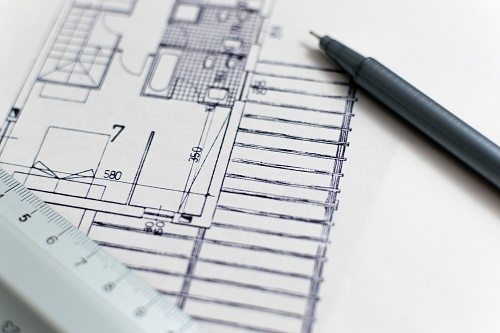 IMAGE SOURCE: Pixabay, public domain.
If you aspire to be the creative mind behind the development of buildings and other structures, you might be curious about the curriculum of a Bachelor of Architecture (B.Arch.) degree program. This program of study is somewhat different from other types of bachelor's degree programs. It typically takes longer than the average undergraduate degree and may include more emphasis on hands-on design work. However, when you complete your B.Arch. degree, you've taken an important first step toward a respected and lucrative career – especially if you studied at one of the top undergraduate architecture degree programs in the nation.
A Five-Year Curriculum
One of the biggest differences between a professional Bachelor of Architecture degree and a bachelor's degree in other fields is the time it takes to graduate. Most accredited B.Arch. degree programs are intended to be completed in five years rather than four, according to the United States Bureau of Labor Statistics (BLS). Why does this degree require students to spend an extra year studying? That's how long it takes for students who have no past training in architecture to learn the theories and concepts of designing buildings and structures as well as to practice applying those concepts to actual design work.
B.Arch. degree programs that have earned accreditation from the National Architectural Accrediting Board (NAAB) typically require coursework in a variety of subjects. Students typically complete general education courses such as liberal arts as well as the math and physical sciences classes need to understand the technicalities of designing buildings. Often, B.Arch. degree programs include courses such as architecture theory, building design, architectural structures, architectural history, computer-aided design and drafting (CADD), construction methods and the operations of professional practices.
Design Experience During College and Beyond
What you study in the classroom during an undergraduate architecture degree program is important. However, perhaps even more important, the BLS reported, is what you learn in the design studio. In this setting, students use the skills and techniques they have learned to develop hand-drawn and computer-aided design sketches and three-dimensional models of buildings.
Some schools take the focus on hands-on work a bit further. In the top undergraduate architecture degree programs, schools may encourage or even require students to complete an internship experience. Interns who work in architectural firms can get involved in various aspects of the design process. They may play a part in everything from creating drawings and models to researching building codes and deciding logistics such as the construction materials to be used in the final project.
Often, this experience offers architecture students a head start on their professional training. In every state, aspiring architects must complete three years or more of internship work under the supervision of experienced architects, engineers and general contractors before they can attain a license to practice architecture. The time you spend as an intern while earning your B.Arch. degree can sometimes count toward this experience requirement, the BLS reported. Taking advantage of an internship opportunity during college may allow you to earn your license sooner.
When you enroll in an undergraduate architecture degree program, you'll have the opportunity to learn the principles of architecture as well as how to implement those concepts in your original designs of homes, office buildings and other structures.