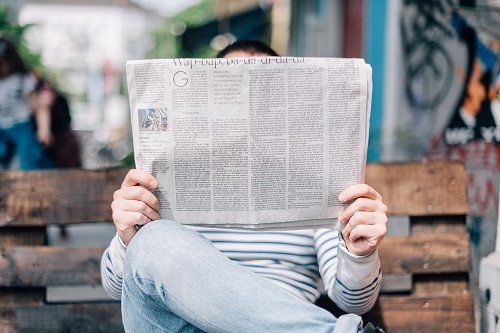 IMAGE SOURCE: Pixabay, public domain.
Before you choose a college major or even a school to attend, you should have some idea what to expect from the curriculum and whether the course of study will be relevant to your interests and goals. At the colleges that offer the best journalism degrees, the curriculum meets or exceeds the high academic standards set by the Accrediting Council on Education in Journalism and Mass Communication (ACEJMC).  Many journalism degree programs require a combination of journalism and communication classes and general education courses in the liberal arts and sciences, the United States Bureau of Labor Statistics (BLS) reported. Top-ranked journalism programs often encourage, if not require, students to gain some practical experience in the field while they pursue their college degree.
Core Courses in Communications
To develop the skills needed to work in the field of media and communications, journalism majors must first understand the fundamentals of communications. Then students can move on to more intermediate and advanced levels of study. The required classes that students must take as part of the major are known as core courses.
At the undergraduate level, core journalism courses include studies in conducting interviews, research techniques and ethics of journalism, the BLS reported. Students also take classes in writing, public speaking and other topics in communications. As technology evolves and the field of media and communications becomes increasingly digital, more journalism degree programs include optional or mandatory studies in multimedia design and computer programming and coding, according to the BLS.
Journalism Concentrations and Specializations
In addition to your required courses at the foundational through advanced levels, you will also choose courses that are of interest to you as you work toward earning your journalism degree. Many journalism programs allow students to pursue an academic concentration or specialization by taking a combination of classes that relate to a particular topic or employment niche.
The specializations and concentration tracks offered can vary a great deal from one school to another. Some specialties focus on a specific type of media, such as broadcast journalism, print journalism or digital journalism and multimedia journalism. Others delve deeper into subcategories of media and communications, including specializations in documentary film, popular television, political communication and investigative journalism. Still others prepare students for communication roles that are related to but outside the field of journalism, such as public relations, advertising and strategic communication.
If your interests are interdisciplinary, you might want to look for a program that offers concentrations in health communication, science and medical journalism or business and media. Aspiring communications leaders could benefit from studying editing or media management. Students whose interests are more academic in nature might prefer a concentration such as media sociology, media criticism, media or communication studies and the social effects of mass media communication.
Hands-on Experience to Develop Real-World Skills
To succeed in the competitive field of media and communications, you need more than an academic knowledge of journalism. You need proven experience applying your knowledge to real-world situations. Prospective employers will look for candidates who have relevant work experience, so during your college education is a good time to start attaining that experience. You can contribute to your college's newspaper, magazine, television station or radio station. You can also gain valuable experience interning with local publications or broadcasting stations.
What you learn in a journalism degree program – both inside and outside the classroom – can prepare you for a wide variety of future career paths in communications, media, advertising, public relations and marketing.