Mechanical engineering is one of the broadest fields of engineering, covering everything from automotive and robots to things on the molecular level. Mechanical engineers use computers not only to help them create and implement new designs, but also to analyze and correct problems they come across. They might work on a specific part of a machine such as an engine or turbines, or even machines as a whole, such as a car or an elevator.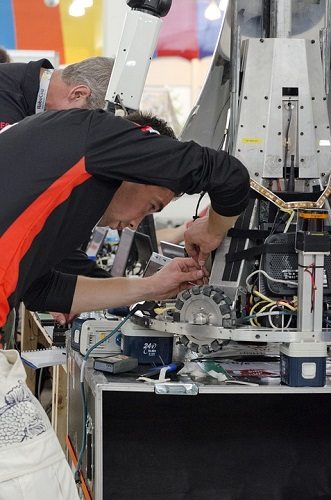 IMAGE SOURCE: Pixabay, public domain
Work in the Field of Mechanical Engineering
More than one in five mechanical engineers work in architecture and engineering services, according to the United States Bureau of Labor Statistics (BLS). Many engineers work in manufacturing in some capacity. About 13 percent of mechanical engineers work in machinery manufacturing, 12 percent work in transportation equipment manufacturing and seven percent work in computer and electronic product manufacturing. Around seven percent of mechanical engineers find employment in scientific research and development.
What exactly do mechanical engineers do? They research, plan, design, develop, build and test all kinds of devices and sensors. Mechanical engineers work with machines and engines, but also thermal sensors, tools and even the human body. Without mechanical engineers, life would look very different. There would be no elevators, air conditioners, combustion engines, batteries, medical devices, refrigerators and many of the other types of machines that we come into contact with on a daily basis.
The overall job outlook for mechanical engineers is nine percent, though some industries are seeing faster growth than others.
Types of Mechanical Engineers
The field of mechanical engineering covers a wide range that allows engineers to work in specific fields that might interest them.  One field is automotive research, in which engineers help improve cars. Some of the areas that automotive engineers work on are powertrains to help reduce environmental impact, electronic systems such as sensors, and the materials the vehicle is made out of to balance quality and safety. Automotive engineers also consider aerodynamics to improve fuel efficiency as well as developing new fuels that are both environmentally friendly and cost-efficient. Automotive engineers have a median salary of $78,053, according to PayScale.
Heating and cooling system engineers, also known as "HVAC Engineers," work with heating, ventilating, and air conditioning systems by designing them to be healthy and productive. HVAC engineers work for systems in public buildings such as schools, skyscrapers and aquariums. They also work on systems located on transport vehicles such as cars, trains, and even airplanes. HVAC engineers only have a median salary of only $63,494, according to PayScale. While the salary does increase for the first five to ten years, after that the increases are minimal, and many people move onto other mechanical engineering jobs after 20 years.
Robotic engineers help plan, build, and maintain robots to improve the world we live in. While these engineers used to find jobs in manufacturing industries, those jobs are declining. Instead, robotic engineers are finding jobs in fields of scientific research, where there is a need for machines that can perform precise steps repeatedly. Robotic engineers also help design the sensors these robots use to navigate, either through light or smell. Robotic engineers enjoy a median salary of $80,720, according to PayScale, with the potential to earn up to $121,842.
Nanotechnology engineering is a newer field for engineers who want to manipulate objects on the molecular level. These engineers build electronic circuits and mechanical devices on the atomic level, pushing the limits of the physical world. This allows for manufacturing so precise that engineers hope to one day use the technology to treat diseases, such as cancer, directly on the cellular level. Falling under the scientific area of manufacturing engineers, nanotechnology engineers can expect a median salary of $98,530, according to the Bureau of Labor Statistics (BLS).
The median salary for mechanical engineers in all industries is $85,880 per year, the BLS reported.
Why Choose a Mechanical Engineering Degree
Of all of the engineering disciplines out there, why is mechanical engineering so popular year after year? There are a number of benefits to the degree and the career path, according to the Institution of Mechanical Engineers. Nearly ninety percent of mechanical engineers report high levels of job satisfaction. When you go into mechanical engineering, you have the chance to make a difference in the world. There's no limit to the types of engineering problems you will have the opportunity to solve. If you want to earn an advanced degree, you're in good company, because 85 percent of your peers with a mechanical engineering background will go back to school at some point.
Mechanical engineer ranked number-one on U.S. News & World Report's list of the best engineering jobs.
Related Resources:
Top 10 Highest Paying Engineering Careers
For Further Reading: