If you've decided that you want to be a nurse, you might think that you have the hard part figured out already. In fact, you still have some big decisions to make. What type of nurse do you want to be? Are you content performing basic nursing tasks, or would you prefer to expand the scope of the job duties you are authorized to perform and have the opportunity to work in a specialized area of health care? Understanding the differences between a licensed practical nurse (LPN) and a registered nurse (RN) can help you make this decision and plan your path to attaining a nursing career.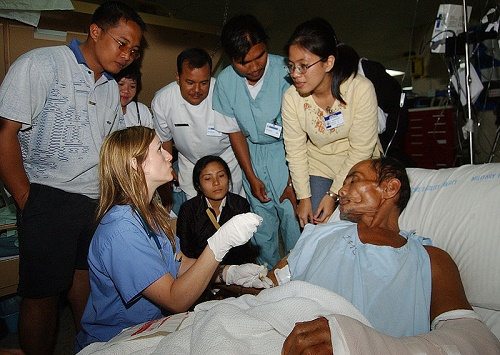 IMAGE SOURCE: Wikimedia Commons, public domain
The Training and Work of a Licensed Practical Nurse
Licensed practical nurses and licensed vocational nurses (LVNs) are real nurses who must attain state credentials in order to practice. However, their work is limited to basic nursing tasks, largely because they spend only a short time studying the principles and practices of nursing.
More than one-third of all LPNs working in the United States are employed by nursing care facilities, the United States Bureau of Statistics (BLS) reported. Others find work in hospitals, doctors' offices and home health care services. In these settings, LPNs work under the supervision of doctors and registered nurses and perform basic medical and nursing care services. Job duties for LPNs can include checking vital signs, recording health changes, inserting catheters, collecting specimens for laboratory testing, changing bandages, and assisting with activities such as bathing and dressing. In some states, licensed practical nurses may administer medications and IV drips, though they may or may not need direct supervision by a registered nurse to do this.
LPNs don't need a full-fledged nursing degree, but they do need a formal education in order to attain their nursing license. Practical nursing programs at community colleges, technical schools, hospitals and high schools usually award diplomas or certificates to graduates and take about one year of study to complete, according to the BLS. In a practical nursing programs, aspiring LPNs and LVNs complete classroom and laboratory studies in biology, pharmacology and basic nursing as well as hands-on clinical work in medical settings. Once you complete your practical nursing certificate or diploma program, you will need to earn a passing score on the National Council Licensure Examination (NCLEX-PN) so that you can get your license.
LPNs earn a median wage of $45,030, considerably more than the $37,690 median salary for all occupations. The BLS predicts job opportunities for LPNs and LVNs to grow at a faster than average rate of 12 percent over a decade.
LPNs who work in physicians' offices tend to have the lowest salaries, but they may enjoy perks such as shorter workdays and a work schedule that follows normal business hours.
An RN's Education and Responsibilities
Registered nurses are the nurses who are authorized to provide and coordinate a broader array of patient care services in a variety of health care settings and specialties. They often work directly with patients, though with the right education and experience, they may have the opportunity to work in supervisory and administrative positions. RNs are a crucial part of the health care team that treats patients, and their duties include monitoring and recording patient status and symptoms, dispensing the medications and treatments prescribed by doctors, assisting with diagnostic tests and handling medical equipment, the BLS reported. An RN works with doctors and specialists to help coordinate a patient's care plan as well as educating the patient and family on medical conditions, treatments and at-home care. Among the most popular specialties RNs chose to work in are cardiac care, critical care, addiction and substance abuse, neonatology and public health.
To become a registered nurse, you will need a more extensive education than an LPN. While you can chose whether to earn your diploma, associate's degree in nursing (ADN) or Bachelor of Science in Nursing (BSN), you should expect to spend a minimum of two to three years in full-time college studies. Nursing degree programs combine clinical experience with coursework in chemistry, microbiology, anatomy and physiology as well as other science and liberal arts subjects. Increasingly, nurses are finding that a BSN degree is preferred over an ADN degree due to preferential treatment by employers, changing state regulations and expanded opportunities for advancement.
RNs earn a median salary of $70,000, though type of employer you work for can play a big part in determining your earning potential. The BLS expects job opportunities for RNS to increase by 15 percent over just 10 years.
More than 60 percent of RNs work for hospitals, according to the BLS.
Why Spend the Extra Time to Become an RN?
To be a registered nurse, you will need to spend at least two to four times as long earning an ADN or BSN degree than you would spend in a practical nursing diploma or certificate program. How do you decide if that extra time, work and expense is worthwhile?
There are many advantages to being a registered nurse. The considerable salary difference between an RN and an LPN is one of the biggest reasons why spending a couple extra years in school can be a smart choice in the long run. If you would like more opportunities for future career advancement, including attaining leadership roles, you would be better off becoming an RN. You can also pursue a role in a medical specialty as a registered nurse that might not be open to you as a licensed practical nurse. When deciding whether to go to school for an LPN or RN program, it's important to consider what you want out of your career and how much work you are willing to invest in education and training.
Registered nurses earn nearly $25,000 per year more than licensed practical nurses do.