If you enjoy working with computer hardware and electronics, you might have an interest in the high paying, in-demand branches of engineering that focus on these technologies. At first glance, computer hardware engineering and electronics engineering might seem like similar disciplines. However, many engineering schools offer these majors as distinct programs of study. Which engineering major you choose to pursue will determine your potential job title, work responsibilities, work setting and salary.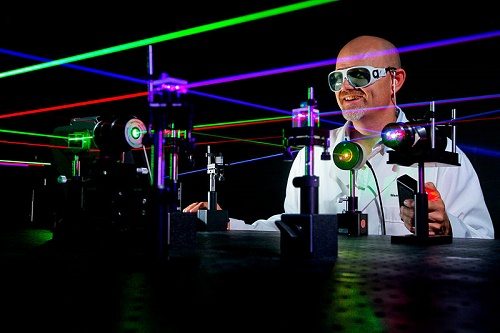 IMAGE SOURCE: Wikimedia Commons, public domain
The Distinction Between Computer Hardware and Electronics
Doesn't computer hardware fall under the category of electronics? Technically, electronic equipment refers to any of the components that are used to process electrical charges as information, including computer hardware. However, the roles of computer hardware engineer and electronics engineer differ from one another, in part due to the breadth of their professional focus.
Computer hardware engineers focus narrowly on designing, testing, updating and manufacturing components of computer systems, such as routers, networks, circuit boards, processors and memory devices, the United States Bureau of Labor Statistics (BLS) reported. On the other hand, electronics engineers design and create a broader range of electronics, including communication and broadcast systems, according to the BLS.
Many electronics engineers work in fields related to computer hardware, the BLS reported.
Computer Hardware Engineering Curriculum and Jobs
An ABET-accredited bachelor's degree program in computer engineering typically takes four years of full-time undergraduate study to complete. The curriculum of a computer engineering degree has a lot in common with that of electrical engineering degree paths but also involves considerable coursework in computer science, the BLS reported.
The biggest difference between computer engineering and electrical engineering programs is the focus on computer science. Despite this emphasis on computer science, there are also distinctions between computer engineering and computer science programs of study. There is a lot of overlap between these two programs, including studies in mathematics, basic computer operation, computer programming, operating systems and computer architecture.
However, the differences in the approach of computer science vs. computer engineering programs are significant. Computer science majors study primarily the theory of computation and computer programming, and coursework in algorithms, programming, numerical analysis and computer science concepts and theories make up the bulk of the core curriculum. On the other hand, computer engineers are more concerned with applying those theories and concepts to design, build and use computers effectively. Students in a computer engineering program study electronics and circuits, processor interfacing, digital logic design and applied physics as it relates to manufacturing circuits and devices.
The work that computer hardware engineers do after finishing school includes designing and testing new computer equipment used for computer networks, medical devices, mobile phones and communication systems, smart cars and home appliances. Of the 73,600 computer hardware engineers working in the United States, 26 percent work in computer systems design, 14 percent work in computer equipment manufacturing and 12 percent work in electronic component manufacturing. Computer hardware engineer is among the highest paying engineering and architecture jobs, with a median salary of $115,120 per year, according to the BLS.
Some computer hardware engineers enter the field with a degree in computer science or electrical engineering rather than computer engineering.
Electronics Engineering Degrees and Career Opportunities
There is so much overlap between electrical engineering and electronics engineering that many schools only offer one of these programs of study or a degree path that combines electrical and electronics engineering studies. Students in an ABET-accredited electrical or electronics engineering program will complete coursework in electrical circuit theory, digital systems design and differential equations, the BLS reported. As with a computer engineering degree program, students should expect to spend four years of full-time study in classrooms, laboratory and fieldwork settings as they work toward earning their bachelor's degree.
Electrical and electronics engineers find work in a variety of industries, including telecommunications, energy and electric power,  computers, semiconductors, aerospace, bioengineering and biomedical engineering, manufacturing, transportation and automotive, education and research and even the entertainment industry. Generally, electrical engineers work with electrical equipment and systems, including communication systems, navigation systems, power generation equipment, electric motors and radar systems, while electronics engineers work more closely with the electronic equipment used in these and other devices.
The 136,300 electronics engineers in the United States worked primarily in the telecommunications industry, the federal government, electronic component manufacturing, engineering services and navigational and control instruments manufacturing, the BLS reported. Electronics engineers earn a median wage of $102,180 per year, somewhat more than the $95,060 median salary for electrical engineers.
Job prospects are slightly better for electrical engineers than electronics engineers, with the BLS predicting opportunities to rise by nine percent for electrical engineers but just four percent for electronics engineers.
Related Resources: