A bachelor's degree is necessary to become an engineer, but you'll need more than an education to get a job in the field of engineering. Applying the concepts of science and mathematics to real-world problems is a crucial part of being an engineer. Employers want proof that job candidates have can put these theories into practice. Any kind of engineering experience can be valuable in your search for an engineering job.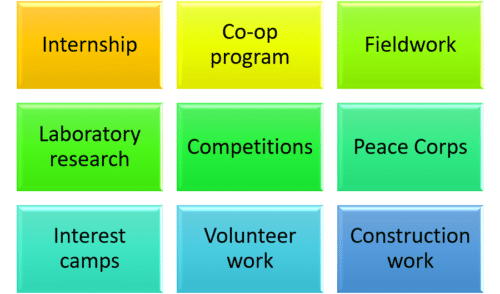 Beyond the Classroom
Students in an engineering degree program need to learn both the theories of science and mathematics and how to apply those theories. To accomplish these missions, engineering school programs include laboratory work and fieldwork along with lectures inside the classroom, according to the United States Bureau of Labor Statistics (BLS). Often, this work in the lab and the field are an engineering student's first exposure to gaining practical experience.
Programs accredited by ABET must meet student outcomes such as the ability to design systems and components and use techniques and tools for real-world engineering practice.
Professional Engineering Experience
One of the most important ways you can gain experience in engineering before you graduate is to complete an internship or a cooperative engineering program, the BLS reported. Internships and co-ops are both intended to provide students with an opportunity to gain hands-on work experience in the field. Generally speaking, internships last for a single term. They may be part-time or full-time, paid or unpaid, and might take place during the school year when the student is not scheduled to be in class or during a summer break. On the other hand, co-ops take longer and offer more in-depth training. They typically include three work terms that alternate with school terms and stretch the length of a bachelor's degree program to five years. However, they are full-time, paid positions. Because they are lengthier than an internship, cooperative engineering programs provide students with more training and may train students in different job functions.
Work that isn't intended strictly for students can also count as experience in the field of engineering. Many students have part-time or summer jobs for purposes like earning money and developing a work ethic. If you find an opportunity in a field that is relevant to your intended branch of engineering, you can make such a job do double duty by adding to your experience and your resumé. For example, an aspiring civil engineer might work in an entry-level construction job, such as rodman or surveying technician, according to the American Society of Civil Engineers.
These jobs might not be glamorous, but they can be valuable in teaching future engineers about the details of how engineering projects work.
Extracurricular Activities
Who said that only experience that awards college credit or earns a paycheck counts as engineering experience? There are plenty of other ways engineering students and recent graduates can gain valuable experience. Starting as early as high school or middle school, students can begin attending high school interest camps in engineering, according to the BLS. While these camps are often meant to be fun and encourage students to major in engineering or the sciences when they get to college, they can also offer some opportunities to start putting engineering concepts into practice in the real world.
Engineering competitions can also serve as valuable experience. Recruiters who hire engineers at Google look at experience in coding competitions and hackathons. If you major in civil engineering, you might impress an employer with your experience competing in engineering design competitions like the Steel Bridge Competition sponsored by the American Institute of Steel Construction.
Perhaps you want to use your engineering skills to do good in the world. You can use the experienced you gained volunteering to help you get an engineering job. For example, you might be like the mechanical engineer who joined the Peace Corps and designed water systems for villages in Nepal. You could also volunteer with Engineers Without Borders, an organization that uses engineering principles and practices to develop sustainable solutions and meet basic human needs in communities around the world.
There are 16,800 members of Engineers Without Borders, including students and professional engineers.
When it comes to the field of engineering, any opportunity that allows you to practice putting science and math principles into action can be the kind of experience that will help you get a job.
Related Resources:
Top 10 Highest Paying Engineering Careers
For Further Reading: