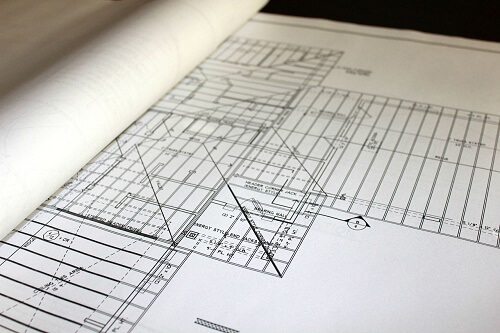 IMAGE SOURCE: Pixabay, public domain
Overview
From massive buildings to tiny microchips, every piece of engineering and architecture must be designed before it can be created. A sketch of the intended project may be aesthetically pleasing, but only once the plans are in the form of a technical drawing can the project truly begin. Drafters, also called CADD operators, are the architecture and engineering professionals who create these technical drawings and plans.
To generate technical drawings and three-dimensional electronic models, drafters use a special type of software called computer-aided design and drafting (CADD) software. They translate an architect's or engineer's rough sketches into detailed plans and schematics that include technical specifications, dimensions, building materials and engineering and manufacturing techniques.
There are many types of specialized drafters, including aeronautical, architectural, civil, electrical, electronics, mechanical and process piping drafters, according to the United States Bureau of Labor Statistics (BLS). Nearly half of all drafters work in architecture or engineering, the BLS reported. The rest find employment in industries like manufacturing and construction.
Education
The right education is essential for a career in drafting, but you might not need to attend a traditional university or four-year college to attain that training. A technical program from either a community college or a technical institute can provide the specialized training you need and award you an associate's degree.
Whether you choose to enroll in a technical institute or a community college, you will study subjects like sketching, design and the use of CADD software over a period of two years, if you study full-time. Some of these programs will allow you to choose a specialty to study, while others specialize in a single focus area. Programs also exist at technical institutes and community colleges that take less than two years and culminate in a certificate or diploma instead of an associate's degree.
Community college programs – in particular, those that award an associate's degree – often expose students to more coursework on drafting theory, according to the BLS. They might also require that you take a minimum number of general education courses so you can attain a well-rounded education.
Ambitious candidates can seek certification in a variety of drafting specialties from the American Design Drafting Association. This credential illustrates a candidate's competence and knowledge to prospective employers.
Employment
Drafters earn a median salary of $49,630 per year, according to the BLS. Those who work in electrical and electronics command the highest salaries, with a median annual wage of $55,700. While economic and technological changes to the field mean that the BLS expects to see little growth over a decade, certain specialties, like electrical and electronics drafting, should still see moderate increases in job opportunities. To stand out from the competition, aspiring drafters should develop proficiency in product data management (PDM) and (BIM) building information modeling computer software, the BLS reported.
Conclusion
Though they work under the supervision of architects and engineers, drafters' work is important in its own right, because it's what makes architectural and engineering projects possible. Drafters apply their math, technical and critical-thinking skills and their training in the use of CADD software to create the detailed technical plans necessary to construct structures both large and small.