If you've got a great eye for photography and a fascination with true crime, a career as a crime scene photographer might seem like a dream job. To make this dream a reality, you're going to have to build up both your photography skills and your knowledge of crime scene investigation and forensics. A formal education, most commonly including a bachelor's degree, is required to become a crime scene photographer.
What Is Forensic Photography?
Crime scene photography, also called forensic photography, is exactly what it sounds like: taking pictures of crime scenes, especially the scenes of violent crimes or the last known spotting of missing persons. Forensic photographers are professional photo-takers, but first and foremost, the United States Bureau of Labor Statistics (BLS) reported, they are forensic technicians who record crime evidence through pictures.
Why Is Crime Scene Photography Important?
Studying the physical crime scene provides valuable clues for investigators, but the scene can't simply be blocked off forever. Even if it could, the environment would change over time. Spilled liquids would dry up, changing their appearance and perhaps becoming invisible to the naked eye. Outdoor crime scenes could be disturbed by wind, rain and snow. To preserve this crime evidence, law enforcement departments rely on photographic documentation.
The pictures taken by crime scene photographers preserve the visual images of the crime scene long after physical evidence is collected, bodies are removed and the scene is cleaned and restored to its usual state and purpose. Having a series of crime scene photos that show the environment from every angle and view freezes the scene in time, allowing investigators to revisit it with fresh eyes when new information gives them a potential break in the case or when they find the current lines of investigation hit dead ends.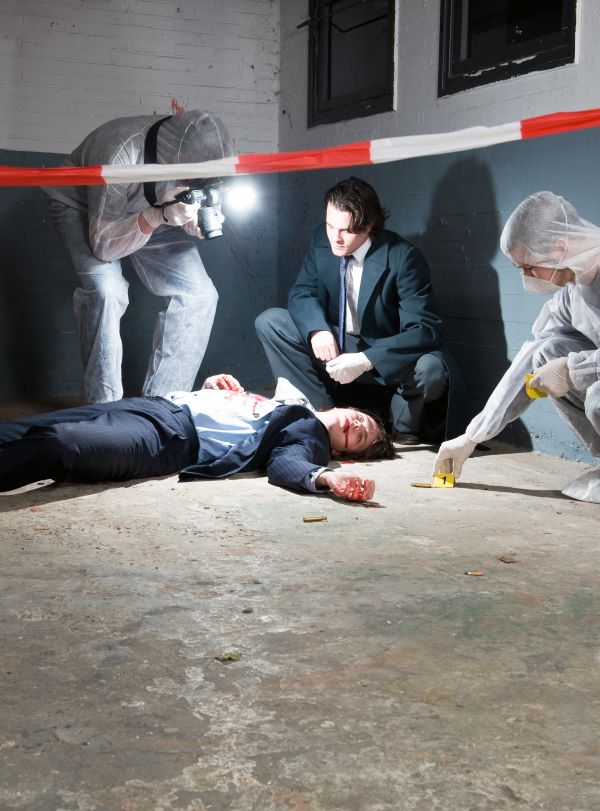 The images of crime scenes produced by crime scene photographers do more than guide detectives' investigations. They may serve as evidence in a trial, helping prosecutors make their case against the defendant charged with the crime.
What Do Crime Scene Photographers Do?
A lot more goes into taking photographs of a crime scene than aiming the camera and hitting a button. Crime scene photographers are a type of forensic science technicians, sometimes referred to as crime scene investigators, who specialize in using cameras and other types of photography equipment in their work on criminal investigations.
Forensic photographers need strong technical skills in photography, but they also need a thorough understanding of what images will provide value to a criminal investigation – and they must know how to combine their knowledge of these areas to achieve the required results.
A professional crime scene photographer uses a variety of angles and shots to capture the imagery of the crime scene, both the entire settings and the close-up views of every area of interest. To achieve this goal, the forensic photographer must be able to observe and detect all possible clues. The goal of crime scene photography is to thoroughly document evidence, including potential evidence, so that police officers and detectives can examine and re-examine the crime scene at any time.
This task is made more difficult by the fact that investigators can't know for sure when the scene is still fresh which aspects and items found on the crime scene are valuable clues and which are extraneous pieces of information. Naturally, bodies, blood spatter patterns and gun shell casings are typically relevant to the crime. However, footprints, fingerprints, spills and smears, hairs, fibers, discarded clothing and papers and other objects that appear at the scene of the crime may or may not be relevant to investigating the matter and finding the offender. Crime scene photographers must treat these items and attributes as potential clues and make sure that even subtle nuances in the crime scene are preserved in forensic photographs.
RELATED: I Am Very Squeamish Around Blood. Should I Not Be a CSI?
A skilled crime scene photographer is able to identify the correct camera angles and lighting conditions needed to produce usable shots of the crime scene. That means using a wide lens when taking photos that show the layout of the scene as a whole, but close-up shots – with the required lighting to make nuances more visible – that show more detailed views of specimens of physical evidence that a police officer or criminal investigator may need to crack the case.
In other areas of photography, the goals are primarily aesthetic in nature: to capture artsy angles, smiling faces or the "feel" of a place or event. The goal of forensic crime scene photography is fundamentally different. Far from being artsy or evoking particular emotions (outside of what the crime itself evokes), the point of the forensic photography career is to reproduce the crime scene with realism in mind.
RELATED: What Degree Do I Need to Be a Forensic Artist?
The crime scene photographer should aim to capture the scene exactly as it is, including spatial relationships between elements included in the photos. Knowing how victims, blood spatter patterns, footprints, spills, shell casings and weapons were positioned in relation to each other and to other aspects of the physical crime scene is valuable in reconstructing the crime. The photos a forensic photographer takes should be clear, accurate and devoid of the kind of perspective trickery that would confuse investigators trying to gather insights from the images.
In the course of their investigation, police officers and detectives in a law enforcement agency will analyze the photos. A police officer may need to enlarge or zoom in to see elements captured in the photographs better.
Where Do Forensic Photographers Work?
Most crime scene photographers work for police departments and other law enforcement agencies or government agencies, including prosecutors' offices and sheriff's departments. Some forensic photographers, especially those who take photos of scenes of other forensic matters – like accidents – work in the private sector, employed by law firms, insurance companies or private consulting firms.
RELATED: What Degree Do You Need to Be a Private Investigator?
Naturally, a forensic photographer spends time in the field. After all, the primary focus of their job is to photograph objects on the scene and the crime scene itself. Crime scene photographers are often based out of crime laboratories. A forensic photographer leaves the crime lab when a crime is reported and takes all of the photos they need on the scene. Then, the crime scene photographer returns to the crime lab to develop or process the photos and use digital imaging technology to enhance crucial elements of crime scene photos.
How to Become a Crime Scene Photographer
Because a career as a crime scene photographer requires skills in both photography and crime scene investigation, you might wonder which path you should take to develop these two distinct sets of skills. Should you earn a photography degree or a forensic degree to become a crime scene photographer?
1. Earn a High School Diploma.
Crime scene photographers typically need a college education, so they should complete a college preparatory curriculum during high school. As you work toward your high school diploma, make sure you take courses that are relevant to your future studies, including laboratory science classes. Find out if your high school offers any courses in photography that can help you begin to develop knowledge of photographic principles. Some high schools also offer elective courses in criminal justice or vocational training for aspiring law enforcement personnel.
To put yourself in a good position for applying to college, make every effort to keep your grades up throughout your progress toward earning your high school diploma. Completing extracurricular activities, including sports, clubs and volunteer work, can also help you get into college.
2. Go to College for Criminal Justice or Forensic Science.
Generally, aspiring forensic photographers need a bachelor's degree to work in the field, the Bureau of Labor Statistics (BLS) reported. However, some students who want to become a crime scene photographer choose to start their college education at the community college level. Pursuing an associate's degree first allows an aspiring forensic photographer to complete their education at a lower cost than if they had gone straight to a four-year institution.
Whether you begin your studies in an associate's degree program at a community college or at a four-year university, you need to complete the requirements to earn a bachelor's degree.
RELATED: What Classes Will I Take in a Forensic Science Bachelor's Degree?
A forensic science degree is ideal for this career path because the science-based coursework equips you with the technical skills and knowledge you need to identify, collect, handle and process evidence following the appropriate procedures. In a forensic science degree program, students typically take classes in general biology, chemistry and physics, as well as specialized coursework in forensic chemistry, forensic toxicology and DNA analysis.
If you're not as excited about taking such a science-heavy curriculum, you might consider majoring in criminal justice instead. This undergraduate degree program provides an overview of the criminal justice system, including criminal law, criminal procedure and techniques for criminal investigation.
RELATED: What Classes Will I Take in a Criminal Justice Degree?
Whether you major in forensic science, criminal justice or another field, you need to develop versatile skills in critical thinking, observation and problem-solving to succeed in this job.
3. Cultivate Your Photography Skills – Formally and Informally.
An aspiring forensic photographer shouldn't major in photography – or at least, not just photography. You may, however, choose to double-major or minor in photography alongside your major coursework in criminal justice or forensic science if you want to become a crime scene photographer.
RELATED: What Degree Do I Need to Become a Photographer?
Alternatively, join a club or extracurricular activity through which you can develop your skills in digital photography and film photography. For example, you might build your photography skills by volunteering to take photos for your college newspaper. If you can't find any opportunity to gain formal photography experience – even through elective coursework or recreational workshops – spend time practicing photography as a hobby to develop your eye for taking pictures.
4. Gain Real-World Work Experience.
The sooner you can begin gaining work experience, the better. Many criminal justice majors complete an internship as part of their college coursework to pursue a bachelor's degree. Although you are unlikely to find a full-time internship that focuses exclusively on forensic photography, you might be able to shadow and learn from established crime scene photographers and potentially even try your hand at taking crime scene photos while interning with police departments or other law enforcement agencies.
Most forensic photographers begin in more generalized roles in forensic science and crime scene investigation before advancing to roles as crime scene photographers. Aspiring crime scene photographers might first work as generalist forensic science technicians in crime laboratories.
5. Complete Forensic Photography Training.
An experienced forensic science technician who is wondering how to become a crime scene photographer needs specific training in forensic photography. This training may be provided on the job or through formal training courses.
Your training to become a forensic photographer should include studies of camera formats and films, lighting and color theory and the use of digital imaging technology. Through this training, you will need to learn how to spot and photograph physical evidence found on crime scenes and how to use the various kinds of equipment forensic photographers use, including tripods, different camera lenses, a laser distance meter, rulers and lighting units.
If you're planning on pursuing professional certification later, you should look for forensic photography and imaging training courses approved by the International Association for Identification (IAI). IAI forensic photography courses include studies in areas like the following:
Basic, intermediate and advanced crime scene and forensic photography
Digital photography and processing of evidentiary photo
Forensic photography using alternate light sources
Low-light photography
Forensic ultraviolet and infrared photography
Shooting incident documentation
Death scene photography
Sexual assault photography
Autopsy and injury photography
Trajectory photography
Once you have developed the skills and knowledge you need to become a crime scene photographer, you're ready to advance to a forensic photographer position.
6. Apply for Voluntary Certification.
To prove your skills in photographic documentation of crime scenes, you might consider seeking the Forensic Photography & Imaging Certification from the International Association for Identification once you have experience as a forensic photographer.
RELATED: What Certificates Can I Add to My Bachelor's Degree in Forensic Science?
Requirements for the IAI's Forensic Photography & Imaging Certification include:
A minimum of two years of experience as a forensic photographer
At least 80 hours of training, of which at least 40 hours must be specific to the field of forensic photography
Two letters of endorsement and two references
A passing score on a written test
A passing score on a practical examination
Passing scores on assignments in the areas such as crime scene, footwear impressions, night scene, injury, latent prints and vehicle documentation photography
Forensic photography isn't right for every person who enjoys taking photos. While the forensic photographer job does allow you to make a living with your camera, it's not as glamorous as working in, say, the fashion or entertainment industries. Taking pictures according to crime scene protocols also isn't fun the way that photography work in event services and portrait studios is. The pictures you take as a forensic photographer serve a serious purpose – to help solve crimes and assist in holding the perpetrators accountable.
Related Resources:
What Degree Do I Need to Be a Crime Analyst?
For Further Reading: