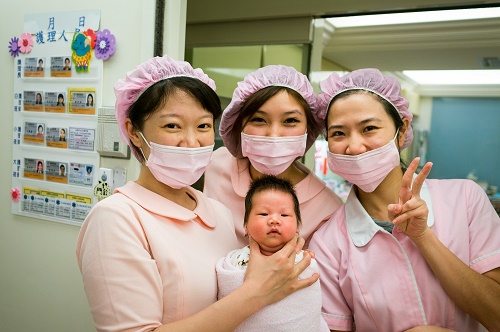 IMAGE SOURCE: Pixabay, public domain 
If you're considering a nursing career, you should know that the benefits to earning a college degree in nursing are significant. While you can attain a basic nursing license with a quick, one-year certificate program, this option won't offer you the excellent salary, job growth and advancement opportunities that a full-fledged nursing degree will. The more time and effort you are willing to put into your nursing education, the greater the benefits.
High Earning Potential
Nurses have a substantial income potential, but you will need at least an associate's degree in nursing to even begin to reach your full potential. Increasing your education so that you can take on more lucrative roles is one of the most reliable ways a nurse can boost his or her salary. In fact, the nurses who have attained the most advanced degrees can make well over six-figure salaries annually.
The licensed practical nurses (LPNs) and licensed vocational nurses (LVNs) who have only a certificate and who practice basic nursing care earn a median salary of $45,030, according to the United States Bureau of Labor Statistics (BLS). Completing even one additional year of school to attain your associate's degree in nursing (ADN) can raise your salary a great deal. An ADN or professional nursing diploma is the minimum requirement to become a registered nurse (RN). Registered nurses have more authority and a greater scope of job responsibilities than practical nurses. They also have a much higher median salary of $70,000, the BLS reported.
Advanced practice registered nurses (APRNs) have an even higher rate of pay. Nurse midwives, who deliver babies, earn a median wage of $100,590. For nurse practitioners, who provide advanced nursing care in primary care and all kinds of specialties, the median wage is $103,880. Nurse anesthetists are the highest paid APRNs, with a median salary of $165,120 per year.
Even the lowest paid nurses with the lowest level of education – a one-year certificate or diploma – make well over the $37,690 median wage for all occupations in the U.S.
Great Job Outlook
What good is a lucrative salary if you can't find a job? Fortunately, the demand for nurses is strong, and nurses with more advanced degrees are also more sought-after than their counterparts with only entry-level education.
For RNs, the number of jobs is expected to rise by 15 percent in just a decade, resulting in an additional 438,100 opportunities. While ADN holders can still take advantage of some of those growing opportunities, their job prospects won't be as good as that of RNs who earn a Bachelor of Science in Nursing (BSN) degree. ADN holders might be ineligible for jobs with employers who require bachelor's degrees, which often include the employers who hire the most nurses and pay the highest salaries. These nurses may have to go back to school later on and earn a BSN degree just to maintain their nursing license, especially as many states change requirements such as New York passing a "BSN in 10" law.
RNs already enjoy a faster than average rate of job growth, but having an advanced nursing degree can put you in a career where the job growth is even more rapid. Nurse anesthetist roles are expected to increase by 16 percent, or 6,800 jobs. The less prevalent career of nurse midwife will likely see a 21 percent increase in job opportunities, adding 1,300 new jobs. For nurse practitioners, who have a much higher than average rate of growth, the anticipated 36 percent increase in job prospects will translate to 56,100 new positions.
By 2026, the BLS predicts that there will be 3,393,200 registered nurses working in America.
Plenty of Opportunities for Career Advancement
If you start out as an LPN or LVN and never earn a nursing degree, your opportunities for moving up in the world of nursing will be severely limited. You will be able to provide only basic nursing care and will have to work under the supervision of RNs throughout your career. Even if you earn your ADN, you might be left behind as other RNs with more education keep moving forward.
However, a Bachelor of Science in Nursing degree can help you qualify for leadership positions such as charge nurse, registered nurse supervisor and nursing director.
A Master of Science in Nursing (MSN), Doctor of Nursing Practice (DNP) or similar advanced degree can help you move into even higher level roles. You need these graduate or doctoral degrees along with an APRN license to become a nurse practitioner, nurse midwife or nurse anesthetist. With an MSN or DNP degree, you might also become a nurse educator or obtain a nurse leadership job like clinical research specialist and chief nurse executive.
RN supervisory roles are some of the highest paying positions you can attain with a BSN – and without a bachelor's degree, they will remain out of reach.
The Chance to Make a Difference
Benefits such as salary bumps and growth in job opportunities are excellent, but they are far from the only reasons nurses pursue a degree. After all, many nurses enter the field not just for the pay, but rather, because they feel a calling to care for patients. Advancing your education also means an opportunity to improve your nursing skills.
Studies have proven a link between better educated nurses and better patient outcomes – and that's a win-win.