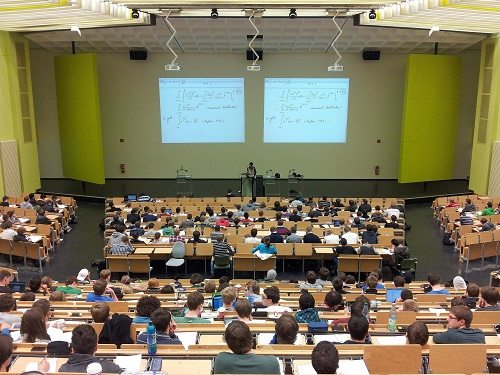 IMAGE SOURCE: Pixabay, public domain.
Whether you're choosing to start a college education for the first time or go back to school after spending time in the workforce, you're not starting from scratch. You already have valuable work and life experience. Shouldn't that experience count for something when you're working toward earning your bachelor's degree? If you choose the right school, it very well could. You can save both time and money when you opt to pursue your college education at one of the fastest online bachelor's degree programs. These programs award credit that you can apply toward your graduation requirements for previous classes you have taken at other colleges and for other forms of experience and training.
Transfer Credit
Many students take a break during their college education – whether to get out into the workforce, travel the world, manage family obligations or for a variety of reasons. They might temporarily stop their studies at the associate's degree level or leave their pursuit of either an associate's or bachelor's degree incomplete for the time being. They still deserve credit for the courses they already completed and the skills they already learned – but unfortunately, they might not get it. Only 58 percent of community college students who transferred to a four-year college manage to transfer 90 percent of the credits they had previously earned, USA TODAY reported. The remaining 42 percent of students lost at least 11 percent of their hard-earned college credits – and some lost as many as 90 percent of credits.
If you already have some college studies under your belt and you want to get credit for the things you have already learned, then you should look for a school that offers a generous transfer credit policy. In particular, you might want to explore degree completion programs – programs aimed specifically at helping students with some college experience build on their existing education to complete their degree requirements. At schools that offer the fastest undergraduate degree programs, students can often transfer as many as 90 college credits. That puts students who transfer the maximum amount of credits three-quarters of the way toward earning their degrees.
Prior Learning Credit
Academic knowledge isn't the only training that counts. Many of the schools that are home to some of the fastest bachelor's degree programs recognize this and award what's called prior learning credit in addition to transfer credit. Prior learning credit opportunities can take several different forms.
Some programs are competency-based, allowing you to test out of classes when you already know the material. Others award credit for the job training you've completed out in the workforce or for the professional certifications you have attained. You can even earn college credit toward your degree for informal professional accomplishments if you choose a program that allows for portfolio credit. In this instance, you compile the work you have done into a portfolio that demonstrates your abilities and receive credit toward your degree for that work.
It's important to realize that even among schools that offer transfer credit and prior learning credit, different degree programs have different policies. Prospective students should research what kinds of credit they can earn at one of these programs and decide what school best matches their needs and experience.