If you're interested in human behavior – less in the touchy-feely kind of way than from a biological standpoint – you would probably make an excellent evolutionary psychologist. Evolutionary psychologists propose that human behavior is based on internal mechanisms that stem from natural selection. Like other types of psychologists, evolutionary psychologists must have a college education and, typically, an advanced degree.
Understanding Human Behavior From an Evolutionary Psychology Perspective
Under the premise of evolutionary psychology, we, as humans, are primed to process information and behave in certain ways largely because of how our ancestors survived environments that were, in at least some respect, similar to the circumstances we encounter in our own lives today.
Evolution's Role in the Field of Psychology
Charles Darwin's theory of evolution is widely used to explain biology and human physiology, but the principles of natural selection can also be applied to the field of psychology. In general, psychology refers to the scientific study of thinking and behavior. Evolutionary psychology is an area of general psychology that is focused on how evolution affects the way humans think and behave.
Just as natural selection may favor specimens who possess certain physiological characteristics, like an ability to run fast or an adaptation that allows for the organism's survival in harsh climates, specimens who reacted to dangerous stimuli in certain ways were more likely improve humans' survival and reproductive success as a species. Through this natural selection among early humans and their ancestors, humans evolved to process information in certain ways and behave in certain ways under certain circumstances.
A Way of Looking at Psychological Phenomena
Is evolutionary psychology its own separate branch of psychological inquiry and practice? According to the American Psychological Association, evolutional psychology is more of a "theoretical lens," a way of looking at psychological data and phenomena, than a distinct branch of the field. As such, the APA stated, the perspectives of evolutionary psychology and evolutionary development can be applied to all areas of human psychology.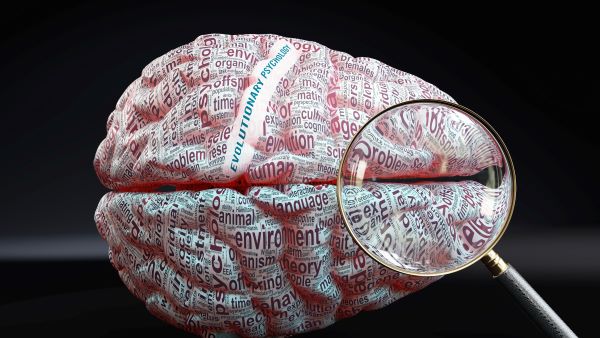 The Premises of Evolutionary Psychology
Four premises make up the evolutionary psychology perspective.
Premise #1: Not only has the human body been sculpted by the evolutionary process, but the human mind and psychological traits have, too. The human brain's mechanisms and the behaviors produced by these mechanisms were all created through our evolution.
Premise #2: The mechanisms of the brain that have been created through evolution constitute "psychological adaptations" that were, generally, produced to help the ancestors from whom we evolved overcome obstacles to survival and reproduction.
Premise #3: Even though the environments and obstacles we humans encounter today are different in critical ways from the environments our ancestors encountered, the psychological adaptations shaped by humankind's past – and the thought processes and behaviors that arise out of them – can be activated in circumstances that are even somewhat similar to these past environments.
Premise #4: Understanding the adaptive functions of psychological mechanisms isn't just one possible perspective psychologists can choose whether or not to view psychological phenomena through but rather an essential part of developing a comprehensive understanding of psychological science.
Under this final premise, the field of evolutionary psychology doesn't apply only to researchers and practitioners who consider themselves to be evolutionary psychologists specifically. Rather, psychologists in all branches and disciplines should be conscious of the evolution of the mind and its attendant psychological characteristics.
Using evolutionary psychology's perspective of how the mind evolved to work in certain ways is important, regardless of whether you're conducting psychological research in social and cognitive development or human services counseling for survivors of trauma.
The Relationship Between Developmental and Evolutionary Psychology
The field of evolutionary psychology emphasizes how human behavior has developed based on evolution. It's fair to say, then, that evolutionary psychology shares some common ground with the field of developmental psychology, which is the branch of psychology concerned with human development – changes in humans over the course of their lifespan.
What Is Developmental Psychology?
Developmental psychology is defined by the APA as the focus on how humans grow physically, mentally, socially, and personally throughout their lives. Developmental psychologists work with their patients to help them reach their maximum potential. Some of the types of patients a developmental psychologist may work with in human services counseling or clinical psychology practice – or when conducting research – include people with disabilities in the cognitive or physical sense, elderly patients or even people recovering in the hospital.
The Intersection Between Evolutionary and Developmental Psychology
Evolution certainly can be considered to have played a role in the way humans develop over their lifespan. Looking at when during the lifespan different changes in humans tend to occur can give some insight into how those changes may be related to adaptations that helped our ancestors survive and reproduce.
Evolutionary Developmental Psychology
Additionally, there is a separate field known as evolutionary developmental psychology. According to an article published in Child Development (the journal of the Society for Research in Child Development), evolutionary developmental psychology concerns the genetic and ecological mechanisms and the interactions between genetics and the environment that affect how social and cognitive competencies develop and adapt to modern environments.
RELATED: What Degree Do I Need to Be a Genetic Engineer?
Research conducted under the evolutionary developmental psychology paradigm uses the concepts of evolution to explain how human thinking and behavior develop.
Research Conducted by Evolutionary Psychologists
Even though the perspective of how evolution affects human development and social interaction has implications for all areas of psychology, most professionals who consider themselves to be evolutionary psychologists don't pursue a career in clinical mental health practice. Instead, many evolutionary psychologists engage in research as a core part of their work. Through the research they conduct, evolutionary psychologists inform all other areas of the field, including research in every discipline of psychology and the development of evidence-based psychotherapeutic interventions for counseling and clinical practice.
Evolutionary psychologists examine human behavior with the intent to better understand the human mind. These areas of focus span all areas of the mind and behavior, though it is the focused lens of how humans' ancestors survived that sets evolutionary psychology apart from fields like cognitive psychology. Areas of behavior such as social exchange, predator-prey reasoning, spatial cognition, and evolutionary biology are just some topics currently being researched at the Center for Evolutionary Psychology at the University of California Santa Barbara.
RELATED: What Bachelor's Degree Do I Need to Work in Neuroscience?
Evolutionary psychologists are involved in both quantitative research and qualitative research. Research methods used by evolutionary psychologists include those used in other areas of general psychology – such as surveys, field experiments and laboratory experiments that may involve human or animal subjects – as well as methodologies like genetic analysis, brain imaging, hormone assay tests and psychophysiological assessments.
Just because the evolutionary psychology field encompasses aspects of research as a primary component doesn't mean research is all that practitioners in this field do. Some evolutionary psychologists go into teaching careers or even lead public outreach programs.
Levels of Evolutionary Psychology Programs
A college education is essential if you want to work in the field of evolutionary psychology and related areas. Prospective students of this field of study may wonder what level of education programs they need to pursue to prepare for a career as an evolutionary psychologist.
RELATED: What Degree Do I Need to Be a Psychologist?
Undergraduate Study Options for Students With a Particular Interest in Evolutionary Psychology
Evolutionary psychology degrees are generally found at the graduate level. At the undergraduate level, students interested in the field of evolutionary psychology should consider earning a bachelor's degree in general psychology or applied psychology. An undergraduate degree program offered out of a college or university's Department of Psychology will typically cover coursework in subjects like cognitive psychology, social psychology, and forensic psychology to create a solid educational base.
Other majors students could consider at the undergraduate level are science majors, like degree programs in biology, genetics, cognitive science and animal behavior. A degree in evolutionary biology, in particular, can come in handy for understanding how adaptations developed through evolution affect humans.
RELATED: What is a Bachelor's Degree in Cognitive Science?
The social science of anthropology is another good choice to prepare for graduate programs in evolutionary psychology. Anthropology is the study of the development of human cultures. Anthropology is a social science, while evolutionary psychology has more in common with the natural science of biology. However, this field's focus on ancient societies and their development aligns well with evolutionary psychology's explorations of how ancestral environments shaped the human mind.
Master's Degree Options in Evolutionary Psychology
Students may find it hard to find schools offering master's degree programs specifically in evolutionary psychology. However, some schools, like Oakland University in Michigan, have a concentration in evolutionary psychology as part of their Master in Psychology programs. This program will help graduate students gain skills in areas such as cognitive processes and factors that influence behavior.
RELATED: What Is the Fastest Way to Become a Psychologist?
Developmental psychology MA programs might be easier to find and still prepare you for a doctorate in evolutionary psychology. A Master's in Developmental Psychology will help you develop your knowledge of topics such as cognitive development, research, human cognition, and neuroscience. This master's program can also help you enter the field of research where you can dig into evolutionary psychology topics.
RELATED: What Degree Do I Need to Be a Cognitive Neuroscientist?
Doctorates in Evolutionary Psychology
Many schools offer doctorate programs in psychology, including Harvard University in Massachusetts, which will allow you to expand your knowledge in psychology. Unfortunately, schools don't always have a specific evolutionary psychology program. You might be able to find a Doctor of Philosophy program in Evolution & Development at a school like The University of New Mexico that will allow you to focus on evolutionary psychology.
In such a program, students will develop research skills such as conducting online surveys, performing neuroimaging research to study brain design and conducting genetic analyses. Alternatively, an Ethology and Evolutionary Track & Minor program from schools like The University of Arizona could be a way to earn your doctorate in general psychology but still dig deeper into evolutionary theory.
RELATED: What Degree Do I Need to Become an Ethologist?
Before applying to a doctorate program, you should make sure to have a solid background in not only psychology but statistics as well. This is because doctorate candidates are expected to conduct research as part of their studies. Having prior research experience, including knowledge of both quantitative research and qualitative research methods, will help you succeed in a Doctor of Philosophy program in evolutionary psychology.
Which Level of Evolutionary Psychology Degree Should I Pursue?
While a master's-level degree allows students to enter the research field of evolutionary psychology, your opportunities for advancement will be limited. For high-level research roles and especially for an academic career, a doctorate is best. In particular, if you want to work at a research university, you will have a difficult time finding a full-time, tenure-track position without a Doctor of Philosophy (PhD) degree.
In fact, if you want to become a licensed psychologist or officially use the job title of psychologist, a Doctor of Philosophy or Doctor of Psychology degree may be mandatory.
Getting Into Graduate Schools or Doctoral Programs
Regardless of which level of degree you choose to pursue beyond the bachelor's level, you should have some relevant undergraduate study. Ideally, students applying to a master degree program or graduate program in evolutionary psychology have a bachelor's degree in psychology, biology, anthropology or other related areas.
The most competitive candidates for graduate programs and doctoral programs in evolutionary psychology have excellent grades, strong recommendations and compelling research experience.