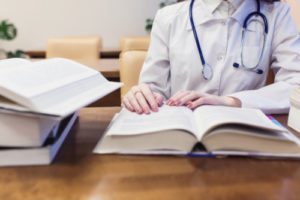 Registered nurses work closely with doctors to provide the best possible care for their patients. From recording basic vital signs to assisting with surgical procedures, nurses have a broad range of important responsibilities. And since the nursing field is expected to grow 12% by 2028, most nurses have an easy time finding a job in the United States.
By choosing a career in nursing, you'll be able to find employment in:
Physician's offices
Hospitals
Outpatient clinics
Rehab facilities
Nursing homes
Is an online Nursing degree a good investment?
If you've already started researching Nursing programs, you've probably realized there are plenty of exciting online and on-campus options. Due to a recent growth in the popularity of online learning, online Nursing programs are more accessible than ever. They're also far more respected by employers than they were in previous years.
Nursing degrees can be expensive, but since you have the potential to earn an average salary of $71,730 after graduation, the investment will be more than worth it! And the good news is that since you won't have to pay dorm or activity fees, online Nursing programs tend to cost less than their on-campus counterparts.
Choosing an online Nursing program will allow you to earn a degree from a well-regarded university without leaving your town—or even your living room. However, online learning isn't right for everyone, and like anything else, there are advantages and disadvantages. Let's take a look at the pros and cons of online nursing programs, so you'll be able to find a school that suits your individual needs.
What are the benefits of earning my nursing degree online?
Online nursing programs have many perks that set them apart from their on-campus counterparts. Although your supervised clinical courses will be impossible to complete online, nursing theory courses and electives are well-suited to distance learning.
Here are some benefits of choosing to earn your Nursing degree online:
You'll be able to study any specialty you want: If you're limited to schools in your own city, or even your own state, you'll probably have a hard time finding the exact specialty you're looking for. For example, Neonatal Nursing programs can be hard to find, while general Nurse Practitioner programs are abundant. But if you choose to study online, programs from all across the country will be at your fingertips, and you won't be limited by your geographical location.
You'll be able to learn on your own schedule: Most students agree that flexibility is one of the greatest benefits of online learning. With online classes, you'll be able to catch up on your coursework any time you choose. Anyone with a family to take care of knows what a huge advantage this is! This can also be a major convenience for registered nurses who are planning on pursuing their master's while working a full-time job.
You'll sharpen your tech skills every single day: Outside of the lab, classroom-based nursing courses don't do much to improve your computer skills. However, online learning is a different story: Since all your lectures and discussions are computer-based, you'll be tech-savvy in no time (if you aren't already!). Healthcare is growing more and more dependent on technology, and most nurses are required to use a computer throughout the day to access patient records. This means that the time you spend online for your online courses will make you stand out from other candidates!
What are the disadvantages of earning my Nursing degree online?
Online nursing programs have come far in recent years, but this doesn't mean that this route is well-suited for everyone. Depending on your unique learning style, on-campus classes may be a better choice for you.
Here are some disadvantages of an online Nursing degree:
You may have a harder time gaining clinical experience: Most Nursing instructors agree that even the best online instruction is no substitute for real-life clinical experience. Therefore, you'll still be required to attend clinical hours even if the majority of your degree program is online. If your school is located in a different state, they may not be able to do much to secure clinical hours for students, and there's a chance you'll be expected to make the arrangements on your own. Therefore, you may need to put in some extra work to make sure you're getting the experience you need to stand out to future employers.
Getting practical experience may be a challenge: Unfortunately, gaining practical experience in your online nursing classes may prove to be difficult. While on-campus students have access to Nursing labs where instructors will demonstrate proper technique, online students don't share this same luxury. Therefore, online Nursing programs are best suited for students who already know all the basics. Also, it's important to keep in mind that the online learning model is much better suited to master's level nursing programs than undergraduate ones.
It may be more difficult to stay accountable: On-campus learners have an entire support network of other students at their fingertips. If you study on-campus, it's easy to form study groups and collaborate on group projects. However, online students must become self-motivated and get through the semester without much encouragement from other students. If you're an extroverted learner who benefits greatly from group projects and face-to-face interaction, online learning probably isn't the right choice for you.
Will employers respect my online Nursing degree?
Now that we've taken a look at the pros and cons of online Nursing programs, you're probably wondering what employers have to say. According to U.S. News and World Report, employers don't mind online master's degrees in Nursing, but look down on undergraduate ones. This means that although most employers prefer that you learn the fundamentals in person, you shouldn't have a problem finding a job if you choose to earn your master's online after.
Online Nursing degrees are also far more likely to be held in high regard if they're earned from a reputable institution. Be sure that all programs you investigate are accredited and well-rated by current and former students. Always avoid schools without an on-campus location, and choose one with respected faculty and staff such as the online Master of Science in Nursing at Duke University.
By holding yourself accountable and ensuring you find a local hospital to complete your clinical hours in, you'll be able to impress future employers with your online Nursing degree. As long as you stay on-track and push yourself to get the most from your education, your online degree won't be viewed any differently than an on-campus education by the vast majority of employers.
Erica Ciko Campbell
Bachelor of Science (B.S.), Biology| Utica College
Associate of Science (A.S.)| Herkimer County Community College
December 2019
More Articles of Interest: