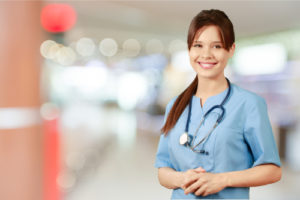 Registered nurses administer medication, educate patients, and work closely with doctors to provide the highest quality of care. Due to America's rapidly-growing aging population, nurses are almost always able to find well-paying jobs across the country—even with an associate's or bachelor's degree. However, a Master's degree is a valuable tool that can help registered nurses take their career to the next level.
What is a Master of Science in Nursing?
 A Master of Science in Nursing (MSN) is an advanced degree designed to allow registered nurses (RNs) to become advanced practice registered nurses (APRNs). Depending on what school you choose to attend, you should expect to earn 30 to 40 credit hours throughout your MSN curriculum. You can expect to attend most MSN programs full-time for two years.
Some programs are designed to train students to become Family Nurse Practitioners, while others focus on specialties such as Pediatric Nursing or Nurse Midwifery. Most specialties will require you to attend a certain number of clinical hours as well. An MSN will qualify you for advanced nursing positions in hospitals, nursing homes, clinics, and other healthcare facilities across the country.
How much extra can I expect to earn with a MSN?
According to Salary.com, registered nurses without an MSN earn an average of $72,580 per year. However, many APRN nurses with an MSN earn well over $100,000 per year. This means you can expect a significant salary boost after earning your MSN regardless of what specialty you choose.
However, to get a better idea of what salary to expect from your MSN, you'll need to take a closer look at your APRN specialty of choice. First, let's take a look at the salaries of some of the most common types of APRNs. Then, we'll explore how other important factors such as location and experience come into play.
Family Nurse Practitioner
Average Salary: $113,930 per year
Nurse practitioners share many of the same roles as primary care doctors. Some of their responsibilities include performing physicals, ordering and interpreting diagnostic tests, and creating treatment plans for acute and chronic conditions. However, their job description is very broad, and they can end up doing everything from administering vaccines to prescribing medication!
According to the BLS, Family Nurse Practitioners earn an average of $113,930 per year. The field is expected to grow an impressive 26% by 2020, so graduates of a respectable FNP program should have no trouble finding a job.
Certified Nurse Midwife
Average Salary: $108,841
Nurse Midwives work primarily with pregnant patients, although they sometimes perform checkups on women of all ages. Their main duties include delivering babies, offering prenatal and postpartum care, and performing obstetric checkups.
According to Salary.com, Certified Nurse Midwives make $108,841 per year on average in the United States. Like Family Nurse Practitioners, their field is expected to grow 26% by 2028.
Psychiatric Nurse Practitioner
Average Salary: $105,220
On average, Psychiatric Nurse Practitioners earn $105,220 per year. They work closely with psychiatrists to diagnose and treat a wide array of mental health conditions. They provide psychiatric evaluations and analyze a patient's family history to determine the best course of treatment. Some Psychiatric Nurse Practitioners may even provide psychotherapy as well.
Nurse Anesthetist
 Average Salary: $168,597
Nurse Anesthetists have the very important responsibility of providing anesthesia to patients before surgery. They also offer pain management both in a hospital setting and during outpatient procedures.
With the potential to earn $168,597 per year, Nurse Anesthetists come out at the top of the list salary-wise. Nurses who choose to focus on this specialty while earning their master's have the potential to double their salary!
Adult Gerontology Nurse Practitioner
 Average Salary: $92,881
The main focus of an Adult Gerontology Nurse Practitioner is treating illness. Therefore, they often work in hospital or inpatient settings. Even though they deal with patients of all ages, they're specially trained to deal with diseases that impact the aging population.
At an average of $92,881 per year, Adult Gerontology Nurse Practitioners make significantly less than many of the other APRNs on this list. This is something to carefully consider when narrowing down potential specialties.
Neonatal Nurse Practitioner
Average Salary: $122,952
 Neonatal Nurse Practitioners work mainly in hospitals, specifically in delivery rooms and intensive care units. They use medical devices such as incubators and ventilators to care for premature and sick infants. They deal with issues such as low birth weight, infant respiratory distress, and heart issues.
Earning an average of $122,952 per year, Neonatal Nurse Practitioners are some of the highest-paid nurse practitioners on our list.

What other factors will influence my salary?
Although the specialty you choose will play a major role in how much extra you can earn with a Master's in nursing, several other factors such as your location and previous experience come into play as well. Let's take a look at how all these details will work together to determine your future salary.
Previous Experience: Sometimes, experience can have even more influence over your salary than an advanced degree. For example, a registered nurse with fifteen years of ER experience could still make substantially more than an APRN with two years of experience.
Location: Like most other fields, nursing salaries are heavily dependent on location. You'll probably find that you'll earn far more in a large metropolitan area such as New York or Los Angeles as opposed to a small town.
Type of Healthcare Facility: The type of workplace you choose will also play a role in your salary after you earn your master's degree. While specialty hospitals and diagnostic labs are known to pay very well, rehab facilities and home health care networks don't always have such a large budget.
Erica Ciko Campbell
Bachelor of Science (B.S.), Biology| Utica College
Associate of Science (A.S.)| Herkimer County Community College
November 2019
More Articles of Interest: