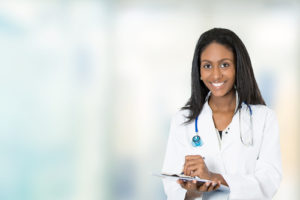 Advanced Practice Nursing is categorized into three groups: nurse anesthetists, nurse midwives, and nurse practitioners (NP). All three categories require a master's level degree or higher. Becoming a Nurse Practitioner is an excellent niche in healthcare to join. According to the Bureau of Labor and Statistics, Nurse Practitioner jobs will grow 26% over the next ten years. This is an amazing growth projection compared to the national average for all occupations.
Becoming a nurse practitioner first requires students to attain a Registered Nursing (RN) license either through an Associate or Bachelor of Science program. Associate nursing programs typically take 2 years to complete; while Bachelor of Science in Nursing programs typically take 4 years to complete. Some NP programs offer RN to MSN degree tracks, but most students go from a BSN to MSN. Nurse practitioner programs typically take on average an additional 2 to 4 years post-bachelor's degree.
Once students become registered nurses, most NP schools require 1 to 2 years of bedside nursing experience before applying. This is intended for nurses to gain experience with patients so that they become better nurse practitioners. Experience as a bedside registered nurse is crucial before becoming a nurse practitioner. Otherwise, lack of experience will be a disservice to you and your patients. Gaining entrance into nurse practitioner programs are very competitive and require impressive applications. Sometimes hundreds of applicants apply with limited spots available every year.  One important requirement is that your undergraduate GPA is substantial; aim to have a 3.0 GPA or greater.
What do nurse practitioners do?
Nurse practitioners provide primary and specialty care while being referred to as "advanced practice nurses". These nurses have prescriptive authority under the guidance of physicians. NPs work independently or in close collaboration with physicians or other practitioners. NPs perform the same duties as registered nurses but gather more in-depth patient history and determine medical issues, which allows them to diagnose and treat ailments.
Nurse practitioners serve mostly in primary settings, that are preventative care settings; however, some practice in specialty areas such as geriatric, psychiatric, pulmonology, gastrointestinal, and cardiac care. NPs are also different than Registered Nurses as they are allowed to diagnose illnesses, discuss ways to integrate health promotion, and develop treatment plans. Nurse practitioners have a wider scope of practice than Registered Nurses. However, with these privileges, comes great responsibility.
Nurse practitioners work in a variety of settings, both metropolitan and non-metropolitan areas. Most nurse practitioners work in physician offices, while the second most work in hospitals. Duties of nurse practitioners include: taking patients medical history and symptoms, performing physical exams, creating care plans, ordering diagnostic tests, diagnosing various health problems, analyzing test results to determine treatment plans, prescribing medications, evaluating responses to therapies, consulting with other providers as needed, educating patients on healthy lifestyle choices, and conducting research on various health-related topics.
Nurse practitioners are a vital aspect of healthcare and are valuable resources. Nurse practitioners help ease the burden for the need of healthcare providers, especially in the primary care sector. Primary care is the basis for all illness prevention, well-trained providers need to take the initiative in that area of healthcare.
 Starting salary
Are you ready to become a nurse practitioner? According to the Bureau of Labor and Statistics, the average median pay for a nurse practitioner is $113,930 per year. With a projected growth of 26% over the next ten years, this field is growing much faster than average. This means that job opportunities will continue to be prevalent in this field. Just like with every career, there are low and high ends of salary ranges. A bell curve is displayed with the average in the middle and outliers both at the top and bottom of the curves. Regarding nurse practitioners, the lowest 10% earners make $80,670 while the highest 10% earners make $182,750 per year. The states with the highest annual mean salaries for NP are as follows; in order from greatest salary to least-greatest salary:
California ($133,780/year)
Alaska ($122,880/year)
Massachusetts ($122,740/ year)
New Jersey ($122,100/ year)
New York ($120,970/ year)
RELATED: The Best-Paying Jobs in Health Care: Top 15 Highest-Paying Medical Specialties
Most metropolitan areas have higher salaries for nurse practitioners compared to non-metropolitan areas. In addition, metropolitan areas have the highest number of jobs available for nurse practitioners. The metropolitan areas with the highest number of NP employment opportunities are:
New York, New York
Newark, New Jersey
Jersey City, Pennsylvania
Boston, Massachusetts
Cambridge, Massachusetts
Nashua, New Hampshire
Philadelphia, Pennsylvania
Camden, New Jersey
Wilmington, Delaware
Los Angeles, California
Long Beach, California
Anaheim, California
Chicago, Illinois
Naperville, Illinois
Elgin, Illinois
Atlanta, Georgia
Sandy Springs, Georgia
Roswell, Georgia
Dallas, Texas
Fort Worth, Texas
Arlington, Texas
Miami, Florida
Fort Lauderdale, Florida
West Palm Beach, Florida
Houston, Texas
The Woodlands, Texas
Sugar Land, Texas
Washington, District of Columbia
Arlington, Virginia
Alexandria, Virginia
As you can see, many states across the U.S. need qualified nurse practitioners to help bridge the gap between patient and high-quality healthcare. These positions also pay very well for a master's level education.
 A closer look at: Alabama, Michigan, Florida, and California
Specific states have mean annual salaries that differ from the rest of the country. According to the Bureau of Labor and Statistics, several states have varying high and low salaries for nurse practitioners. These are the mean annual salaries for the following states, along with the top 10% and lowest 10 % of earnings for that state:
Alabama: annual mean wage $95,970

10th percentile: $62,960
90th percentile: $128,480

Michigan: annual mean wage $106,880

10th percentile: $84,100
90th percentile: $130,710

Florida: Annual mean wage: $101,100

10th percentile: $67,040
90th percentile: $129,970

California: Annual mean wage:

10th percentile: $94,940
90th percentile: $191,090
 The highest paid nurse practitioner is recorded in California, with a mean annual salary of $191,909. This is a huge increase from the mean annual average of the entire United States which is $113,930 per year. Generally speaking, this is where nursing salaries cap out.
Overall, growth in nurse practitioner job opportunities will increase as the demand for healthcare services increase. Several factors contribute to this demand, including an increased emphasis on preventive (primary) care and the demand for healthcare services from the aging population. As baby boomers age, they will experience ailments and complex conditions that require medical care. This is where  nurse practitioners step in. Nurse practitioners will be needed to treat those with chronic and acute conditions both now and in the future. To conclude, job opportunities for advanced practice registered nurses are likely to be excellent. Nurse practitioners will continue to be in high demand, particularly in medically underserved areas such as inner cities and rural areas.
Tessa Chatham
Master of Science (M.S.), Nursing Education| Aspen University
Bachelor of Science (B.S.), Nursing| Texas Christian University
Bachelor of Arts (B.A), Psychology and English| The University of Texas at Arlington
November 2019
More Articles of Interest: