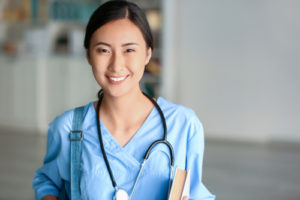 If you're looking for a rewarding career where you can make a difference in the lives of countless patients, nursing is an excellent choice. This broad, rapidly-growing field covers many different specialties. As a registered nurse or a nurse practitioner, you'll be qualified to work in a wide variety of healthcare facilities such as:
Hospitals
Clinics
Independent Physician's Offices
Nursing Homes
Schools
RNs and NPs both have the important job of working closely with patients on a day-to-day basis. They both monitor patients, treat common illnesses and educate patients about health conditions. But in the grand scheme of things, RNs and NPs have a very different level of responsibility, as well as a major difference in pay.
What is a registered nurse?
Registered nurses are the most common type of nurse typically found in a clinic setting. They serve as liaisons between patients and doctors and work with patients directly to address a wide variety of health concerns.
Some of their other main responsibilities include:
Monitoring symptoms
Taking a patient's medical history
Giving medication
Observing and reporting side effects of medication
Recording vital signs
Compiling reports
Registered nurses are a key part of hospitals, rehab centers, and many other different healthcare facilities. Some registered nurses even travel between states regularly because their services are so in-demand.
What is a nurse practitioner?
As the number of primary physicians decreases, nurse practitioners are becoming an even more important part of the American healthcare system. They share many of the same responsibilities as registered nurses, but also face many additional job requirements.
In a typical day on the job, nurse practitioners are expected to:
Diagnose illnesses
Monitor patients
Prescribe medication and medical devices
Perform medical examinations
Supervise registered nurses
Order diagnostic tests
Create long-term treatment plans
Prepare reports
Nurse practitioners have full practice authority in 20 states, which means they don't need to work under the supervision of a doctor. However, in the rest of the country, they're required to work under a doctor who oversees their work. They share many of the same responsibilities as full-fledged medical doctors and are required to go through hundreds of hours of clinical training before seeing their first patient.
What is the difference between a registered nurse and a nurse practitioner?
RNs and NPs have many overlapping responsibilities, such as monitoring patients and compiling reports. But overall, the two roles don't have as much overlap as you might think. Here are some of the major differences between registered nurses and nurse practitioners:
Salary: The BLS has listed the median pay for RNs at $71,730 per year in 2018. But although the registered nurse (RN) salary is highly competitive, nurse practitioners earn quite a bit more. The nurse practitioner salary is currently listed at $113,930 per year on the BLS. This means that NPs will be able to earn substantially more than RNs over the course of their careers, which could be a major factor when deciding between these two paths.
Education: Even though RNs are only required to earn an associate's degree, many hold bachelor's degrees as well. Others hold a diploma from an approved nursing program. However, all nurse practitioners must earn a Master of Science in Nursing (MSN) at the minimum. Aside from their degree, NPs are also required to undergo clinical training in their chosen area of specialty.
Work Environment: While more than 60% of RNs work in hospitals, NPs can more commonly be found in private practices and clinics. Depending on their area of specialty, they have more freedom to choose alternative work environments outside of hospitals.
Level of Autonomy: Unlike registered nurses, nurse practitioners have the ability to diagnose illnesses and prescribe medications. They face far more responsibility when it comes to treating patients, and in some states they even have the same authority as a doctor. While a registered nurse can never practice on their own, nurse practitioners can open their own office and practice independently in many parts of the United States.
Examinations: While registered nurses are only required to pass the NCLEX exam once, nurse practitioners must pass an initial certification exam, as well as an additional re-certification every 5 years.
Should I become an RN or an NP?
If you're currently trying to decide between these two exciting career paths, there's a lot to consider. There are advantages and disadvantages to both careers, so it's important to consider which is best for your unique goals.
Independent personality types who want to be able to see patients without much oversight from doctors or other medical professionals would be well-suited to a career as an NP. The high nurse practitioner salary is an undeniable benefit as well. However, it's important to take the heightened responsibility and frequent re-certification into consideration as well. For many people, the freedom to work independently and make significantly more money is a worthy tradeoff.
However, you may not feel comfortable devoting at least 6 years of your life to higher education. You may not want the pressure of paying back student loans hanging over your head, either. A career as a registered nurse allows you to earn a good salary with a two-year degree, which is somewhat rare in today's economy. The RN career path is also ideal for someone who wants to travel and see the country, as travel nurse positions have become very popular in recent years.
If you're still having a hard time deciding, the good news is that these two career paths are very closely interwoven. Even if you aren't sure if a career as a nurse practitioner is right for you, you could always attend a registered nurse degree program and make your decision after. Your undergraduate degree will qualify you for admittance into a Master of Science in Nursing (MSN) program if you choose to pursue one down the road.
Erica Ciko Campbell
Bachelor of Science (B.S.), Biology| Utica College
Associate of Science (A.S.)| Herkimer County Community College
November 2019
More Articles of Interest: