Although urologist is among the highest-paying medical specialties, many patients don't know what urologists do – and some have never even heard of this medical specialty. Urologists are specialists in two important but often overlooked areas of medicine, the urinary system and the male reproductive system. Urologists focus on diagnosing and treating medical conditions of these two bodily systems.
Focusing on the Urinary System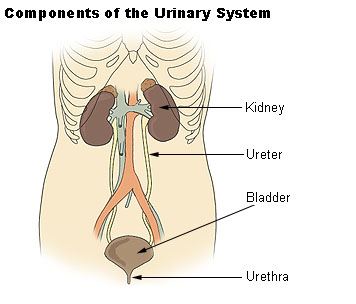 IMAGE SOURCE: Wikimedia Commons, public domain
As the name of the specialty suggests, urologists handle matters of the urinary system, the organs and other components of the body that allow for urination. Urologists are experts in organs such as the bladder, which stores urine in the body. They also focus on the function and diseases of the urethra, the tube through which urine is expelled from the body, and the ureters, tubes that run from each kidney to the bladder to transport urine as it is produced in the kidneys.
Although a urologist treats issues pertaining to the kidneys and adrenal glands, this type of specialist generally focuses on diseases of the urinary tract. A different type of specialist, called a nephrologist, is an expert in kidney conditions.
Treating Matters of the Male Reproductive System
What you might not be able to gather from the name of this medical specialty is that it has a second area of focus: the male reproductive system. Urologists treat health conditions of the penis, testicles and prostate gland. These health issues can range from prostate enlargement to sexual dysfunction and infertility, which means that men come to a urologist for help with many different problems that are of a sensitive nature. From finding solutions for common problems with urination to prescribing medications and devices that help combat sexual dysfunction and even performing vasectomies on men who are finished fathering children, urologists address all areas of male reproductive health.
It isn't only male physicians who enter the field of urology, especially now. Most urologists are men, but the percentage of women in the field has risen in recent decades. From 1989 to 2011 – the percentage of female urology residents rose from just 5 percent to 23 percent.
Testing and Treatments in Urology
What exactly does a urologist do? The answer depends partly on where the urologist works. A urologist who works in a hospital is more likely to handle urgent, acute matters, while urologists who work in private practices or urology centers may handle more routine matters.
Wherever a urologist works, their job description includes consulting with patients, performing physical exams and diagnostic tests and developing and carrying out treatment plans. Urologists go over in detail the urinary symptoms their patients are experiencing, since there are many different types of problems that could occur within the urinary tract. A patient who has trouble initiating a urine stream may have a different medical condition compared to one whose stream dribbles off at the end of urination or who feels unable to completely empty the bladder.
The physical exam performed by a urologist typically includes a genital and rectal exam, WebMD reported. Urologists may perform or order urodynamics tests that assess the function of the bladder's ability to store urine and the ability of the urinary tract to urinate normally. There are many kinds of treatments a urologist may use for different types of urinary or male reproductive issues. Urology is a surgical specialty, and some conditions are treated with surgery. However, these conditions may also be managed with lifestyle changes, medications, physical therapy and medical devices such as implants. Many urologist tests and treatments can be done in the office, while others are completed in a hospital setting.
Some urologists work in a specialty called urologic oncology, which is the treatment of urologic cancers. Urologic cancers include cancers that form in the bladder, kidney, prostate, testicles and adrenal glands.
Misconceptions About Specializing in Urology
Because the male reproductive system is one of the two main areas of emphasis in the specialty of urology, many people believe that only men go to a urologist, just as only women would go to a gynecologist for care. However, urologists are authorities in the urinary system of both men and women. Many urologists treat both male and female patients. Urologists can also specialize in their practice. Some urologists focus on issues in female urology, the Urology Care Foundation reported. Others work in men's health primarily or exclusively, and still others work in the subspecialty of pediatric urology.
Many patients feel so apprehension about visiting a urologist, whether because problems pertaining to urination and male sexual dysfunction may seem embarrassing or because they fear the examination and testing will be painful. However, patients who have seen a urologist tend to report that the experience was not the ordeal they may have expected it to be. Keeping patients as comfortable as possible – both physically, with appropriate anesthetics, and emotionally, with strong interpersonal skills and a sense of humor – is an important part of being a good urologist, the Cleveland Clinic reported. Patients who underwent urodynamics testing to measure the function of the bladder and urinary tract reported low rates of pain and embarrassment and high rates of overall satisfaction with their testing experience, the National Center for Biotechnology Information reported.
Another common misconception is that debilitating bladder incontinence and male sexual dysfunction are normal parts of aging. Although these problems do become more common with age, a urologist can help improve quality of life for the patients who develop them.
Additional Resources
What Are Some of the Common Conditions a Urologist Treats?