The hospitality industry is among the biggest industries in the world, making up 10 percent of the global economy, the World Travel & Tourism Council reported. Yet for many of the industry's 319 million jobs, starting salaries are less than impressive. In entry-level, non-management roles in hospitality, you may earn minimum wage or close to it. However, if you can get a job in hospitality management, which may require a college education or a great deal of work experience, you can make a much better living. In the hospitality management career field, the more experience you have, the greater your income potential will be.
What Wages to Expect From Non-Management Hospitality Jobs
Leadership and specialized roles are the most well-paid positions in the hotel industry. For lower-skilled jobs that involve less responsibility, the wages are much lower. That said, the American Hotel & Lodging Association reported that the industry as a whole generally pays more than minimum wage in the United States and that a minimum of 90 percent of workers in entry-level job roles at most hotels start at pay rates above the legal minimum wage. Perhaps that's why the federal median wages for jobs like hotel front desk clerk, housekeeper and bellhop is in the $12 to $13 range – several dollars above the federal minimum wage, as of 2020 – according to the United States Bureau of Labor Statistics (BLS).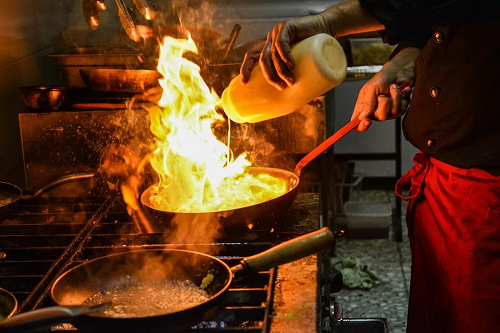 IMAGE SOURCE: Pixabay, public domain
The same can't be said for the restaurant industry. When you start in a position like a busser, dishwasher or host or hostess, you will often start at or near the minimum wage, according to The Houston Chronicle. For cooks, wages vary considerably based on your level of experience and responsibility and the type of restaurant environment in which you work. Cooks in fast-food restaurants tend to earn the least, followed by short-order cooks and then cooks at full-service restaurants, the BLS reported.  Starting wages for cooks are often at or near minimum wage, but experienced cooks, especially in higher-end restaurants, can earn higher wages, rising to an average hourly wage of more than $25 for chefs and head cooks, the BLS reported.
For waitstaff, wage structures are more complicated. In many areas in the United States, waiters and waitresses don't earn the regular minimum wage but instead a separate tipped minimum wage that can be as low as $2.13 per hour. Waiters and waitresses are expected to live off of their tips, a practice that has both positives and negatives for workers. Successful waiters and waitresses with excellent customer service skills have the potential to earn much more through tips than they would as an employee paid a regular wage, but this practice also leaves waitstaff financially vulnerable if guests tip poorly or the restaurant goes through a slow period.
Beyond hotels and restaurants, the many other types of players in the tourism industry offer varying rates of pay for different job roles. Generally, though, wages for entry-level jobs in non-management roles will be lower than those for even the least senior of leadership positions. These wages can be as low as minimum wage. However, the companies that want to attract the best talent often offer slightly higher wages to make their job openings more competitive. Major theme parks and other tourism and hospitality companies may even set their own minimum wages considerably above the federal and state minimum wage requirements.
As of 2020, Disney World and Universal Studios in Orlando, Florida, and Disneyland in California have announced new starting minimum wages of $15 per hour for their workers.
Starting Salaries for Hospitality Management Graduates
If you want to earn more in the hospitality industry than these roles will offer, you will need to find a way into a leadership role. Although you can use years of work experience through which you gradually take on more extensive responsibilities to put you on the path to management, there's another way that will help you gain a fuller complement of skills and start earning more money faster. With a bachelor's degree in hospitality management and less than one year of experience, you are qualified for manager-in-training and assistant manager jobs and could see a median salary of $37,668 per year. That's a good $10,000 more than the starting salaries, or even median salaries, you can expect for low-paying non-management roles in hotels, restaurants and other areas of the tourism industry.
It doesn't take long for these wages to begin to rise. Among bachelor's degree holders with one to four years of hospitality management experience, the median annual wage is $39,752. For the crowd with four to nine years of management experience, the median salary is $48,280.
Earning a degree in hospitality management separates you out from the crowd of non-management workers. The combination of concepts and practices you learn in the classroom and hands-on experience you gain in labs, teaching hotels or restaurants and internship experiences at established facilities is valuable in different ways than regular work experience because you are intentionally growing the skills for a management role.
As your level of experience in hospitality management rises, so does your earning potential. A $57,995 median salary is common among managers with 10 to 19 years of experience, and at 20 years of management experience, the median salary is $75,778.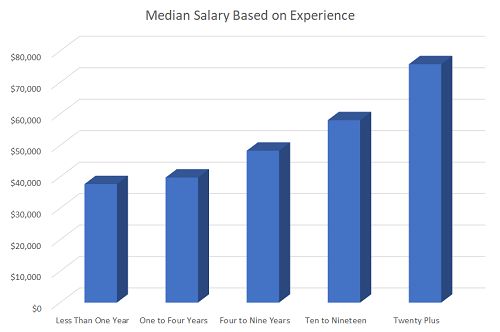 Additional Resources
What Is the Typical Starting Salary in the Hotel Industry?
What Kind of Jobs Are Available to Someone With a Hospitality Management Degree?
What Is a Typical First Job for Someone With a Degree in Hospitality Management?