Wages in the hotel industry cover a wide spread. On one hand, there are senior management roles in upscale hotels that pay six-figure salaries. On the other hand, the industry is full of low-wage, low-skilled or unskilled jobs. Knowing the different starting salaries can help you better plan your career path in the hotel industry. Generally, even the lowest-level roles in hotel management – which you may need a hotel or hospitality management degree to attain – pay considerably more than non-management roles.
Salary Expectations for Early-Career Management Roles
A degree in hotel management won't automatically qualify you for a high-paying career. Experience – not only working in a hotel, but working in hotel management specifically – strongly influences your earning potential. The median salary for a hospitality management graduate with less than one full year of experience is $37,668. Although that annual salary is still below the $38,640 median wage the United States Bureau of Labor Statistics (BLS) reported for all occupations, it's significantly more than entry-level positions in non-management career paths.
Assistant hotel manager is one of the first job titles you may hold after college. The average salary for assistant hotel managers is $35,786, job search website Glassdoor reported, but pay rates can range from a low of $26,000 to a high of $51,000. However, certain assistant manager roles – such as assistant general manager in a luxury hotel – can be quite lucrative.
Some hotels take on recent graduates of a hotel management or hospitality management program as management trainees. In a manager in training role, base pay ranges from $27,000 to $52,000, with an average salary of $36,690, according to Glassdoor. You might also start, or transition to, in a role like assistant manager or first-line supervisor of one department within the hotel. Glassdoor reported an average pay rate of $39,924 for hotel supervisors. Supervisors might work anywhere from the front office to the housekeeping department.
The lowest-paid 10 percent of hotel managers make under $30,860, the BLS reported. Generally, you are more likely to fall into this category if you are a new hotel manager with little experience, you work at budget, low-occupancy hotels or motels or you lack a degree.
Starting Salaries for Entry-Level Hotel Jobs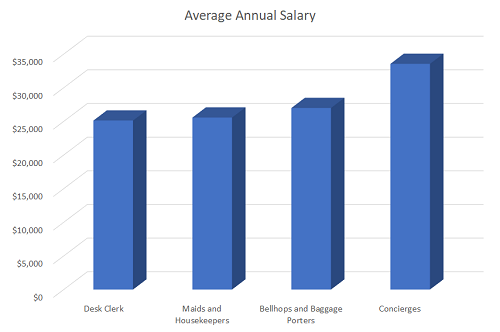 The majority of roles in the hotel industry aren't leadership roles, but rather, the worker positions hoteliers manage. The good news is that, generally, the hotel industry in the United States is an above-minimum wage employer, the American Hotel & Lodging Association reported. In fact, 90 percent of entry-level hotel workers at most hotels start at wages above the minimum wage, according to the American Hotel & Lodging Association.
Nevertheless, salaries for these entry-level jobs are far from lucrative. For the 260,780 hotel desk clerks working in the United States, the average wage is $12.08, or just $25,130 per year, the BLS reported. For commercial maids and housekeepers, the mean rate of pay is $12.30 hourly, or $25,570 annually. Bellhops and baggage porters earn an average wage of $12.98 per hour, or $26,990 per year. For concierges, the mean wage is somewhat better, at $16.13 per hour or $33,550 per year.
There are 8.3 million hotel jobs in the U.S., and a single hotel that fills 100 rooms per night provides close to 250 jobs, the American Hotel & Lodging Association reported.
Advancing Your Earning Potential in a Hotel Career
IMAGE SOURCE: Pixabay, public domain
Although many hotel jobs start at comparably low rates of pay, their huge size and complex structure provide plenty of potential for upward mobility. As you move up, either into management roles or through the ranks of leadership into senior-level director roles, your earning potential grows considerably. By the time graduates of a bachelor's degree program in hospitality management or hotel management have one to four years of management work experience, their median salary grows to $39,752. With five to nine years of leadership experience, their median salary increases to $48,280. At the 10 to 19-year mark, hotel managers with a degree make a median wage of $57,995, while those with more than 20 years of experience earn a median salary of $75,778. The top 10 percent of lodging managers make upwards of $102,410, the BLS reported.
How do you get to these high-paying roles? Experience alone is an important factor. Over half of department managers in hotels simply worked their way up from entry-level hotel jobs, the American Hotel & Lodging Association reported. Some general managers did the same, but it's worth noting that moving up without a degree can take many years. Getting a hospitality management or hotel management degree can put you on the fast track to a management role, so that every subsequent year of experience you gain provides more value to your career.
Although not strictly required, bachelor's degrees are common for hotel managers, 72 of which report having this four-year college education.
Additional Resources
What Is the Typical Starting Salary in the Hospitality Industry?
What Kind of Jobs Are Available to Someone With a Hospitality Management Degree?
What Is a Typical First Job for Someone With a Degree in Hospitality Management?