Is a Master of Public Health (MPH), one of the highest paying master's degrees, the right choice for you? Before you enroll in a graduate degree program, it's important to develop a solid understanding of what public health is. Unlike healthcare courses of study and career paths, public health focuses less on performing medical tests and interventions more on raising awareness of health risks and healthy behavior choices for the purposes of preventing diseases from occurring or progressing.
DegreeQuery.com is an advertising-supported site. Featured or trusted partner programs and all school search, finder, or match results are for schools that compensate us. This compensation does not influence our school rankings, resource guides, or other editorially-independent information published on this site.
Defining the Field of Public Health
One way to define public health is as a field of study, work and research that emphasizes the improvement of the health, safety and welfare of the community and the general public. It's also important to define public health by what it is not. Public health isn't a form of clinical practice in medicine, nursing or another aspect of healthcare services. For the most part, you wouldn't go to a public health professional to figure out what is medically wrong with you or to stitch up a wound. However, you might be connected with certain kinds of public health workers to help you understand and navigate your treatment after you receive a diagnosis from a doctor or when trying to achieve health-related goals like quitting smoking or eating a healthier diet.
Public health isn't just one narrow discipline of study and practice. Instead, it's a blend of numerous disciplines. Unsurprisingly, STEM (science, technology, engineering and mathematics) disciplines like biology, medicine, computer science and engineering are part of the public health field. However, so are social sciences, like anthropology, sociology and public policy, as well as the fields of teaching and business. Minimizing the threat that illnesses, accidents and violence pose to the general population requires a holistic view of all of the factors that affect health and wellness, including social and economic factors. Having this interdisciplinary perspective is so important because the challenges that exist in the field of public health are often complex.
Even a topic as seemingly simple as nutrition can be complicated, because besides educating people on healthy diets, there may be problems with access to or affordability of healthy foods.
Understanding and Preventing Disease
One of the biggest differences between healthcare services and public health is the emphasis on prevention, the American Public Health Association reported. Rather than diagnosing and treating medical conditions, public health workers and programs attempt to prevent diseases and injuries from ever occurring. Of course, there are preventive screenings performed in medicine all the time, usually based on a patient's age and health risk factors. However, the way public health workers aim to prevent diseases isn't through performing medical tests that allow for early detection and intervention but instead, primarily, through promoting healthy lifestyle behaviors.
Of course, to prevent illnesses and injuries, you first need to understand diseases, disorders and injury, including how a disease is spread, what risk factors exist and how a healthy lifestyle can help avoid the medical condition. These aspects of public health are where professionals like epidemiologists, biostatistics and health policy analysts come in. When you look at the big picture, public health is a broad field that covers many different areas of concentration and many different career paths. A lot of the work public health professionals do is invisible to the public, because the success they achieve lies in the diseases and injuries that never happened – something that the public won't hear about on the news.
By preventing diseases and injuries, public health professionals not only prevent fatalities and prolong lives but also improve quality of life. The people spared from a disease they otherwise would have developed won't have to live with limitations or physical suffering.
What Public Health Workers Do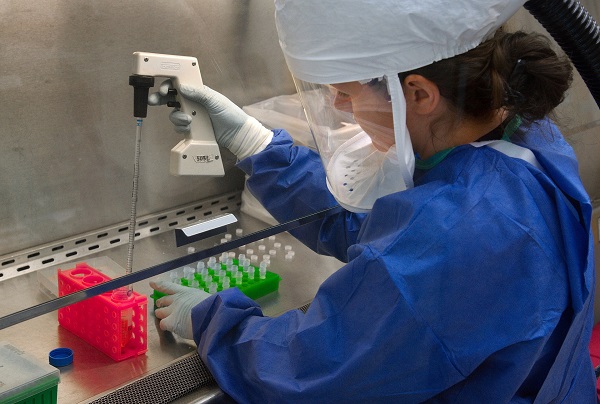 IMAGE SOURCE: Pixabay, public domain
While some public health workers are involved in research – into disease or into health policy and regulations – many other public health professionals serve as a link between healthcare services and the general public, according to the United States Bureau of Labor Statistics. In this way, public health workers can make a difference on multiple fronts.
Some public health professionals educate individual patients to help them manage their health conditions. Others lead community outreach efforts to inform the general public about wellness, healthy lifestyles and medical conditions. There are public health workers who study the statistical spread of disease and the causes and risk factors for medical conditions. Some public health workers don't focus on diseases at all but instead on safety topics such as gun violence, seat belt usage, occupational health and safety standards, bullying in schools and much more.
Some public health workers make a direct difference in the lives of individuals and others improve the safety of the population at large. All professionals in this field share the overarching goal of, to paraphrase the American Public Health Association, promoting and protecting the health and safety of individuals and communities.
An MPH prepares you for many, but not all, of the career paths the American Public Health Association lists as part of the field. If you want to be a social worker, physician or first responder, you may need a different degree or additional training.
Additional Resources
What is a Bachelor's Degree in Public Health?
What Are Some Areas to Specialize in for My MPH?
What Is the Difference in a Bachelor of Arts and Bachelor of Science in Public Health?
What is the Difference Between a Master of Public Health and a Master of Science in Public Health Degree?