In the field of special education, master's degrees are popular. Some teachers don't have a choice about going to graduate school because their states require a master's degree for full professional certification, according to the United States Bureau of Labor Statistics (BLS). In other cases, teachers choose to pursue a master's degree for the pay boost. The wage premium for a master's degree in special education can be as big as 24 percent, the BLS reported. Regardless of your reason for pursuing a master's degree, it helps to know how much your graduate education will cost so you can figure out how to fund it. Some special education master's programs have a modest cost, while the tuition charges of others can amount to tens of thousands of dollars.
The Cheapest and Priciest Top-Rated Schools in Special Education
Among the 14 schools ranked on U.S. News & World Report's list of the best graduate special education programs, you will find a wide range of tuition rates. The cost doesn't necessarily correspond to the quality of the education. Although all of the programs listed were chosen as top contenders for a reason, it's worth noting that some programs ranked higher on the list are more affordable than programs ranked lower, and vice versa. The biggest differences in tuition charges have more to do with whether you attend as an in-state or out-of-state student and whether you study full-time or part-time.
The second-ranked school, the University of Kansas, is among the cheapest programs on the list. With multiple master's degree options in special education, the University of Kansas has a per-credit cost of just $419 for Kansas residents or $977 for out-of-state students. With programs ranging from 33 to 36 credits, in-state students should expect the total tuition charge for the degree to be between $13,827 and $15,084. Out-of-state students will spend considerably more, $32,241 to $35,172, for the degree.
Students at Pennsylvania State University—University Park, which tied for twelfth place on U.S. News & World Report's list and yet is the most expensive program to make the cutoff, may pay more for one year of study than University of Kansas students pay for their entire degree – even at out-of-state rates. The school reports tuition charges for full-time students on a per-year, rather than per-credit, basis. Pennsylvania residents pay a rate of $21,540, and out-of-state students pay $36,974. However, if you're willing to really hustle to finish this 33-credit program in a single year, you may find you aren't spending that much more than you would at a cheaper school like the University of Kansas. When part-time Pennsylvania State University students break down their per-credit cost for the online Master of Education program – $924 regardless of your area of residence – it becomes much easier to see past the sticker shock and realize that the price is comparable – less, in fact – than the University of Kansas out-of-state rate.
Choosing a school that discounts tuition for your state could easily cut the cost of your graduate education in half, and studying full-time – when feasible – can mean you pay a lower total tuition cost to earn your degree.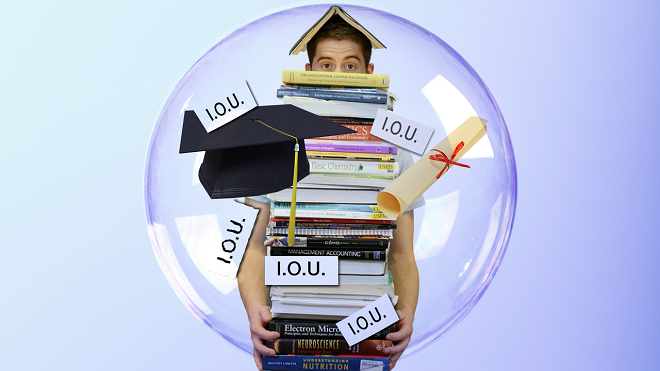 IMAGE SOURCE: Pixabay, public domain
Funding Your Graduate Studies in Special Education
Whether the tuition cost of your master's degree in special education adds up to under $15,000 or over $35,000, you have plenty of options for funding your education. You might think that scholarships are only offered for undergraduate students, but in fact, schools like Penn State, the University of Minnesota, Ball State University in Indiana, Hofstra University in New York and others all offer scholarships for graduate students in special education programs. State entities may also offer scholarships, such as the Indiana Commission for Higher Education's William A. Crawford Minority Teacher Scholarship.
One opportunity unique to educators is the federal TEACH Grant. Like scholarships, grants are funding that does not have to be paid back, but most federal grants are only available to undergraduate students. The TEACH Grant is unique in multiple ways, including being exclusive to educators in high-need areas of study – of which special education is one – and including students of graduate-level programs. Although the TEACH Grant is "free money" in the sense that it does not need to be paid back, there are strings attached to this funding. Students who accept a TEACH Grant are agreeing to teach full-time at a school in a low-income area for a minimum of four years after graduating.
You don't have to stay at the same school all four years to fulfill your TEACH Grant requirements or even start right away, as the requirements specify only that your service must be completed within eight years of graduation.
Related Resources:
How Much Does It Cost to Get a Master's Library Science?
How Much Can I Expect to Make If I Have a Master's in Special Education?
Are There Various Types of Master's Under the Umbrella of Special Education?
For Further Reading: