In a graduate program in human-computer interaction, one of the highest-paying master's degrees, there is typically core coursework every student has to take. Then there are elective courses, which are the classes you choose to customize your education to your professional and personal interests. You might choose an elective to get a taste of a slightly different niche within human-computer interaction (or another discipline), or you might take a sequence of courses that lead to a formal concentration in an area. The electives you choose might fit into the categories of specialized HCI studies, computer science, psychology, design and other disciplines.
DegreeQuery.com is an advertising-supported site. Featured or trusted partner programs and all school search, finder, or match results are for schools that compensate us. This compensation does not influence our school rankings, resource guides, or other editorially-independent information published on this site.
Interdisciplinary Elective Courses in Specialized Areas of HCI
Human-computer interaction is an interdisciplinary program of study, so it makes sense that many of the electives you could choose to pursue are both specialized and interdisciplinary in nature. Courses in the human factors of HCI delve deeper into the human side of the field, while classes in applied machine learning will embrace more of the technical side. Some human-computer interaction electives are broader in scope, such as studies in the role of technology in learning. Other courses, like social Web and gadgets, sensors and activity recognition, focus on more specific aspects of human-computer interaction.
Because there is such a variety of topics to study in this field, it's a good idea for students to consider how they want to use their degree and, perhaps, to work with an academic advisor to select a blend of courses that provide the breadth and depth of knowledge necessary for their intended careers.
Computer Science Electives
While the field of human-computer interaction focuses on the human side of things, courses in computer science emphasize the technical skills used in computer software development. If you want to cultivate a more robust array of technical skills so that you can do more advanced work on the technical side of human-computer interaction, you may gravitate toward computer science electives.
One option that may appeal to you is a course in speech recognition and understanding. Virtual assistants like Google Home, Apple's Siri and Amazon's Alexa are primarily controlled by voice, but voice commands are increasingly used to improve both accessibility and hands-free usability of other technologies. These technologies are only as good as their speech recognition capabilities are.
Creating systems that recognize speech accurately across different tones of voice, accents and dialects can be a challenge. Another part of creating effective speech recognition technology is developing systems that can correctly interpret human speech patterns to match the user's intent rather than just keywords included in their query.
Robotics is another computer science elective to consider. Within the field of human-computer interaction is the subfield of human-robot interaction. As the field of robotics has grown, research in this area has begun to focus more on the needs and motivations of the user, rather than strictly on technological capabilities, according to [link – Association for Computing Machinery – what robotics can learn from HCI]. A master's degree in HCI with elective coursework in robotics can prime you for a career in this small but growing niche.
Other computer science elective options to consider include user interface for developing worlds and the dramatic structures of interactive games.   
Electives in Psychology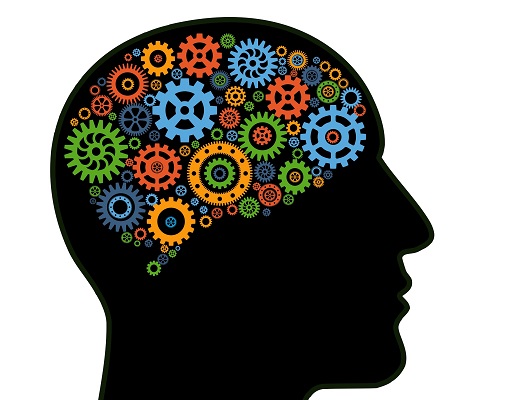 IMAGE SOURCE: Pixabay, public domain
In many ways, what sets human-computer interaction apart from computer science is its emphasis on human cognitive processes. One way to advance your knowledge of these human factors is to study psychology. Courses in cognitive psychology and cognitive process examine aspects of thinking and thought processes, a foundation in which can help you work to better align computer systems with how humans process information. You might also study the subject of psychological perception, which generally refers to what occurs in the mind as people process sensory input, including what they see and hear.
The study of psychology is so integral to the field of human-computer interaction that researchers publishing in the journal Annual Review of Psychology have characterized HCI as the "intersection between psychology" (and other social sciences) and computer science.
Art and Design Electives
Positive interactions between humans and computers take more than just good visuals, but design is, undeniably, a part of these interactions. If this design aspect of human-computer interactions intrigues you the most, you might choose your electives from the art and design category.
An introductory course in Web design, for example, can help you better understand the design principles and practices used in creating websites that are aesthetically appealing as well as functional. A course in interactive art and computer design really digs into that intersection between design and computer technology. You might also opt for more general courses of study in art and design, such as methodology of visualization and graduate design studio classes.
Visual design isn't the only type of art that applies to human-computer interaction. Students can also benefit from learning the art of writing through English courses such as writing for multimedia and professional and technical writing.  
Additional Resources
What Programs Should I Be Familiar With If I Am Going to Study Human-Computer Interaction?
What Are the Typical College Requirements for a Human-Computer Interaction Degree?