If you're wondering whether a master's degree is really necessary to work as a school librarian, you aren't alone. School libraries are often much smaller than a full community or college library. After all, they cater to books for children or adolescents, while larger libraries offer books and other media for all age groups and interests. However, school librarians have important jobs in the field of information science, and as such, they often require an advanced education. No matter which type of librarian you want to be, you will typically need a master's degree to work in this job role, according to the (BLS). For school librarians, the requirements may actually be more rigorous, not less rigorous, than for librarians in other specialties.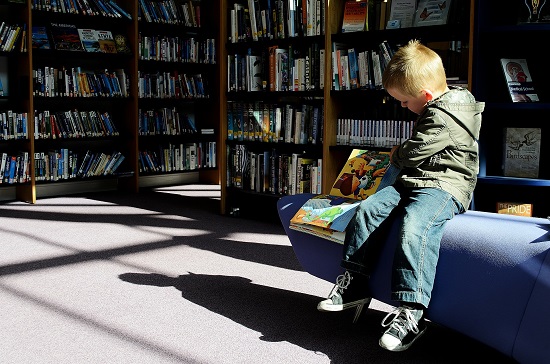 IMAGE SOURCE: Pixabay, public domain
The Curriculum of a Master's in School Library Studies
Although degree programs for aspiring librarians can use several different titles, the most common is the Master of Library Science (MLS) degree, the BLS reported. Graduate programs in library science cover the core knowledge and skills needed to succeed in librarian roles in general as well as an option to specialize in a focus area, one of which is school library studies.
Your core coursework in a library and information science master's degree program may start with an introductory course that covers the foundations of careers in library and information science. Studies in information resources, including organizing library materials, library planning and information literacy services, are also crucial. Students also learn about management principals and strategies for library and information professionals and about information policy. As part of your school librarian specialization, you will likely take courses in the fundamentals of school librarianship, managing school library programs, using technology in the role of school library teacher, library materials for youth and curriculum and instructional strategies for library teachers.
Whenever possible, prospective librarians are encouraged to seek a master's degree program that has acquired accreditation from the American Library Association (ALA). Many employers of librarians, from college and community libraries to corporate libraries, require an ALA-accredited degree even to consider a candidate for an open librarian position. Accredited programs meet high standards that include, among other things, a curriculum that integrates studies in library science theories, practice, services, technologies, values, professional development and matters of laws and ethics. For school librarians, specifically, another viable path to the career may be to choose a program that is accredited by the Council for the Accreditation of Educator Preparation (CAEP) – the same organization that accredits teaching degree programs – and recognized by the American Association of School Librarians.
Among all types of librarian roles, 70 percent of workers in this profession have a master's degree.
What Do You Need Besides a Master's Degree to Be a School Librarian?
Most schools require their librarians to have a master's degree, but they may also require so much more. For example, a teaching license is often required to work as a school librarian, the BLS reported. The reason you need a teaching license is because, in many schools, you don't only interact with students who come in seeking books and other library materials. You may actually have teaching duties that require you to manage a class and prepare and carry out lesson plans on finding and using library resources. Getting a teacher's certification as a librarian may mean undergoing a background check and earning a passing score on a standardized test like the PRAXIS II Library Media Specialist exam. Different states have different requirements for school librarians.
While some master's programs in library science only award the graduate degree, others are tailored to help students meet certification standards in their state. This option can help students streamline the process of preparing for a job as a school librarian. To take advantage of this opportunity, look for a master's degree with licensure or certification track. Some schools offer post-graduate licensure programs in school library science that allow for career changes for students who already have a graduate degree, perhaps in teaching or education.
Like teachers in other subject areas, library teachers need to gain hands-on experience with students before they graduate in order to pull together the theories and strategies they learned in the classroom. Many school librarian programs include fieldwork experiences.
Additional Resources
What Degree Do I Need to Become a Librarian?
How Much Does It Cost to Get a Master's Library Science?