For aspiring art therapists, a portfolio is usually essential. This collection of your original work is used to demonstrate your skills as you seek admission into an educational program or employment in an art therapist capacity. Portfolios and their components can take many different forms, from physical forms that an admissions officer or interviewer can page through in person to digital galleries displayed on a website, flash drive or CD. Because artists and art therapists have a variety of different perspectives, skills and interests, no two portfolios will be quite the same – and the portfolio you create as a high schooler or undergraduate may not look anything like the professional portfolio you share with employers later in your art therapist career.
The Importance of a Portfolio for Art Therapists
A portfolio is a consistent requirement for admission into an art therapy program, according to the United States Bureau of Labor Statistics, but it's also a representation of you as an artist that should grow with you throughout your life. Technical art skills are crucial for success in the field of art therapy, which is why studio are classes are both a prerequisite for admission to a graduate program and part of the master's curriculum standards set by the American Art Therapy Association. Your portfolio is a much better representation of your artistic skills than a transcript showing only which studio art courses you completed.
For art therapists, as well as others in the arts industry, a portfolio isn't a static collection of work that you compile once and then leave alone. Most likely, you will need to create several portfolios at different levels of your education and career. At the very least, you will have to create a portfolio for your undergraduate studies, if you pursue a major such as art or art therapy, and then another one for graduate school admissions. The work you do during a master's in art therapy program should culminate in yet another portfolio that you will use as you begin your professional career in clinical practice. Even after you have worked in the field for years, you should treat your portfolio as a dynamic collection rather than a stagnant one and continually update it to include your best work.
By no means is the art therapy career solely centered upon technical art skills. Rather, this clinical practice requires a thorough understanding of the creative process and of counseling theories and techniques – but you also need strong art skills to draw from.
Developing a Portfolio for Admission Into an Art Therapy Program
Although every art therapy degree program has its own standards for what a portfolio should contain, there are general guidelines that tend to apply to most institutions and programs. A portfolio should generally strive to show the breadth of your experience as well as the depth of your talents.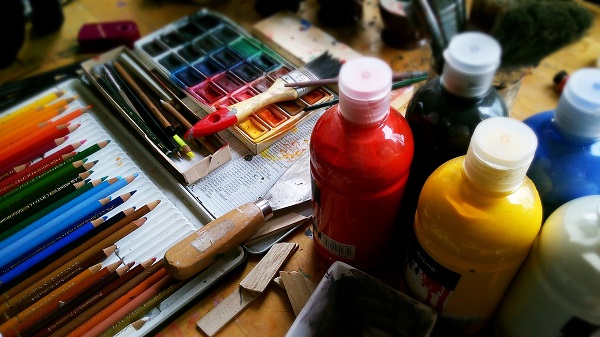 IMAGE SOURCE: Pixabay, public domain
You naturally want your portfolio to include your best work, but you also want its contents to have sufficient range to show that you are interested in and capable of working in more than one medium or creating art focusing on more than one subject. If your five top pieces of art happen to all be still-life oil paintings of fruit bowls, you may want to choose your favorite to include in the portfolio and then start applying your skills to exploring other media, techniques and subjects. Many programs welcome works created in any sort of two-dimensional or three-dimensional media, which means you can include high-quality photographs of sculptures, ceramics and other free-standing works of art if you choose.
How many pieces of art should you include in your portfolio? Most colleges provide some kind of guideline to answer this question, often requiring 10 to 15 components. Generally, you want your portfolio to be large enough to highlight your best technical skills and most creative representations, but not so large that it becomes overwhelming or boring for the admissions department to review.
Your portfolio should contain recent work that shows your most up-to-date mastery of technical art skills, but you also don't want to rush to finish pieces. Keep your portfolio in mind as you're creating art and keep replacing old work with your best new work.
Additional Resources
What Makes Someone a Good Art Therapist?
What Classes Will I Have to Take for a Degree in Art Therapy?
What Should You Know When You Interview for a Job With a Degree in Art Therapy?