You can probably guess that having technical skills in making art is required for a job as in art therapy. However, many other qualities are necessary to be a good art therapist. Among the factors that matter most to success in this career path are a passion for helping, the skills to listen and communicate effectively, the compassion to build a trusting patient-therapist relationship and the ability to apply your creativity to developing activities that meet the needs of individual clients.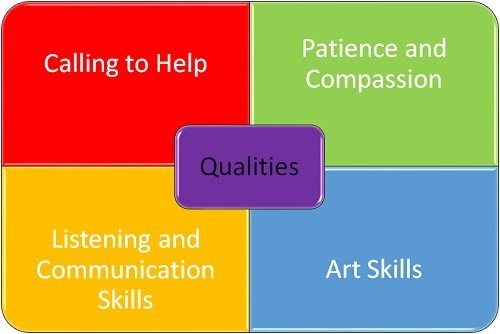 A Calling to Help Others
Ultimately, the field of art therapy is a clinical practice that focuses on helping people process emotions, cope with problems and achieve personal growth. If you don't feel a strong desire to help people in this way, a different career in the arts is probably a better choice for you.
What does it mean to help others through art therapy? Depending on where you practice art therapy, you may work with any number of different patient populations, from patients with severe mental illnesses admitted to psychiatric hospitals to senior citizens in nursing homes who struggle with memory problems. An art therapist may help those struggling to recover from addiction, patients undergoing rehabilitation from a serious injury or illness or schoolchildren struggling with problems at home or at school. Some art therapy students already know what type of work they want to do, while others will discover a passion for working with certain client populations throughout their coursework and clinical experiences.
This act of helping, and the knowledge that you are making a positive difference in the lives of your clients, are among the most rewarding aspects of the art therapist profession, according to the United States Bureau of Labor Statistics (BLS).
Listening and Communication Skills
Don't be fooled by the common categorization of art therapy as a nonverbal form of intervention. Although expressing oneself through art allows clients to use nonverbal methods of exploration and communication in a way traditional talk therapy does not, verbal communication is still crucial. Art therapists rank talking with their clients as the most important task in their profession.
Discussing how clients are feeling and functioning helps guide the art therapist in crafting a dynamic treatment plan and adjusting as needed over the course of treatment. Art therapists use verbal communication as they explain the activities they want a client to perform and guide the client through the creative process. Much of the insight gleaned through art therapy comes from reflecting on and understanding the process of creative expression through making art and the thoughts, feelings and memories expressed in this process and the art product created.
It's not only talking that matters for art therapists. To build a professional relationship with your clients and discover the creative activities that will offer the most opportunity for progress and growth, you must listen to what clients say as well as their nonverbal cues.
Patience and Compassion
Do you usually find it easy to empathize with others? Like therapists who use other methods, the best art therapists should have a great deal of compassion to share with clients, who often are going through a tough time as a result of physical or mental health issues or other difficulties in their lives.
No one wants to open up about their struggles to a stranger who doesn't come across as understanding, approachable and compassionate. By showing your willingness to accept, understand and empathize, rather than judge or blame, you create a safe place in which your client can reflect, explore and understand feelings, experiences and behaviors – and hopefully, grow and overcome challenges.
Even with a highly skilled and experienced therapist, progress can take a great deal of time. A good therapist has the patience to allow clients to progress at their own pace yet continues to encourage growth and positive change.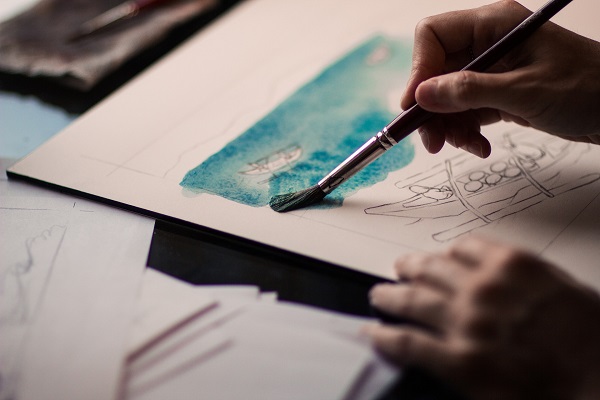 IMAGE SOURCE: Pixabay, public domain
Art Skills
Creative skills are what separate art therapists from other types of therapists and counselors. Good art therapists typically have strong technical art skills, developed over years of practice and hands-on studio art coursework, but that's far from the only type of art skill needed in this career. An understanding of how the personal creative process works and how to use different artistic media for therapeutic purposes is critical for success in this career path.
You also need to be creative in developing individual activities and larger-scale treatment plans for your clients. Different clients have different needs, skills and strengths, so it's likely that no one approach or artistic medium will be the perfect choice for all clients. You may need to tweak activities so that they better fit a client's unique needs by posing different questions or prompts that are more relevant to the individual.
Graduate school programs typically require art therapy students to submit a portfolio that showcases their art skills.
Additional Resources
What Does an Art Therapist Do?
What Are Some Other Careers Related to Art Therapy?