Although the potential job opportunities for art therapists are limited only by your creativity – which, in this profession, is typically abundant – there are certain types of work settings that are more common than others. Schools provide opportunities for art therapists in classroom settings as well as in areas of program and curriculum design. Most art therapists work in the health care and social assistance fields, but there is a great deal of diversity within these industries. Private practice is an excellent choice for art therapists with an entrepreneurial flair. Wherever you choose to work as an art therapist, you will have the opportunity to make a difference to your clients.
Art Therapist Roles in Schools
Jobs in school settings can be very rewarding for art therapists, who can help troubled kids become happier and mentally healthier and help well-adjusted children grow emotionally and spiritually, according to the United States Bureau of Labor Statistics (BLS). Both public and private school environments may offer some career opportunities for art therapists, although these positions don't always have this precise job title.
Art therapy is often integrated into school environments in other ways besides direct art therapy services, including special education curricula, art education curricula, general school counseling services and extracurricular programs. If you want to work in a school setting, it may be worth your while to research how schools in your area utilize art therapy services, because you may need additional studies and professional certifications if you intend to work in the classroom or in a school counseling capacity.
Jobs in schools that do fall under the title of art therapist often work with a special needs student population, either in a public school district or at a private school.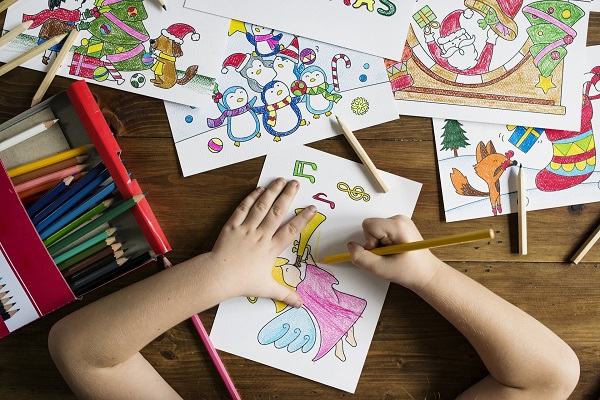 IMAGE SOURCE: Pixabay, public domain
Medical and Behavioral Health Work Settings for Art Therapists
Most art therapists work in some form of health care setting, although opportunities within this large field can vary widely. A medical hospital may have a need for art therapists, but so could a specialized psychiatric hospital. Although you would work with an inpatient population in either environment, the patients you work with and the activities and guidance they need can differ strongly between a wounded patient who needs help working through feelings about the injury and a person with a severe, long-term mental illness.
Beyond hospitals, both inpatient and outpatient health care settings offer job prospects for art therapists. Nursing homes, assisted living facilities and residential rehabilitation centers devoted to regaining health after an injury or to overcoming addiction, eating disorder or another such problem may find a need for an art therapist on the team.
Outpatient community and public clinics that provide mental health services can use art therapy as one part of the treatment plan, perhaps in conjunction with traditional types of talk-based psychotherapy and psychiatric medication. Private behavioral health agencies and practices may find that offering art therapy services can complement their existing mental health services. Rather than being employed solely as an art therapist in these roles, you might use art therapy along with other therapeutic interventions as a general clinical practitioner.
Nearly 80 percent of art therapists work in the industries of health care and social assistance.
Private Clinical Practice
Creative types are known for thinking out of the box, so it's no wonder many art therapists would rather be their own boss than follow someone else's rules. There are pros and cons of running a private clinical practice, according to Psych Central. Financially, going into private practice opens up your earning potential well beyond what a typical art therapist's salary would be, but you also take the risk of making far less than that comparable salary range. Similarly, private practice allows you to set your own hours and achieve a better work-life balance. However, unless you consistently set boundaries, it's easy to find yourself working so much that you throw this balance out of whack. An art therapist working in private practice must handle billing, administrative and marketing responsibilities themselves or delegate or outsource those responsibilities to a paid employer or independent contractor, according to the BLS.
Beyond the expected career paths, opportunities for art therapists often exist in other fields, including organizations devoted to the arts and to enhancing and enriching the lives of niche populations, including the incarcerated or victims of violence and abuse.
Additional Resources
What Kind of Company Does an Art Therapist Work For?
What Does an Art Therapist Do?