With so much potentially at stake in your career, it's no wonder that job interviews often make candidates nervous. When you're interviewing for a job with your art therapy degree – especially for the first time since graduating – you can improve your interview performance through a number of different steps. You should strive to show your knowledge of both creative and clinical sides of the field and to draw on your fieldwork experiences when answering interview questions. Rehearsing answers to questions that you might be asked is an important part of preparing for a job interview. There's no way to guarantee you will get the job you want, but solid preparation is more likely to lead to a strong interview performance, which makes you more likely to be a top contender for the position.
Show That You've Mastered the Balance
Art therapy is, by definition, an interdisciplinary field of practice. You need to be familiar with, and want to work in, clinical therapy as much as art. Otherwise, a prospective employer may dismiss you as not being interested enough in either the creative or the clinical aspects of the field to do the job.
The best art therapy programs strike a delicate balance between these two sides of the field – because after all, no client wants to go to an art therapist who isn't enthusiastic about art or one who is too enamored with the fun of creative expression to care about their progress and wellbeing. During your interview, too, it's important to draw from what you have learned about counseling and psychology as well as what you learned in the art studio.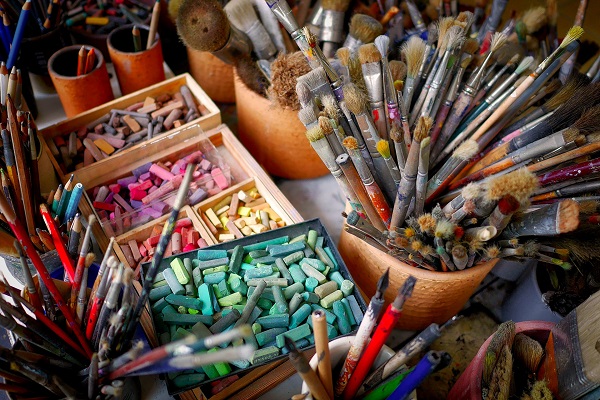 IMAGE SOURCE: Pixabay, public domain
If what drove you to choose a career in art therapy is a real love of the visual arts, you might fear that you won't be able to focus on the balance as much as you should. Don't dim your excitement for art, but do try to look past it and think about what it is on the counseling side that you enjoy about art therapy. Perhaps there was a memorable client in whom you were able to see a big positive change while you were an intern. Draw from that real-life experience to give your interview answers more depth and detail than the standard response of "liking to help people."
Art therapy as a clinical practice is so much more than the study of either art or therapy on its own – which is why so much of the curriculum focuses on that specialized coursework that explores methods, theories and applications unique to the field.
Take Full Advantage of Your Internship Experience
The fieldwork experiences you acquire during your art therapy education are the real deal. Rather than just observing the clinical practice of art therapy in action, you're participating in it. Under appropriate supervision, art therapist interns often handle responsibilities that include treatment planning in collaboration with other professionals, goal setting and performing assessments and evaluations. During your internship, you gained experience in doing exactly what the job requires: acting as the primary therapist during art therapy sessions with individuals, families and groups. Use that experience not only to bolster your confidence in an interview but also as you answer questions about real or hypothetical scenarios you could encounter in this occupation.
Every art therapy student must complete an internship, but not all environments that offer art therapy services require extra help. As a result, some art therapy interns find field placements at sites where there is no art therapist, and no art therapist program, currently on staff. In that case, you might be responsible for creating an entire program, under the supervision of an art therapist professional associated with your college rather than the internship site itself. An internship experience that requires you to develop a new program yourself can be valuable in numerous ways. For one thing, you may just be creating a new position that may be offered to you on a permanent basis after your internship ends. Even if the internship doesn't directly result in a job offer, other potential employers are sure to be impressed by your achievements and the experience and materials you can bring to another workplace.
Your art therapy internship should also offer you opportunities for networking with established art therapists and with therapist and counselors in other areas, which can help you find job opportunities and land interviews.
Practice, Practice and Practice
No matter what career field or job function you're pursuing, it is always a smart idea to practice for a job interview. Rehearsing your answers to the most common interview questions does more than soothe anxiety. By practicing your answers, you are thinking critically about what you really want to say and refining your responses to questions. For art therapists, it's a good idea to practice both general questions, such as "Why have you chosen this career field?" and "Tell me about yourself," and specific questions about client populations you have worked or want to work with and art media and methods for therapeutic use.
Whether you practice for an interview on your own or with a loved one acting as a mock interviewer, working through nerves and narrowing down the focus of your answers to the most relevant information will help you perform better in the real interview.
Additional Resources
What Does an Art Therapist Do?
What Makes Someone a Good Art Therapist?