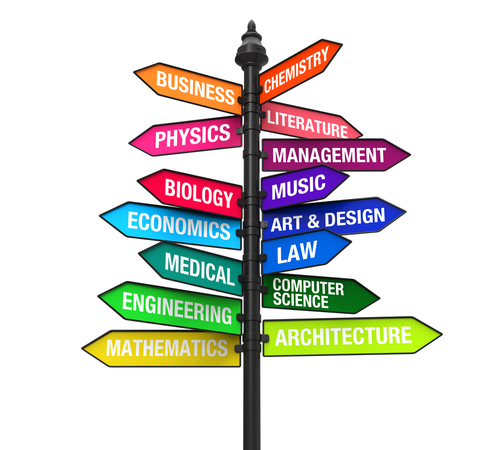 The question, "What major do you need to take to be a computer systems analyst?" is usually the first question asked by interested candidates. An individual interested in this career can choose from a couple of different career paths. Computer systems analysts are the professionals in charge of an organization's computer systems and processes. They're an important part of the workforce, and their main duty is to ensure the company's system is running efficiently and secure from breaches. Here are the requirements for becoming a computer systems analyst.
Bachelor's Degree
The most common career path for an aspiring computer systems analyst is a bachelor's degree. The degree may be in computer science, information science or a similar computer-related field. Some candidates may be hired with a liberal arts degree or a business degree if they are skillful and knowledgeable in computer programming or information technology. Another option often chosen is a bachelor's degree in management information systems. Courses in a bachelor's degree program might include:
Management Principles
Database Design
Business Law
Cyber Security Principles
Networks and Security
Information Technology Concepts
Project Management
Master's Degree
Bachelor's degrees are the most common degree level for computer systems analysts, but some employers may require their analysts have master's degrees, or the computer system analyst may choose the graduate degree to improve employment options. Those who are interested in management positions also choose master's degree programs. Common majors are computer science, computer programming, information technology, software development or cybersecurity.
A common degree for this job is a Master's in Business Administration (MBA) with a concentration in management information systems. Because so much of a computer systems analysts job involves the business part of a company, many analyst choose business or business administration as the major. Course topics in a master's degree program include:
Database Principles
Agile Analysis and Design
Data Analytics
Forensic Examination and Analysis
Effective Cyber Defense
Cryptography and Network Security
Incident Handling
Business Administration
Legal Ramifications
Courses as Opposed to Degrees
Although computer systems analysts generally have either bachelor's degrees or master's degrees in computer science or a related field, this is not always the case. Occasionally, an individual with an associate's degree and work experience in this area may be hired as a computer systems analyst. Another alternative to this normal path is a liberal arts degree and appropriate computer training elsewhere. The student may take these courses to obtain the necessary knowledge:
Systems Design
Information Technology
Computer Algorithms
Operating Systems
Computer Programming
Students of any degree level may also complete internships to obtain work experience and hands-on training. Continuing education is also a very effective way of learning about new things in the field and preparing for higher-level positions. Professional certification is not usually required to become a computer systems analyst, but it can add credibility to an individual who may not possess a bachelor's or master's degree.
The Institute for the Certification of Computing Professionals is one organization that offers certifications to eligible candidates. Regardless of which degree or major the individual chooses to obtain the position, the computer systems analyst will continue to take courses throughout his or her career to keep current with new technologies and innovations.
Related Resource: What Can I Do With a Computer Science Degree?
Career Outlook
As organizations continue to rely more and more on information technology, they will also rely more on the services provided by computer systems analysts, which puts these workers very much in demand. The U.S. Bureau of Labor Statistics predicts employment growth of nine percent for computer systems analysts nationwide from 2018-2028. The average yearly wage for computer systems analysts ranged from $54,360 to $142,220 with the average annual wage at $93,610. Wages can vary by degree, training, years of experience on the job, employer and geographic location.
Working as a computer systems analyst is a career that not only offers good job growth but also the potential for excellent wages. Computer systems analysts can also choose from various industries and companies because their services are used in most businesses. Choosing from a few of the various majors needed to become a computer systems analyst can help candidates be well on their way to beginning a rewarding and lucrative career.
Related Resources: 
How Advanced a Degree Do I Need to Work in Cryptography?
What Is the Benefit of a Degree in Cybersecurity vs. Network Security?