To get into a Master of Business Administration (MBA) program – one of the highest-paying master's degree programs – you need to do more than just fill out an application. Letters of recommendation are an essential part of the application package you have to submit for admission to graduate school. Figuring out who you should ask for a letter of recommendation can be a challenge for MBA students, who may have different amounts and types of professional and academic experience. In most cases, MBA programs expect at least one letter of recommendation to be from a business associate. However, a former college professor may be a good candidate to ask for a recommendation in some situations.
DegreeQuery.com is an advertising-supported site. Featured or trusted partner programs and all school search, finder, or match results are for schools that compensate us. This compensation does not influence our school rankings, resource guides, or other editorially-independent information published on this site.
The Value of Letters of Recommendation From Business Associates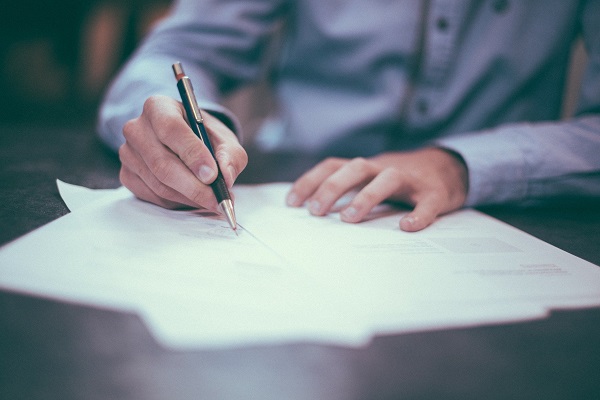 IMAGE SOURCE: Pixabay, public domain
Some MBA programs specifically require that applicants submit a letter of recommendation from their direct supervisor or, if that's not possible, from another business associate. It makes sense to give some preference to candidates whose recommendations come from established business professionals who know them well.
After all, a Master of Business Administration program emphasizes real-world business skills, not just academic and theoretical knowledge. A supervisor in the corporate world can speak to your aptitudes, experience and personality. They can tell specific, though concise, stories that illustrate your professionalism, your business acumen, your ambitions and your personality. These stories are much more convincing than a vague list of the qualities you possess.
Your current direct supervisor isn't the only business associate who is qualified to write you a letter of recommendation, although having a recommendation from this person is ideal. You might also consider asking for a letter of recommendation from any business associate who knows you well enough to be able to speak to your strengths and potential confidently and in detail.
If you're a recent graduate, you might reach out to a professional connection you made while completing an internship. If you recently changed jobs or began working with a new supervisor, it doesn't make sense to request a letter of recommendation from someone who does not know you well. Instead, you may be better off turning to an indirect supervisor who knows you better or asking your former supervisor to recommend you.
Self-employed MBA applicants can't exactly write themselves a letter of recommendation, but they may consider asking for a recommendation from a longstanding client, a business partner or a member of their company's board of directors.
Some MBA program admissions teams prefer for all letters of recommendation to come from business associates, while others are more flexible, including contacts you have made through involvement in your community.
Asking for Letters of Recommendation From a College Professor
Although most MBA programs prefer letters of recommendation from business associates, there are exceptions, especially when you must provide multiple letters of recommendation. A letter from a former college professor might make sense when you're a recent graduate or a current student finishing your undergraduate degree, and you're applying to an MBA program that doesn't require a great deal of professional work experience.
Why might a business school be interested in a letter of recommendation from an applicant's former college professor? Well, although MBA programs are meant to prepare students for professional roles in business administration, the curriculum still consists of graduate-level coursework. A professor who is familiar with your successes in the classroom is more qualified than a business associate to speak to your capacity for handling rigorous academic demands in their letter of recommendation for an MBA program.
If you end up seeking a letter of recommendation from a professor, you want to do everything you can to make sure this recommendation is as relevant to your MBA program as possible. Generally, you should choose a professor who teaches business courses or another subject that is relevant to your MBA specialization. Consider communicating to the letter writer that you feel they would be the best choice to provide insights into your academic performance and aptitudes. Don't be afraid to let the letter writer know of any particular aspects of your interests, career plans or academic and professional history that you would appreciate them emphasizing if they feel comfortable doing so.
Since many MBA programs require or expect applicants to have professional experience already, it may have been some time since you last took a course with your former professor. It may help to remind this letter writer which courses you took with them and what you liked about their classes.
Additional Resources
What Should You Know About Getting Into an MBA Program?
Schools Used to Want MBA Applicants to Work Before Applying, But I Hear That Has Changed. Is That True?
What Constitutes Work Experience for an MBA or Ph.D. Program in Business Administration? Internships?