An accounting clerk position can be an awesome way to directly enter the accounting workforce. Because the job typically requires only a high school diploma, many professionals use a clerk position as a way to jump right in and start working. This freedom and relative immediacy of work allows for many to work their way through a bachelor's program, offers early exposure to the accounting world, and strengthens skills that are going to be extremely important for any promotion or move up the corporate ladder.
Where Does an Accounting Clerk Work?
Before discussing what an accounting clerk does, it is important to understand where they may work. Any size firm, organization, or individual (like private practice accountants) may choose to employ an accounting clerk. Often, the size of the employer directly affects the type of work clerks may find themselves responsible for.
At a smaller firm or with an individual, a clerk usually has a great breadth of responsibilities. This often includes both administrative work and accounting specific work. At a larger firm, clerks usually work within a specific department, like accounts payable, accounts receivable, or payroll. In this instance, a firm will likely employ multiple clerks, as each one is totally responsible for all tasks within one department.
Accounts Payable Clerk Job Details
The job descriptions of most accounting clerks are similar on a foundational level. Accounting clerks are hired to be a member of a company's accounting department, with responsibilities related to both clerical and administrative tasks. The job is often considered synonymous with a bookkeeper, though an accounting clerk position is accounting specific. Clerks may find their responsibilities to include bookkeeping, reporting, research, analysis, and discrepancy resolution.
What is Accounts Payable?
Ultimately, the accounts payable department in a firm is responsible for managing and paying off any short-term debt owed to creditors or suppliers. On a firm balance sheet, the accounts payable number is considered a liability, as it is money that the firm is obligated to pay at some point. Many accounts payable departments work intimately with the supply chain department (if such exists), as determining organizational needs and procuring them is a large part of the accounts payable "cycle."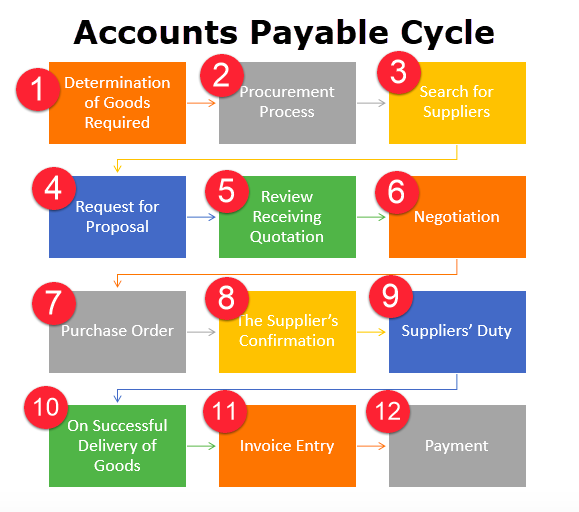 Accounts Payable Clerk Responsibilities
The job description of an accounts payable clerk is going to be specific to the accounts payable department. Some will tell you that the clerk's responsibility is to make sure that the bills get paid! So, what will their day-to-day tasks be?
Invoice Management: The clerk is often responsible for completing payments to suppliers or vendors, as well as processing, confirming and reconciling any invoices that are received.
Accounts Management: The clerk will be responsible for verifying entries into the accounting system used, maintaining the ledgers by both verifying and posting the transactions, and comparing any system reports that are generated to the actual balances. Most clerks are often required to perform monthly reconciliation of each specific vendor account as well.
Expenses Management: It is also important to charge expenses to the appropriate cost centers. This is done by analyzing invoices or expense reports and then recording the entries in the appropriate accounts.
Vendor Payments: Clerks are responsible for scheduling and preparing checks, resolving purchase orders, contracts, and invoices, and reconciling any payment discrepancies or documentation issues.
Sales Tax Management: When appropriate, this requirement is calculated but the clerk from paid invoices.
Records Maintenance: Though computing software systems are used now almost universally, many clerks are still responsible for maintaining records by microfilming and filing paper documents and copies.
Credit Card Maintenance: Clerks are responsible for auditing and processing credit card bills.
Vendor Relationship Management: Aside from managing the financial side of the vendor relationship, clerks are responsible for addressing and responding to vendor inquiries and issues as well.
Specific Hard and Soft Skills Needed
Proficiency with general math skills
Proficiency with PC programs (Microsoft Office, QuickBooks)
Data entry skills
Communication skills
Relationship management
Analytical prowess
Attention to detail
Budgeting proficiency
Thoroughness and organization
Discretion/Confidentiality
Moving Forward as an Accounts Payable Clerk
Working as an accounting clerk can be an excellent springboard into the accounting industry. These employees will get a variety of experiences and exposure to industry normals, nuances, and professionals, as well as strengthen the necessary skills for promotion and growth. Though the Bureau of Labor Statistics does not report great career growth numbers, this career can still be an excellent place to start and figure out if the accounting field is really for you.
DQ Staff
March 2020
More Articles of Interest: