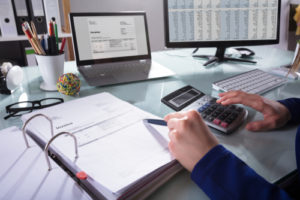 It's the old catch-22. You need experience to get the job. But you need the job to get the experience. So what do you do? Thankfully, this dilemma does not typically apply in the world of accounting. Plenty of options exist that you can utilize to gain relevant experience to help you land an accounting job. Yes, you might even be able to build enough experience to get an accounting job without a degree!
Note: We're not talking about the experience you need before earning your CPA, but rather for gaining employment as an accountant. If you'd like information on the latter, you can find it here.
Bookkeeper
The clearest, most straightforward, and perhaps most relevant role you can fill without an accounting degree would be in bookkeeping. Accountants essentially do the bookkeeping for their clients unless they're specialists in a specific area. Gaining experience as a bookkeeper can only help you. If you work for a small, local business, regulations and legal requirements are minimal. In some small businesses, the bookkeeper is simply the employee with the best math skills.
You must become familiar with the Generally Accepted Accounting Practices (GAAP), relevant tax laws, employee classification (such as the difference between W-2s and 1099s), and any unique state regulations that may impact the business with whom you work. If you'd like to get bookkeeping experience, try putting out ads or asking any friends who own a small business.
Accounts Payable
It might be somewhat helpful to think of accountants as generals and captains, while the people in accounts payable are the soldiers. The accountants plan the budgets, conduct the audits, and submit reports that help guide the company's finances. But accounts payable puts those financial plans into action and help execute them. They receive payments and organize what the company owes. They also process, verify, and reconcile company invoices. One of the most direct pathways into professional accounting comes through working in accounts payable. There, you can not only gain experience but also prove your integrity and responsibility with company money.
Banking and Tax Preparation
Working in a bank can provide valuable experience towards becoming an accountant. Particularly within national chains, banks have numerous training leadership and financial management programs you can utilize to gain knowledge and experience. Some banks also offer tax preparation for their clients. If you can get trained in that and then help clients with it, that can go a long way. Especially since you'll be doing a lot of that sort of work in accounting. Additionally, doing tax preparation helps you become more familiar with relevant laws and regulations. That can only help you as you enter the field of accounting.
Administrative Assistant
Many small businesses and non-profits hire administrative assistants part-time and full-time. This role can be especially valuable if you're working your way through college or studying for a certification. While this role may not seem directly relevant to accounting, often part of an administrative assistant's role is managing department budgets, and working with people within the organization to maintain them. Job descriptions for an administrative assistant tend to be incredibly broad, so you can use that to your advantage. You get to experience the inner workings of a business, and have opportunities to see it from multiple perspectives. With that type of experience, you bring something unique to the table as you look to enter professional accounting.
Accounting Clerk
The roles of accounting clerk and bookkeeper overlap in many areas. That's why this role also overlaps with a lot of what an accountant does.  Accounting clerks keep track of balances and calculate interest on loans, credit accounts, and bank accounts. They work with a lot of spreadsheets and accounting software programs. Think of their role as like that of an accountant, but reduced to the bare nuts and bolts. You do not need a college degree to become an accounting clerk. In fact, like an administrative assistant, it's also a great job to have while working your way through school. With a job like accounting clerk, you'll be one step ahead of your classmates, as well as anyone else competing for an accounting job.
The Common Denominator
Just about each of these jobs involve working with money. They require not only competent math skills, but also a great deal of personal organization and integrity. Someone who doesn't mind following the rules and making sure everything's in order. So if you can't find work as a bookkeeper, accounts payable, banking, tax prep, administrative assistant, or accounting clerk, then keep these things in mind. Any job that requires similar competencies and characteristics as accounting will provide relevant experience.
DQ Staff
February 2020
More Articles of Interest: