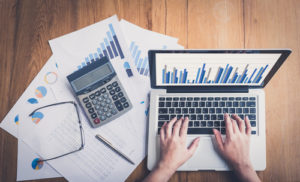 Although many people assume that accountants and auditors are the same, they actually fulfill very different duties. Accountants record the daily financial transactions of a business: This involves creating balance sheets, cash flow statements, income statements, and more. They also file taxes and analyze competitors. Auditors, on the other hand, are tasked with verifying the work of accountants. They check all financial documents for accuracy and ensure that all a company's accountants are presenting accurate data.
Let's take an in-depth look at the main differences between these two very important positions. We'll also discuss some ways the two roles overlap.
What are the key differences between accountants and auditors?
Although accountants and auditors share some job duties, they also have many differences that may draw you towards one field over the other.
Accountants create records and financial statements, while auditors verify them.
While accountants process transactions every single day, auditors usually perform their duties on a quarterly or even annual basis. Their work spans much larger timeframes.
An accountant focuses on the minute details, while an auditor is concerned with the much larger picture and the company as a whole.
At the end of the year, an accountant is expected to create financial statements to determine a company's overall health and ranking among competitors. Auditors, on the other hand, simply look over these statements to ensure everything is presented accurately.
Accountants are necessary, while auditors are optional. Auditors may not be needed at all at certain companies unless fraud is suspected. In this case, their intervention may be required by the authorities.
Accountants are generally employed by their own company, while auditors tend to be contractors brought in for a short time. Auditing firms send employees to many different businesses across a city or state. In these situations, an auditor often won't have their own office, while accountants will. Some larger companies hire their own auditors, but they generally operate in an entirely different department from the accountants whose work they verify.
Accountants focus on current information such as payments, account statements, and tax information. They create reports based on this data. Auditors focus on past information and find errors and issues with accounting documents.
An accountant's job can be quite repetitive compared to an auditor's. In some firms, auditors get to travel around more and visit different offices. This kind of mobility is rare for an accountant. An auditor's schedule can be more flexible as well.
Auditors sometimes develop new tests and procedures while accountants generally perform the same tasks over and over.
Accountants get to create their own reports and statements from raw data, while auditors don't have as much creativity. They spend most of their time checking the work of others instead of creating reports of their own.
How do the two fields overlap?
Even though there are some key differences between the accounting and auditing fields, there are plenty overlaps as well. This is why so many people tend to get them confused! Let's take a look at some of the main similarities below:
The fields of accounting and auditing have very similar pay. According to the BLS, accountants and auditors both earn a median pay of $70,500 per year. Keep in mind that these amounts will vary widely depending on where a person lives, as well as what they choose to specialize in.
Working in an office on a team is an essential skill for both accountants and auditors. Both jobs require patience and understanding for other team members. Having excellent social skills will take you far regardless of which path you choose!
Both accountants and auditors must be great at working with numbers. An attention for detail is a must as well. People who frequently make mistakes or get frustrated while calculating figures should probably find a different career path. A willingness to check over all completed work is a huge asset for both fields as well.
A familiarity with the generally accepted accounting principles (GAAP) is essential for both accountants and auditors. Accountants must adhere to these principles as they prepare financial reports, and auditors must be equally comfortable with them as they check over the work of accountants.
Should I become an accountant or an auditor?
Have you always found satisfaction in making sure all the fine details are in order? Was proofreading your favorite part of every English class? If so, then you may be better suited to a career as an auditor. An auditing job will be easier for people who find great satisfaction in working on a team and looking over someone else's work.
If you prefer to create your own projects from scratch, however, you may be better-suited to a career as an accountant. Many accountants enjoy generating a detailed report from a bunch of unprocessed data. People who take pride in their organizational skills and their ability to piece together a complex puzzle will find a career in accounting very rewarding.
Accountants may be held accountable when a huge mistake is made, however. Executives may get angry at their oversight, and depending on the scale of the mistake, in extreme cases it may even be necessary to find a different job. Therefore, it could be argued that being an auditor is a bit less anxiety-inducing—which is important to keep in mind if you're the type who gets stressed out easily.
If you're still having a hard time choosing, the good news is that both fields are very similar. As we discussed above, the pay and job growth rate is comparable between auditing and accounting. Both professionals work in offices and must do well on a team. The biggest difference between the two jobs is that accountants create, while auditors investigate: So if you ever dreamed of being a detective as a child, but now you have a knack for numbers, maybe becoming an auditor is the next best thing!
DQ Staff February 2020More Articles of Interest: