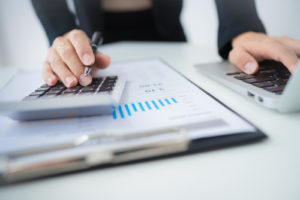 Interested in an accounting career but don't have the time or money for an advanced degree? Maybe you want to be an accountant someday, but know that it is going to be a while before you can make that happen? There are accounting careers that can work for you in these seasons.
An accounts payable clerk or accounts payable assistant are both accounting career options that require neither a bachelor's degree nor an advanced degree. Typically, an accounting clerk position is available to those who have a high school diploma. Accounting assistant positions often require (or desire) an associate's degree or an in-process bachelor's. Note that many use accounting clerk and accounting assistant interchangeably. This can occasionally cause some academic requirement-related confusion for job candidates.
Accounts Payable Clerk Career Path
If an accounts payable clerk is a position you are interested in, then there are a few pieces of the puzzle that you need to be aware of. The specifics of required education and skills can change depending on the size of the firm or organization you work for or are applying for, but typically, job applicants will have similar requirements across the industry.
Educational Path
The educational path to a job as an accounts payable clerk is pretty short. Essentially, all one usually needs is to graduate with a high school diploma or GED. Some clerks also achieve an associate's degree in accounting or extra certifications, to make themselves more attractive candidates.
 Job Skills Needed
There are a variety of common job skills, both hard skills and soft skills, needed for those desiring an accounts payable clerk position. Here are some common desired characteristics that you would likely see show up on most different job applications.
Strong math skills: Strong math skills will allow you to "speak the language." If math wasn't your strong point in high school or it's been many years since you have done arithmetic, you can brush up on your skills with different apps, training programs, or a community college course.
Computer skills: These skills will continue to become more and more important as the industry continues to grow and change. While many businesses still have a large number of paper records, they usually use software program(s) to track their numbers and ensure accuracy. If you can, get comfortable with spreadsheets and auditing software. There are many online tutorials and classes that can assist you with this.
Analytical skills: These skills may become more valuable as you desire to move up, but hone them in (or talk them up in an interview) now. The ability to analyze information, recognize potential errors, and suggest solutions is often integral to success in the accounting world.
Attention to detail: As an accounts payable clerk, you will spend a lot of time preparing financial statements and documents. It will be your responsibility to ensure that there are no errors of any kind. Depending on the size of the firm or project you are working on, small mistakes in this area can have large financial implications.
Honesty and integrity: The firm or company you work for is going to want to know that you have their best interests in mind. Are you making decisions to protect firm integrity? Are you transparent in both successes and mistakes? Can you remain confidential? The answers to these questions are going to be important in a job interview.
On the Job Training
There is a decent amount of training needed to be an accounts payable clerk, however, most jobs offer on the job training that is given after hire. This training is common because of the large potential scope of responsibilities for a clerk. Even an experienced clerk is likely going to need some degree of on the job training. If they move from a large firm to a smaller firm they may find that they have a greater breadth of duties. And if the move happens from a small firm to a bigger firm, a clerk will likely need much more specific training for the one or two departments they work in.
Continuing Education & Additional Certifications
Many accounting clerks find that additional certifications  help strengthen their resume during the job search or in continuing to learn and display passion to an employer. There are a variety of different accounting clerk/bookkeeping certifications and courses available, often offered online or at a local community college.
Accounting Clerk Certificate: These certificate programs prepare students for a job as a bookkeeper, accounts payable clerk, or accounting assistant. Courses will likely include basic principles of accounting, payroll, spreadsheets, business math, and business communication. Length of these programs varies, but they often fall between 6-9 months.
Microsoft Office Specialist Certification (MOS): This certification demonstrates that you have excellent skills working with a specific Office program. Many who work in accounting choose to get this certificate in the Microsoft Excel course. Microsoft reports that an entry-level business employee may make as much as $16,000 more/year if they hold one of these MOS certificates.
RELATED: What Are the Highest-Paying Business Entry-Level Jobs?
QuickBooks Certification: QuickBooks training and certification is available in a variety of different ways. Students can choose to learn from videos, webinars, virtual conferences, or in-person events. Training is self-paced and students can develop skills at a pace that makes sense for their current lifestyle and schedule, their workload or academic load, and their current skill level.
*This list of certification opportunities is not all-inclusive.
Straight to Work
One of the most attractive things about an accounts payable clerk position is the possibility of joining the work force immediately after high school graduation. While it is true that a high school diploma is all that you need, it is also true that the market is competitive and the number of accounting clerk jobs is decreasing (and is expected to continue to decrease through the year 2028). Do what you can to make yourself the most attractive candidate. Brush up on the hard and soft skills you know you will need. And while you don't need an advanced degree, an associate's, a bachelor's, or additional certifications are all going to show your dedication to and excitement for the career.
DQ Staff
March 2020
More Articles of Interest: