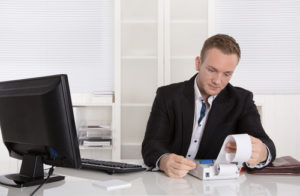 The question of opportunities for advancement is important to most professionals when choosing a job or a career. For an accountant, the job of controller is one area where advancement is possible. These positions typically offer greater responsibilities, greater salary, and management experience.
Many will note that when comparing the job of an accountant and a controller, it is important to be looking at experienced, high level accountants. Controllers often have years (if not decades) of accounting experience, an extensive education, and many professional certifications.
DegreeQuery.com is an advertising-supported site. Featured or trusted partner programs and all school search, finder, or match results are for schools that compensate us. This compensation does not influence our school rankings, resource guides, or other editorially-independent information published on this site.
What Does a Controller Do?
An accounting controller in a firm plays a figurehead role in an accounting department. They are responsible for supervising all accounting activities that are occurring inside of an organization. This includes a dedication to accurate reporting, compliance regulations, budgeting, construction of reports, and an organizational awareness of the business inside of the big picture.
Controllers also coordinate with management in each department as well as within the executive suite. Most typically, a controller answers to the CFO and performs tasks assigned by them.
Job Description and Responsibilities
A controller's job description often includes overseeing these activities (which occur throughout the accounting department):
Drafting of financial statements
General ledger inputs
Tax law compliance
Analysis of financial data
Payroll work
Processing of accounts receivable and payable
While a controller is intended to supervise the whole accounting department, they do work more closely with certain professionals. Some of the most common people that the controller directly interacts with include payroll managers, cost accounting managers, accounts payable and receivable managers, and accounting clerks.
Types of Controllers
Typically, there are two different classifications of controllers: business controllers and corporate controllers. These controllers usually handle entire accounting systems for the company employing them. Tasks and responsibilities for a controller will depend on the size of the firm they work with; smaller companies will need a controller doing a greater breadth of work, while a larger firm usually has a controller in more of an overseer position.
Controller vs. Chief Financial Officer
Though this upper level financial leadership position sounds like a CFO, they are not (usually) the same position. Typically, a controller does start as an accountant. Experience, strong accounting skills, and the ability to manage people and different tasks can then definitely lead to a controller position.
Alternatively, a CFO is not always the next step for an accountant or a controller. CFOs must understand the complex interplay between business operation and the financial systems in place. They also must understand business funding, business risks (and their mitigation), and possess the abilities to see and develop strategy and lead well inside of those plans.
You may hear some refer to the controller as the chief accounting officer. This is not the CFO. However, most forms do report that the controller usually is considered a member of the executive staff.
Accountant vs. Controller
As briefly discussed above, a controller career is best compared to an upper level accountant career. However, there are notable differences between these two careers. The biggest differences between the two careers are related to specialization and amount of control or leadership the professional has. Usually, an accountant chooses a specific specialization and has a very narrow career path. They are often experts in a single area of accounting, as that concentration and excellence usually garner a higher salary.
Adversely, a controller needs to have a much broader focus. Instead of expertise in one area, they need to be experts throughout the accounting department. This breadth of expertise will allow them to make the best suggestions that are beneficial to the whole system. Controllers usually need more leadership skills or management experiences, as they will need to know how to effectively communicate with a lot of different people and departments.
 Salary Considerations
It is difficult to determine the exact specifications of what a controller's salary may be. The Bureau of Labor Statistics (BLS) reports salary data related to financial managers; this is the umbrella that the role of controller falls underneath. In 2018, the median pay was reported to be $127,990 annually. The job outlook is (between 2018-2028) reported to be 16%, which is much faster than average. 
Important to note is that the size of the firm will directly impact one's controller salary. If a controller is considered part of the executive suite team (or more "senior"), then their salary will reflect that as well. 
The Many Paths in Accounting
Once you've done your research, you will likely realize that there are many careers and tracks available to a professional in the accounting world. While accounting can be considered a pretty dry career, one also can't deny that there are plenty of opportunities for advancement that will provide more leadership and management opportunity. A career as a controller would be a great opportunity for an accountant to grow as an individual and professional, learning to work well with others, manage intentionally, and communicate effectively. It could be a very strong position for an accountant to aspire to.
DQ Staff
February 2020
More Articles of Interest: