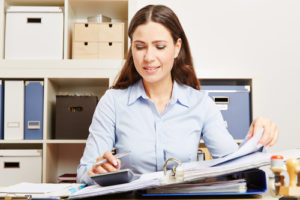 Many in the general public are unaware that there are a couple of different entry-level ways to enter the accounting field. While an accounting degree can lead to a job as a CPA, non-degree professionals may be able to find work as an accounting clerk or an accounting assistant. These two careers are often mistaken for each other or spoken about interchangeably, however, some distinct differences between them are worth noting and discussing.
DegreeQuery.com is an advertising-supported site. Featured or trusted partner programs and all school search, finder, or match results are for schools that compensate us. This compensation does not influence our school rankings, resource guides, or other editorially-independent information published on this site.
Accounting Clerks and Accounting Assistants: Two Different Careers
Necessary Education
Accounting Clerk: Typically, accounting clerks do not need a high level of education. Though some may possess an associate's degree or a bachelor's degree, a high school diploma is most often all that is required.
Accounting clerks will need to be well versed in basic accounting practices, bookkeeping, computer spreadsheet programs, and fundamental math abilities. This job can be entered directly out of high school.
Accounting Assistant: The level of education required for an accounting assistant may differ depending on the individual or organization one works for. Typically, an accounting assistant will be required to have a technical degree or a two-year associates degree. The requirement of a four-year degree is extremely rare.
Accounting assistants need similar skills as a clerk, but those skills need to be stronger and have greater breadth. Their education should have been dedicated to accounting principles and practices, accounting systems and information technologies, spreadsheet principles and utilization, business math, and excellent communication skills.
Job Description(s)
Many feel it is in the job description where these two careers vary the most. Accounting clerks are usually the lowest level accounting personnel in a firm and require supervision. They are typically going to have a pretty consistent set of responsibilities. They are largely responsible for daily entering of transactions into their various accounts (like accounts receivable or payable and payroll). Accounting clerks may also be involved in basic administrative tasks.
Accounting assistants often do everything that an accounting clerk may do, plus more. Depending on the size of the organization they work for, a clerk may be singularly responsible for one account or be responsible for a wide variety of accounts. Assistants are also expected to be able to perform a wide variety of administrative tasks, including processing payroll checks or vendor checks, sending statements to vendors or investors, creating invoices to bill clients, compiling financial reports from accountants or performing bank reconciliations. Typically, assistants also have more administrative duties than clerks.
Salary
The U.S. Bureau of Labor Statistics does not separate their salary information related to accounting clerks and accounting assistants. They do report the 2018 median pay for a bookkeeping, accounting, or auditing clerk to be $40,240/year. The job outlook for these positions is expected to decline at a rate of -4%, which translates to a decrease in jobs (from 2018-2028) of 65,800 positions.
Accounting assistants should expect to make more than accounting clerks. However, this difference in salary may be negligible and is largely dependent on the size of the individual or organization a clerk or an assistant is working for.
Opportunities for Advancement
Both clerks and assistants have decent opportunities for career advancement. As you may expect, clerks are more likely to be looked to for advancement, as they already possess more education and skills and have likely been handling greater responsibilities. Competent clerks and assistants may find that they are promoted to specialist processing positions or mid-level administrative or management jobs. With the right education along the way (like a bachelor's, CPA, and MBA), a clerk or assistant may even find that they can work their way up to the C-suite. Those long years of experience and education may also lead to a career in accounting consulting.
So How Should I Enter the Accounting Industry?
If you are still unsure if you want to dedicate the time and money it takes to be an accountant, there are a variety of different ways to enter the field and see what you think about it. Both accounting clerks and accounting assistants are going to get a pretty good look at what a long-term career in the industry may entail.
The strong advantage of being an accounting clerk is that you can begin working immediately outside of high school. This possibility is extremely attractive to many, especially those who want or need to work while achieving an associate's or a bachelor's degree. If you do not plan on continuing for a bachelor's degree, you may want to strongly consider doing two years of schooling to prepare you for a career as an accounting assistant as opposed to settling into a clerk position. This choice, though it will take some extra time, education, and money, will offer greater advancement opportunities and should equate to greater pay as well.
DQ Staff
February 2020
More Articles of Interest: