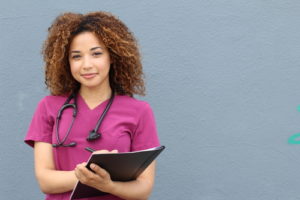 If you've spent some time digging around in healthcare degrees, you have likely read about a variety of examinations that are necessary for licensure in each of the different fields. Most (if not all) healthcare degree programs are intended to prepare students for an exam or a board certification after program completion. These examinations help ensure a standard of care across the country.
The National Council Licensure Examination (NCLEX) is one of these end-of-program licensure examinations. It is a nationwide test all nurses must take and pass before they are legally able to independently practice. There are two versions of the NCLEX; the NCLEX-RN is for registered nurses and the NCLEX-PN is for practical nurses (licensed practical nurses (LPN)).
If you spend some time researching the NCLEX examination, you will likely run across both truths and fables concerning it. It can be hard to separate what you need to know versus what is myth. The following is a discussion of some NCLEX truths, including NCLEX requirements and test details.
How Do I Take the NCLEX?
As mentioned above, the NCLEX is a required exam for every registered nurse. Unlike some certification exams, it is not open to any applicant. There are NCLEX requirements that must be met before an individual may apply to take the exam or "sit" for the test. Approval must be granted before anyone may take the exam.
Steps to the NCLEX Exam
Graduation from an accredited nursing school: Before applying to nursing school, ensure that your program is accredited. Successful graduation is 100% necessary before you will be free to apply for the exam. You will need an RN degree (diploma, baccalaureate, or associate's) or an LPN degree to sit for the NCLEX exam.
State requirements and differences: Because nurses are licensed by the state in which they take their exam, pay attention to the specific requirements for the state you are in. These requirements can differ. Click here to access different states' board of nursing websites.
Apply through Pearson Vue: Pearson Vue is the only company approved to administer the NCLEX exam. When you apply for the NCLEX, you will have to wait for approval from the nursing regulatory body (NRB) of the chosen state of licensure.
Register for the exam: Eligibility should be confirmed or denied by the NRB within 365 days of application. Once you are eligible, you may register for the exam within the dates provided to you on your Authorization to Test (ATT) email (which you will receive from your NRB). If you are not deemed eligible within the 365-day period, you will have to reapply and pay the associated fees again. You may not have multiple registrations open at the same time.
NCLEX Exam Details
Regardless of state of licensure, the NCLEX exam will cost $200. Additional fees may be necessary, but they will be determined by the state. Should a student fail the exam, they are free to take it again. You will owe the $200 fee each time you register. The National Council of State Boards of Nursing (NCSBN) website, which is the company that writes the NCLEX exam, states that you can attempt the exam eight times per year. However, each state board of nursing may have additional standards or rules related to retakes, so you will need to check with your state in the event of initial exam failure.
The NCLEX exam is likely going to feel different than other exams students have taken. The exam is built to test nursing application and analysis. It is meant to be an exam about nursing judgment, as opposed to an exam about nursing knowledge. The exam questions integrate all areas of nursing content via multiple-choice questions. Each applicant will receive a minimum of 75 questions. A maximum of 265 questions may be asked. Regardless of how well a student is doing, 15 questions are for test purposes and do not apply to your passing or failure. A maximum of six hours is given to complete the exam.
You cannot determine passing or failure based on length of exam. The test is a computer adaptive test (CAT), built to demonstrate competency. This means questions may get harder or easier to determine your level of skill (and whether it's appropriate for RN practice). Students may demonstrate lack of competency quickly (75 questions) or it may take 200 questions. The alternative is also true for students who are adequately demonstrating competency. As long as the test continues to ask you questions, continue to work to fully demonstrate competency!
The test is a pass/fail examination. No number score will be given. You will be notified of your results by your State Board of Nursing 2-4 weeks after you take your exam.
Moving Past NCLEX Intimidation
We get it – the NCLEX can be nerve-wracking! Nursing students have spent thousands of dollars and worked hundreds of hours to get to the place where they are allowed to sit for the exam. It's no wonder they are stressed out!
But we encourage you to focus on the facts as you consider the NCLEX. Though it can feel intimidating, the truth is that most students pass the first time. In 2019, the NCSBN reported an 89% pass rate on the NCELX-RN for US educated students (this is an average between diploma programs, baccalaureate programs, associate programs, and special promo codes). Nursing school's job is to prepare you to pass the NCLEX exam and begin your nursing practice. Trust your school and trust yourself. You can do this.
Laura Mansfield
Master of Healthcare Administration (MHA) | Sacred Heart University
Associate's Degree of Nursing (ADN) | North Seattle Community College
Bachelor of Business Administration (B.B.A.), Marketing, Sales | University of Washington (Seattle)
December  2019
More Articles of Interest: