An associate's degree program in health information technology isn't only one of the fastest online associate's degrees you can earn. This education also helps prepare you for certification in the field. Although the United States Bureau of Labor Statistics (BLS) reported that several different professional organizations offer some form of certification for health information technicians, the most widely recognized credential is the Registered Health Information Technician (RHIT) certification, followed by the Certified Tumor Registrar credential. Although state-specific certifications and requirements are mandatory in many careers, within the healthcare field and beyond, you generally need only national certification in this career path.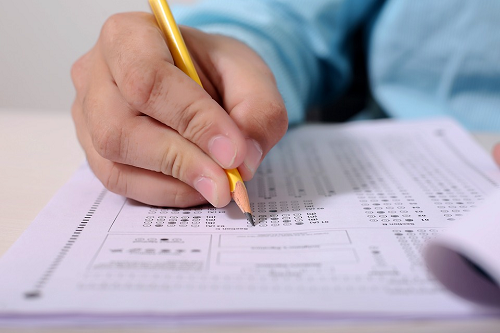 IMAGE SOURCE: Pixabay, public domain
National Certification From the American Health Information Management Association
The American Health Information Management Association (AHIMA), the organization behind the RHIT certification, has certified members across the United States. To be eligible to seek RHIT certification, you must have at least an associate's degree from an approved program in the field of health information management. Through the AHIMA's early testing program, students can also take the test if they are currently finishing their last semester of study.
Approved programs include any program in the United States that holds accreditation from the Commission on Accreditation for Health Informatics and Information Management Education (CAHIIM). You are also eligible if you completed an equivalent level of education through a program outside the U.S. that has been accredited or approved by one of the foreign associations – including those in Canada, Australia and South Korea – which has a reciprocity agreement with the AHIMA.
The RHIT certification exam encompasses 130 scored questions – 150 questions total – all presented in multiple-choice format. Over three and a half hours, test-takers must answer all questions spread across six different domains representing the competencies required of health information technicians.
The domain that is most heavily represented in the RHIT exam content is Data Content, Structure, and Information Governance, which accounts for approximately one-quarter of the exam. This domain evaluates your ability to perform tasks like applying coding guidelines and other health information guidelines, applying healthcare standards, defining and maintaining the legal integrity of the legal health record and auditing and validating the content of the legal health record. Other questions posed in this content domain assess your skills in maintaining patient registration and other secondary health information, educating clinicians on documentation, coordinating document control and maintaining the Master Patient Index. The other domains, which are more evenly represented on the exam, include  Access, Disclosure, Privacy and Security; Data Analytics and Use; Revenue Cycle Management; Compliance and Leadership.
The AHIMA also awards other certifications, most notably the Registered Health Information Administrator (RHIA) certification. The RHIA credential requires a more advanced education and validates administrative skills for management roles.
The National Certified Tumor Registrar Credential
If you aspire to work in the specialized cancer registry field, a more relevant certification option may be the National Cancer Registrars Association's Certified Tumor Registrar (CTR) credential. Another national credential, this certification showcases your skills in a career that, the BLS reported, includes checking the accuracy of cancer patients' pathology reports and other medical records, tracking treatments and survival rates, analyzing information for the purposes of cancer research and maintaining cancer patient databases.
Before you can sit for the CTR exam, you must have clinical experience in addition to an education at the associate's degree level. This experience can come from a clinical practicum taken as part of your education or through professional work experience as a cancer registrar.
Like the RHIT exam, the CTR exam comprises several different domains. Each year's exam features questions developed by cancer registry subject matter experts. For 2020, more than one-third of the 180 multiple-choice questions fit into the domain of Abstracting and Coding. The Data Quality Assurance domain accounts for the next largest portion of test questions, 15 percent, and the remaining domains – Casefinding, Follow-up, Registry Organization and Operations and Cancer Program Accreditations each account for 10 percent of the exam content. There are two separate parts of the test, a two-hour closed-book portion and a two-hour open-book portion.
Earning the CTR certification can increase your salary potential. Cancer registrars with this designation report salaries $25,000 higher than those without this certification, according to a report by the National Cancer Registrars Association.
Additional Resources
What Are Some Positions I Will See Listed by a Company That an Associate's Degree in Health Information Technology Would Prepare Me For?