Only a student who is serious about their art would devote the time and work to pursuing a Master of Studio Arts program, which happens to be one of the 50 highest paying master's degrees. By the time you get to this graduate level of art creation, you have usually developed an area of expertise. However, some exceptionally talented graduate students excel in multiple media of art. Whether and to what degree you will be able to concentrate on creating art in more than one medium depends on the specific school and program you choose. Some programs focus more narrowly on the student's one declared type of artistic medium, while others are a lot more interdisciplinary and allow for experimentation with different types of media.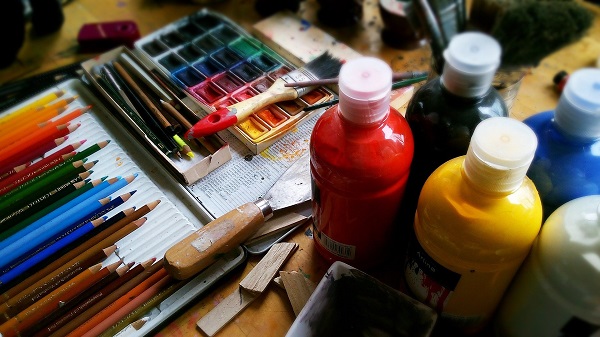 IMAGE SOURCE: Pixabay, public domain
Choosing an Artistic Medium for Your Graduate Studio Arts Program
Most graduate studio arts programs separate different artistic media into distinct programs. This traditional approach allows students to concentrate their coursework and focus their studio time on creating one type of art, such as painting, sculpture, photography, graphic design or digital media. By concentrating on the artistic medium in which the student hopes to develop their expertise, the student gains more experience and develops greater technique in that particular type of art creation than they would if required to complete studies in all types of media.
Often, students explore the use of different types of media to create their art during their undergraduate studies, particularly in a more general Bachelor of Arts (B.A.) program compared to the more specialized Bachelor of Fine Arts (B.F.A.) program.
Making the Most of Studio Arts Master's Programs With Mixed Media
If you have a passion and talent for multiple types of media, then your educational goals might not fit neatly into a traditional studio arts master's degree program. Fortunately, many programs allow students to study more than one type of artistic creation at varying degrees.
Some studio art programs offer a degree in interdisciplinary art practices that allow you to either complete separate studies in multiple media or merge different forms of media into unique creations. Other studio arts graduate programs are interdisciplinary by default. These programs offer the ultimate flexibility by not compartmentalizing work with different types of artistic media and not requiring students to devote specific numbers of courses, credits or hours to a specific concentration. However, these extremely flexible programs may not have quite enough structure for some students, particularly those who enjoy the traditional format of most studio arts graduate degree programs.
An interdisciplinary studio art program may also offer you the most opportunity to work in emerging forms of art and design, which often use technological innovations in artmaking.
Creating a Portfolio as a Mixed-Media Artist
Choosing a program that fits your artistic goals and academic needs is an important step. Next, you must put together your application. A big part of the application to a graduate studio arts degree program is your portfolio.
You can probably guess that your portfolio should include your best works. You may have also heard that you want to fill your portfolio with a variety of types of artwork to showcase the full scope of your artistic talents. If you're an artist who enjoys working with different types of media, you might wonder whether your portfolio should be limited to one type of artistic medium or if it should highlight your skills working with all kinds of materials.
Generally, your portfolio should match up to the graduate program to which you are applying. If you have chosen to apply to an interdisciplinary program, the admissions team will likely welcome samples of numerous types of work using a variety of media and materials. On the other hand, if you decide to apply to a traditional program that focuses on one type of artistic media, your portfolio should conform to that concentration. The program's admissions personnel are evaluating your abilities in working with that specific type of medium, so samples of your work with other media aren't relevant to them.
Some traditional studio arts programs allow students to complete some elective coursework in other media. Even if you plan to do this, you must get accepted into your intended program first, so your portfolio should reflect your commitment to your concentration.
Additional Resources
Are My Undergraduate Grades Very Relevant When Applying for a Master of Studio Arts Degree?
Do I Need to Have a B.F.A. in Order to Apply for a Master of Studio Arts?
Is Being a TA (Teacher's Assistant) Typically Required in Getting a Master of Studio Arts Degree?