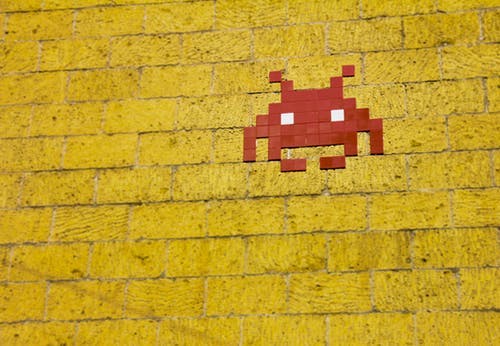 For people who love to play video games, making games for a living would be a dream come true. Fortunately for these would-be game makers, such a career exists. Thousands of students prepare for this career each year in bachelor's degree programs in game design. These game design degrees build on the basics of traditional art forms and then introduce their students to the technical side of gaming. Students who graduate from these programs go on to have careers in the game industry as riggers, texture artists, storyboard artists, web developers, environment artists and UX/UI designers.
Here's a look at some of the coursework that a typical bachelor's degree program in game design requires its students to take.
Traditional Art Skills
An article on Chron.com tells high school students who want to go into game design to take classes in traditional art forms, like sculpture, painting and drawing. These classes help prepare students for the university-level art classes they'll take once they get to college. Most game design programs require their students to take classes in art. These classes teach students to improve their drafting and sketching skills. They also give them an introduction to color theory, visual composition and other visual art concepts.
While students will eventually take classes to learn how to make computer-generated images, these software programs won't replace what they learn in their traditional art classes. Many of these software programs become another medium for students to work with. For example, instead of drawing and painting a character in oil or acrylic paint, the students will use Adobe Photoshop's pen tools and paintbrushes to create the character. Therefore, these software programs do not replace art skills They augment them.
Art History
The words art history don't quite do justice to this study of art. Art history not only looks at the chronological progression of art and different art movements, but it also provides a history of what was going on in the world when the art was created. As such, it's an interdisciplinary subject that teaches students about the political and religious movements, anthropological developments and social history that inspired such works, according to International Studies in History and Business of Art & Culture.
Art history classes additionally give students a look at how art has evolved as technology evolved. In the early history of art, technology might have been the development of specific paint pigments that opened up the artist's palette. Later, the new technology that changed the artists' world might have been photography.
In studying these movements and the advances in technology that spawned them, students will get a perspective on how digital technologies are shaping the way art is created today. Students also see how new technologies have opened up new art forms in the modern world, like video games.
Game Development and Production
According to the Princeton Review, students who are interested in game design and development careers should look for bachelor programs that give them many opportunities to create games throughout the course of their college careers. These games go into the students' portfolio to show to potential employers.
The portfolio of game design students should include games they created in class, as well as games they helped to create during internship opportunities. Some of the top-notch game design schools have relationships with big video game companies. At these schools, there are often classes that allow students to collaborate with the game company to create games.
Computer Programming
While many people use the terms game developer and game designer interchangeably, they aren't always the same. In smaller studios, it's likely that one person will play both roles. In larger studios, the game designer and the game developer might be two different people.
Making this distinction is important because some game design degree programs won't emphasize computer programming as much. Instead, they'll lean more heavily on game design. That said, most programs give their students the opportunity to learn computer programming within the context of the video game industry. Even if students don't learn everything there is to know about programming, these classes are still useful. The classes allow game designers to better communicate with the game developers on their professional team.
Game Art and Animation
Under the umbrella terms game, art and animation are a wide variety of courses that teach students how to create art and animation specifically for games. These assignments could require the students to create characters for a game or the background scenery for the same game. Students could also be asked to make animation sequences that adhere to the specific parameters set forth by the game developer.
Ideally, each assignment will not only teach the students how to use digital tools. For game making, The Art Institutes says that game design students should learn Unity, GameMaker Studio 2 and Unreal Engine 4 if they want to design games for a living.
Potential game students will want to find out if their school teaches students how to use these game-making tools. They should also find out if their computer labs are state-of-the-art as well. Students will need to know how to use all of this technology once they're on the job.
Careers in the video game industry appeal to avid video gamers who want to make their hobby into a career. Fortunately for these future game artists, there are colleges and universities around the country that offer associate's, bachelor's and master's degrees in video game design. These degrees allow their graduates to work in a multi-billion-dollar industry, earning upwards of $102,000 a year, according to PayScale.com. But even more importantly, these degrees allow their graduates to go on to create games that others can enjoy, thus influencing future generations of game players.
Related Resources:
What Skills and Personality Traits are Best for Becoming a Game Designer?
What Should I Look for When Considering a School to Study Game Design?
What is the Difference Between Game Design and Game Development?