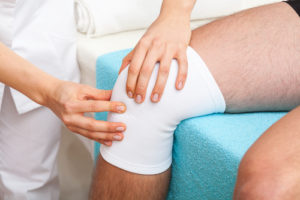 Attractive to many, a sports medicine career can bring a lot of joy to those who have spent their years loving, playing and investing in sports and exercise. The field of sports medicine can sound intimidating to many – you may be asking if you need to be a doctor to work within this field? The short answer is no! There are a variety of care providers and professionals who work in sports medicine. While a doctor is one kind of professional, there are many other avenues into a sports medicine career.
The field of sports medicine is broad, including athletic performance and exercise, nutrition and healthy lifestyle management, and injury prevention and recovery. While athletes are common sports medicine patients, care providers and professionals in this field are capable of helping all individuals with their health and fitness needs.
Sports Medicine Education
Today, there are both bachelor's degrees and master's degrees available to the individual interested in a sports medicine career. Bachelor's degrees in the field are available in sports medicine, health science, health education and behavior, and exercise science.
For the student desiring a higher level of education, there are also master's and doctoral degrees available to the sports medicine professional. If you desire a career as a physician, occupational or physical therapist, or a nutritionist, you will have to pursue graduate and/or post-graduate education.
Sports Medicine Degree Requirements
This is a general discussion of bachelor's degree requirements and master's degree requirements for sports medicine degrees (or comparable degrees, like health sciences or exercise science). Note that should you choose secondary education with a specific track (MD, OT, PT), that education is going to look very different than what is discussed here. Also, note that you should always choose education from an accredited university or program.
Sports Medicine Bachelor's Degree
For a BS or a BA, sports medicine degree requirements are initially similar to those of many other bachelor's degrees. For those of you considering transferring into this field, this means you may have many of the bachelor's degree requirements already completed.
The programs typically take four years. The first two years are usually spent completing general education requirements, like English, math, social studies, science, and psychology courses. These are usually the years a student may also pursue some electives.
The final two years of these BA or BS programs are dedicated to the track or specialization you have chosen. You should expect to complete courses in anatomy and psychology, nutrition, principles of sports medicine, injury evaluation and treatment, culture and diet, and biomechanics. Many programs also require an internship or clinical practicum experience. This is completed in a student's final quarter or semester.
Sports Medicine Master's Degree
Master's programs commonly take 2-3 years. Length of time is dependent on whether a student is part-time or full-time. There are often pre-requisites for these master's degree programs. A bachelor's degree is required; students should have a solid understanding of anatomy and physiology, biology, physiology and nutrition. It is also not uncommon to see a minimum GPA requirement related to the undergraduate education pursued (often 3.0 GPA). Lastly, some programs require professional experience or achievement of certain certifications for their applicants. Make sure you research the specific program you are interested in to ensure you are a qualified and competitive candidate.
Once in a master's program, you should expect your education to grow upon the foundation your bachelor's program built. Common courses include advanced anatomy and physiology, exercise physiology, theories of strength and conditioning, kinesiology, and care, prevention, and rehabilitation of injuries.
Most masters' programs also offer specializations. Courses may differ slightly based on your chosen specialization. Common specializations include kinesiology, strength and conditioning, sports nutrition, human movement and science, and injury prevention.
Sports Medicine Careers
The career options that are available to you are going to be dependent on your level of education and any additional certifications you have completed. The following are some common career paths that may be pursued after the completion of a sports medicine education.
Athletic Trainer
These professionals treat and evaluate athletic injuries. They often work with doctors, coaches, and other care providers to keep an individual or a team healthy. It is not uncommon for athletic trainers to need additional certifications.
Exercise Physiologist
These sports medicine professionals assist patients in injury recovery or chronic disease management. You would expect to be involved in the development of fitness or care plans meant to restore or rehabilitate function.
Personal Trainer/Aerobics/Group Exercise Trainer
These professionals usually work with individuals or small groups to help them meet healthy lifestyle goals. Their focus is often on a healthy combination of exercise and diet in order to gain muscle and/or lose weight. These professionals often have extra certifications (and may not have a bachelor's degree).
Dietitian or Sports Nutritionist
Nutritionists often work in collaboration with the whole care team, working to ensure that one who is injured or ill is meeting their nutritive needs as well as their mobility needs. The professionals are often responsible for developing food plans, diets, and or suggesting supplements. Most do not have prescriptive authority.
Sports Medicine Physician
Sports medicine MDs or Dos have significant specialized training in both illness and injury. Professionals interested in this career should expect 10-12 years of education, training, residency and fellowship. These providers specialize in non-operative management of musculoskeletal issues.
Physical Therapist (PT)
PTs utilize their knowledge of movement to assist those who are sick, acutely or chronically, in order to overcome pain, injury, or illness. This career requires a master's degree and a doctorate of PT. It will also require state licensure. That additional education typically takes another 2-3 years.
Researcher
These professionals often have a Ph.D. They may spend their careers studying ways to enhance sports performance and abilities or the psychology of sports injury and recovery.
 Sports Medicine is a Promising Field
Currently, the Bureau of Labor Statistics reports promising increases in nearly every sports medicine career. From 2018-2028, the job outlook for fitness trainers is expected to increase by 13%, for physical therapists – 22%, for athletic trainers – 19%, and for nutritionists – 11%. Each of these job outlooks is reported to be higher than average. So, if you are still unsure where you want to land in sports medicine, that's okay. Begin working towards that bachelor's degree. You'll likely be very pleased with all of the opportunities available to you once you complete your education.
Laura Mansfield
Master of Healthcare Administration (MHA) | Sacred Heart University
Associate's Degree of Nursing (ADN) | North Seattle Community College
Bachelor of Business Administration (B.B.A.), Marketing, Sales | University of Washington (Seattle)
January 2020
More Articles of Interest: