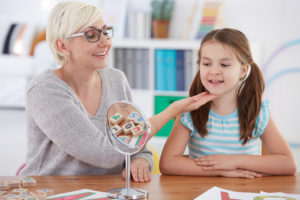 Working in the health care industry can be pretty confusing. While it may seem like the appropriate bachelor's or master's degree should be enough to begin practicing, that isn't always the case. Many clinical health care degrees have both federal licensing and state licensing requirements. This is true for those who want to be a speech therapist or a speech language pathologist (SLP) and navigating the licensing process can feel daunting.
SLP Considerations: Does Your State of Practice Matter?
Let's assume that you've completed all of the nationally mandated requirements for a career as an SLP. You've completed an accredited bachelor's program, a master's program accredited by the Council on Academic Accreditation in Audiology and Speech-Language Pathology (CAA), your supervised clinical experience, your clinical fellowship, and the American Speech-Language-Hearing Association (ASHA) certified Praxis exam. While it's certainly been a long road and you've likely worked extremely hard, there is a good chance you are still not quite ready to practice as a certified SLP.
Each state has different requirements for becoming a certified speech pathologist. While many of the requirements are often similar, there are state-to-state differences that cannot be ignored before searching for a job as an SLP.
State Licensing
ASHA has some great resources for the SLP professional trying to figure out state licensing requirements and licensure information. There is an ASHA state advocacy team that works at both the state and local levels to help SLP professionals and associations; you can find your state's ASHA liaison here.
If you know which state you want to practice in, you can also do some research on your own. Visit this ASHA page to research licensing requirements and helpful persons of contact state-by-state. You'll find resources related to state licensing, teaching requirements, intervention requirements, support personnel requirements, and insurance requirements.
SLP Reciprocity
Because each state has its own legislative system, there are no common licensure requirements for practice as an SLP. While frustrating, this helps ensure that the public is being treated by practitioners who have been thoroughly educated, vetted, and supervised.
Since most states do have relatively uniform licensing requirements, most will accept a license from another state as a temporarily appropriate document until the SLP professional has completed the SLP license reciprocity process in their new state of practice.
State licensure processes typically fall into three categories:
Certificate of Clinical Competence (CCC-SLP) required for practice
Multiple paths to qualify for a license, including acceptance of CCC-SLP without separate review of education and experience
States that don't require the CCC-SLP, but have standards equivalent to the CCC-SLP
This page is an excellent resource for determining which category your current state (or the state you are moving to) falls under. SLP professionals who are moving to a state with the same licensing requirements will likely find the reciprocity process easier.
Most SLP professionals report that giving yourself the appropriate amount of time to transfer your license is the most important part of the process. While some state reciprocity processes take as little as two weeks, some states base their response time on when their SLP state board holds their meetings. You can find a list of approximate state response time frames here.
Potential Additional Certifications for State Licensure
Certificate of Clinical Competence
A CCC-SLP is a nationally recognized professional credential for an SLP. It is also a standard requirement for SLP practice in many states. This credential indicates an individual possesses advanced knowledge, skills and expertise related to SLP practice. It is granted only after rigorous academic and professional standards have been met. This includes:
Possession of Master's or doctorate in SLP
Passing score of 162 (or greater) on the SLP Praxis exam
36-week post-graduate clinical fellowship program
400+ hours of supervised clinical practice (usually achieved in master's or doctorate program)
Typically, a master's or doctorate program is going to help a student achieve the supervised clinical practice requirement. SLP professionals will then need to achieve the Praxis score and complete their fellowships before being allowed to sit for the CC-SLP exam.
Though not always 100% necessary, those who desire an SLP career should strongly consider achieving this certification. 
Teaching Certificate
The U.S. Bureau of Labor Statistics reports that in 2018, 40% of SLPs worked in educational settings. This may occur in state, local, or private practice settings. Many SLP professionals find that their state education board may require additional certifications or requirements before being free to be involved in clinical instruction and education.
Surviving the System
Though it may feel intimidating, licensure requirements are simply a frustrating part of the process for those desiring SLP work or moving their SLP career. Take advantage of the many resources ASHA and other Internet sources have available to assist SLPs in best navigating the occasionally messy system. Professionals who have done their research will likely find that while the process may be time consuming, it isn't too complicated.
Laura Mansfield
Master of Healthcare Administration (MHA) | Sacred Heart University
Associate's Degree of Nursing (ADN) | North Seattle Community College
Bachelor of Business Administration (B.B.A.), Marketing, Sales | University of Washington (Seattle)
January 2020
More Articles of Interest: