The area of nutritional sciences is one that has been rapidly expanding in recent years, particularly as society and medicine continue to acknowledge the extensive relationship between our physical health and our diets. If you have been paying attention to these stories and are interested in a related career, then you have likely looked into a degree in nutritional science.
Those looking to pursue an education in nutritional sciences should be looking at bachelor of science (BS) in nutrition programs. While there are some differences among programs, all nutritional science degrees are focused on exploring and understanding the relationship between human health, nutrition, and medicine.
This knowledge should prepare students for a variety of careers, including a dietitian, personal trainer, caterer, nutrition educator, food safety auditor, or public health nutritionist. Many students also pursue a BS in nutritional science as a pre-health profession degree, going on to medical school or advanced practice health care education.
Nutrition Science Programs
Degree Details
Like most bachelor's degrees, BS in nutrition programs are offered at brick and mortar campuses and online. The programs traditionally take four years to complete (and require 120 credit hours). There are a variety of online programs that are accelerated; students enrolled in these programs may complete their BS in as little as two years.
There are also associate of science (AS) in nutrition programs available. These two-year programs prepare students for entry-level positions in hospitals, medical offices, and public health agencies. Master's of science in nutrition degrees are also available. However, these two-year programs are designed for students who already have a bachelor's degree in life science or physical science.
After completion of general education and pre-nutrition courses (which typically takes two years) most BS nutrition science programs include similar core classes, like nutrition and culture and clinical nutrition. Students can also choose to specialize in four commonly offered concentrations for a nutrition sciences degree: nutrition, dietetics, food studies, and food management. If you can, look for a program that also trains its students in research and analytical methods. This knowledge should well-prepare students for any graduate studies they may choose to pursue later.
Core Classes
Core nutritional science classes are going to extensively explore the relationship between nutrition and the rest of life. These classes will help students answer questions like "What effect does culture play on nutrition?" and "What are the relationships and interactions between physical activity and nutrition?"
Though general education requirements among programs may differ, the core classes are typically similar. These courses focus on human nutrition, clinical nutrition, lifespan nutrition, nutrition and exercise, and nutrition and culture.
Human Nutrition: Advanced human nutrition courses will focus on the impact food has on each system of the body. Absorption, digestion, food storage, and potential food reactions will be thoroughly studied, while students learn to pay attention to the short-term and long-term effect of nutrient choices on body function.
Clinical Nutrition: Clinical nutrition courses take an intimate look at the relationship between food and nutrients and disease process and management. These courses prepare students to work in the clinical environment, giving them right terminology, assessment skills, and food counseling skills. Clinical classes often include case studies, practical examinations, and class exercises.
Lifespan Nutrition: These courses are going to examine how nutrient needs change across one's lifespan. Students will study the infant population to the elderly population.
Nutrition and Exercise: The relationship between nutrition and exercise is studied in both the average individual and professional athletes. Students will look at the interaction between nutrition and varying levels of exercise, as well as ways to improve one's health through their dietary choices.
Nutrition and Culture: Culture courses will look at the role that food plays in daily life. These classes will answer questions about the geography and ethnic histories of food, while also preparing students for healthy food selection, preparation, planning, and safety.
Concentrations
Most nutritional science majors have the option to choose a concentration. The courses for one's chosen concentration are usually completed after general education requirements, electives and core courses have been completed.
Nutrition: Students who want to focus on nutrition will take additional courses in metabolism, cellular nutrition, and therapeutics diets for health and wellness. The focus of this concentration is the interaction between the body and the chemistry of food.
Dietetics: Dietetics focused students are going to spend extra time learning about food and food science. This concentration takes an extensive look at the role of food in society (public/community health), for all humans of all ages.
Food Studies: Food studies majors will be focused on where food comes from, how it's made, and where it goes. These students will be prepared for careers in food systems, food sustainability, food advertising and food advocacy.
Food Management: This major has greater focus on the business side of the food industry. It will include accounting, finance, and leadership course work as it pertains to food service systems. Many students in food management double major in business.
The following image is a sample of expected course work for a nutritional sciences major with a nutrition concentration from The University of Illinois at Chicago. The courses shown are a combination of core courses and concentration courses. The remaining credits (to total 120) would be made up of elective courses and general education courses.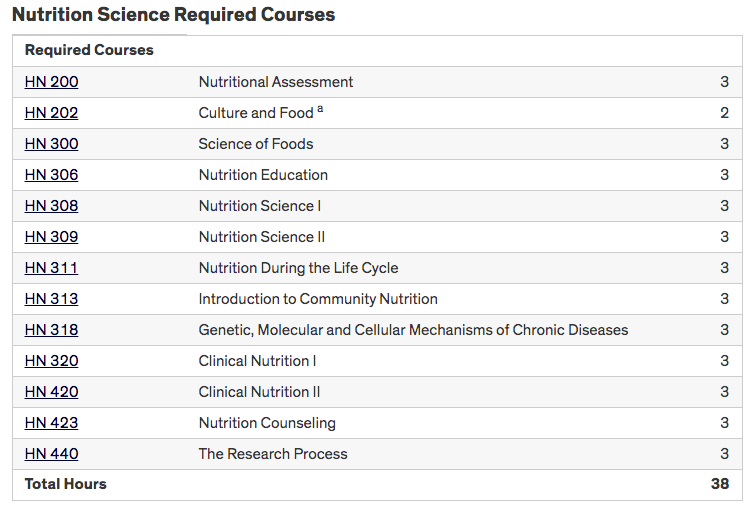 A Future in Food
Without question, the study of nutritional sciences is going to continue to change and evolve as cultures continue to pay more and more attention to the way they fuel their bodies and the effect that fuel has on their lives. We can no longer ignore that we are intimately affected by the choices we make around food. This broad social focus on health, wellness, and longevity is certain to provide many students (and maybe you) with long and fulfilling careers in a dynamically progressing industry.
Laura Mansfield
Master of Healthcare Administration (MHA) | Sacred Heart University
Associate's Degree of Nursing (ADN) | North Seattle Community College
Bachelor of Business Administration (B.B.A.), Marketing, Sales | University of Washington (Seattle)
December  2019
More Articles of Interest: