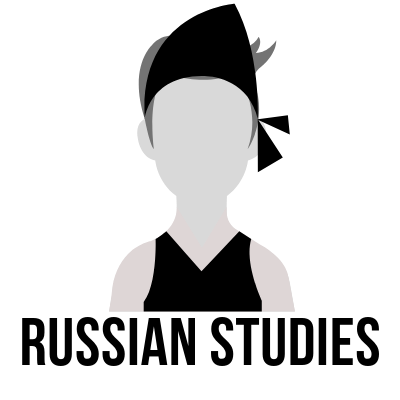 Russia is enormous, both geographically and in terms of population and economy. Russia is politically influential, both historically and currently. The Russian language has historically had a massive role in the classical literature of the Western world, and today makes up a massive part of the world wide web. Russia is complex, with a political and cultural makeup that presents a real challenge for foreigners to understand. When the rest of Eastern Europe is taken into account alongside Russia, you're looking at a region of incredible scale, complexity, power, and influence.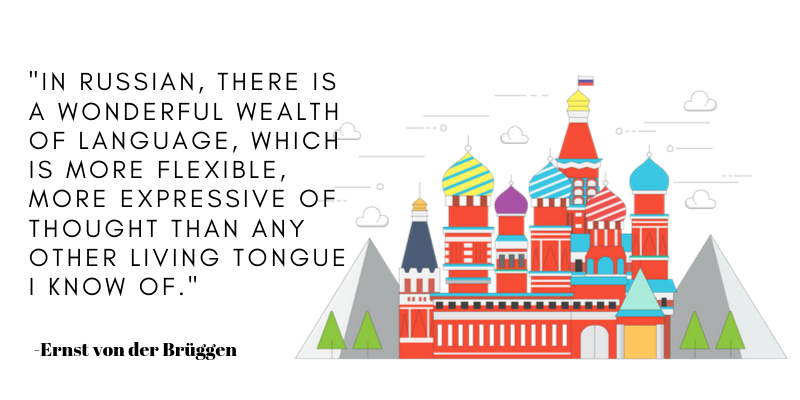 In today's political world, the demand for professionals who understand the Russian language and the culture, history, and political science of Eastern Europe is greater than ever. Eastern Europe has undergone massive changes over the past few decades, and will likely remain an area of great and often turbulent development and change. That means a degree in Russian and Eastern European Studies can open the door to a number of careers doing important work in everything from human rights to international business.
Another compelling reason to study Russian is academic and literary. Great thinkers and creators, including painters, composers, philosophers, poets, and novelists, have emerged from Eastern Europe and written in the Russian language. If you're utterly fascinated by the works of Fyodor Dostoevsky, Alexander Pushkin, Igor Stravinsky, Nikolai Gogol, Andrei Bely, Leo Tolstoy, or Wassily Kandinsky, you may want to dive deeper into the language and culture behind these classics. A degree in Russian and Eastern European Studies provides an in-depth understanding of Russian language, art, and thought.
A degree in Russian and Eastern European Studies can satisfy a deep-seated interest in the language and world of Russia and Eastern Europe, but it's not the right choice for every student. If you're considering pursuing this degree, it's important to familiarize yourself with the scope f study involved, the classes you're likely to take, the degrees that are offered, and the career options that will likely be open to you. Read on to learn the fundamentals of degrees in Russian and East European Studies.
Jump To:
DegreeQuery.com is an advertising-supported site. Featured or trusted partner programs and all school search, finder, or match results are for schools that compensate us. This compensation does not influence our school rankings, resource guides, or other editorially-independent information published on this site.
What is Russian?
If you've ever heard Russian spoken aloud or seen the language written, you've no doubt noticed that this language is drastically different from English. As expected, the two languages have very different origins, and it turns out that they have almost no vocabulary in common, apart from adopted words like "cosmonaut" and "vodka." Russian is part of the Indo-European family of languages, and is one of the four still-living members of the East Slavic language group (the others being Ukrainian, Belarusian, and Rusyn). Written samples of Old East Slavonic (AKA old Russian) are attested from the 10th century onward.
Since the adoption of Christianity, Russian has used the 33-character Cyrillic alphabet as its written form. Today, the widespread international use of English alphabet based keyboards and restrictions related to computing have promoted its Latinization, meaning that Russian words are also often transliterated using the same characters as English.
Between the differences in vocabulary, grammar, pronunciation, and in the written language, Russian presents a real challenge for English speakers. Consider the following ranking of language difficulty for native English speakers, developed by researchers at theDefense Language Institute (DLI)
DLI-ranked Language Difficulty for English Speakers
Level 1: Spanish, French
Level 2: German
Level 3: Russian, Serbian, Slovak, Lithuanian, Slovenian, Croatian, Czech etc.
Level 4: Arabic, Chinese
Russian and other East European languages are designated as "Level 3" in terms of difficulty for native English speakers to learn. This means it is likely to take you about 1,100 hours of full-immersion instruction to gain intermediate level fluency, on par with languages like Malaysian and Indonesian.
Where is Russian Spoken?
Russia isn't just a huge and populous country, it's also an influential one, both historically and currently. All that adds up to a very high number of Russian speakers. In fact, Russian is the most common native language in Europe and has the widest geographic distribution of Eurasia. Some 260 million people worldwide speak Russian. Of these, 137 million live in Russia and are native speakers, while a full 110 million speak Russian as a second langauge. For many years, Russian was the de facto language of the USSR until its dissolved in 1991. Thanks to the influence of the former USSR, the Russian language has a wide distribution in neighboring countries. For this reason, Russian is commonly used as a "lingua franca" (shared language) in Eastern Europe and Central Asia.
Russian is the official language of:
Russia
Belarus
Kazakhstan
Kyrgyzstan
Tajikistan
Russian is also a recognized regional language in: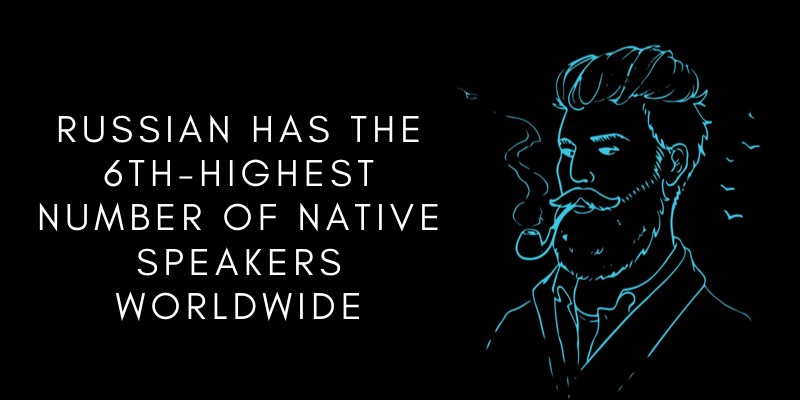 What is Eastern European Studies?
Beyond the Russian language, a degree in Russian usually incorporates Eastern European Studies, also called Slavic Studies. Alongside language courses like Russian, Polish and Czech, an Eastern European Studies/Slavic Studies program will provide students with an understanding of the culture, history, and literature of Eastern Europe. This means students will study the background of a broad region, whose citizens make up no less than a fifth of the world population. These include:
Ukraine
Russia
Belarus
The Caucasus
Central Asia
Hungary
Poland
The Czech Republic
The Slovak Republic
Serbia
Croatia
Montenegro
Slovenia
The Balkans
In Eastern European Studies classes, you may learn about the cinema and music of various Slavic nations, study the impact of the historical events like unification and the Cold War, learn about folk customs and religious traditions, and even read Eastern European literature in its original language.
What Classes Will I take for a Degree in Russian and East European Studies?
All schools offering this degree have the same goal: prepare students to speak Russian and to understand the history and culture of the greater region of Eastern Europe. Yet the curriculum for individual schools offering a degree in Russian and East European Studies can be surprisingly different. To an extent, this reflects the different course titles applied to classes with comparable content, but another big part of the overall difference in curriculums is a matter of focus. Some schools place more emphasis on the study of Russian language and history, for instance, while other schools look more broadly at the whole eastern European region. Some schools focus more on teaching students language, while others spent a greater amount of time on culture and literature.
In general, you can expect to see Russian Language and Culture class offerings with titles such as:
Elementary Bosnian/Croatian/Serbian
Intro to Hungarian
Intro to Polish
Elementary Ukrainian
Oral and Written Russian
Russian Literature
Russian for Business
Classical and Modern Russian Thought
Putin's Russia: After Communism
Cinema and Socialism in the Soviet Union and Eastern Europe
Intermediate Russian
Yiddish Literature and Culture
Modern Russian Grammar and Syntax
Will I Study Abroad for a Degree in Russian?
Almost everyone wants to study abroad, whether they major in a foreign language or a totally unrelated field. According to the American Council on Education about 75% of US undergraduates say they are interested in studying abroad. But according to the Open Doors Report on International Educational Exchange, only about 10% of students actually study abroad. Those that don't study abroad usually say cost is their reason for opting out; the International Institute of Educationhas found that the average cost of studying abroad is $18,000 per semester, or $36,000 per academic year. Of course, the price tag is significantly lower in countries with low cost-of-living like Poland and Russia versus notoriously expensive countries like Italy and Japan. But the expense associated with studying abroad can still be a barrier for many students, so degree programs in Russian and East European Studies tend to make studying abroad a strong recommendation instead of a requirement.
While it's possible to earn a degree in Russian and Eastern European Studies without going abroad for your studies, doing so is a great idea for a number of reasons. First, the experience of full language immersion can speed up your rate of learning tremendously. This is especially important in the case of challenging languages like Russian and other Eastern European languages, which can take years to learn in a classroom setting within an English speaking country. You'll also learn and practice the everyday language real people use to communicate in a variety of settings, and gain practical communication experience.
Another reason to study abroad is cultural exposure. By living among citizens of Russia, the Czech Republic, Hungary, or another Eastern European nation, you'll learn about their society, customs, beliefs, and values firsthand. You'll also have the opportunity to visit historic sites, museums, concerts, celebrations, and other settings of cultural importance. This authentic experience is impossible to replicate in a classroom setting, and can give you a deep sense of the region's character. In today's global marketplace and political climate, being able to demonstrate your intercultural competence and personal adaptability is an important asset.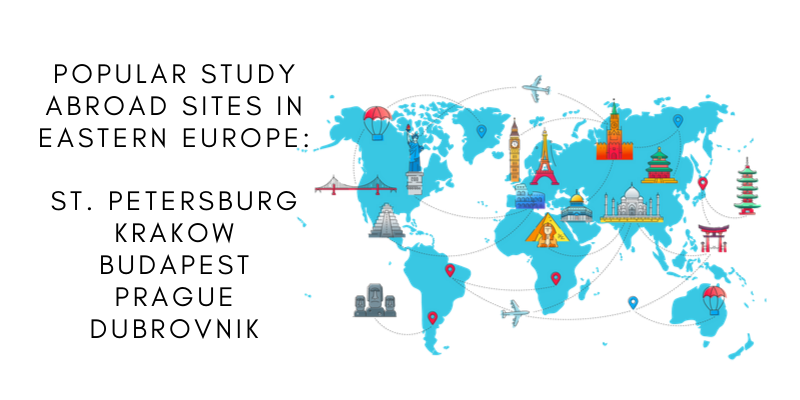 Eastern Europe is a large region made up of many countries, and during a study abroad semester or year, you will likely be able to visit multiple cities in multiple countries, as well as exploring smaller villages in more rustic and remote areas. This can enhance your understanding of different parts of the region, as well as the relationship between these different but interconnected places.
What Can I do with a Bachelor's in Russian?
Russian and Eastern European Studies is a fascinating but challenging major; the language is tricky for English speakers to learn and the region's culture and history are complex. So while some language majors like Spanish or French are offered in the US as associates degrees, you won't find degrees in Russian and Eastern European Studies offered at the associate's level. To learn the fundamentals of language and culture for this part of the world, you'll need to earn a bachelor's in Russian and Eastern European Studies.
This undergraduate degree takes four years to earn and usually consists of 120 credits total, which works out to about 40 courses. Foreign languages like Russian are considered liberal arts disciplines, which means that an associate's in Russian and Eastern European Studies is awarded as a Bachelor of Arts (BA) degree instead of a Bachelor of Science (BS). BS degrees are professional degrees, in which all or nearly all classes are in the student's major. A BA, on the other hand, includes a large number of general education requirements. The goal of a general education core is to produce well-rounded graduates, and core classes are spread throughout a range of disciplines like Behavioral Sciences, Social Sciences, and Humanities. About half the credits of a typical BA are general education core classes, with the remainder in the major. This means you can expect to take general ed courses like Developmental Psych and Geology alongside Slavic Studies courses like Modern Russian Literature and Intro to Polish.
After four years of studying Russian, you may not have full language fluency, especially considering how challenging this language is for native English speakers to learn. But you'll have enough Russian conversation, reading, and writing skills for everyday communication, as well as strong cultural competency. These foundational language skills should be enough to allow you to live and work abroad, doing work like teaching English to native speakers of Russian or other Eastern European languages. Other options include:
International business
Global development
Education
Diplomacy
The nonprofit sector
Hospitality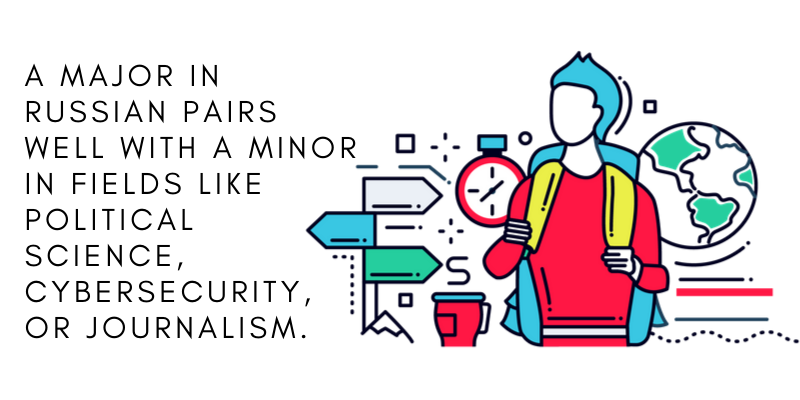 Many people also earn a bachelor's in Russian and Eastern European Studies before pursuing an advanced degree in a field like Law or Business. With the critical role this region plays in world affairs, Russian and Eastern European studies also pairs well with other ares of study as a double major or as a minor. You may wish to consider pairing studies in this subject with studies in a subject like:
Cybersecurity
Business
Global Affairs
Journalism
Political Science
What Can I do with a Master's in Russian?
A master's in Russian and Eastern European Studies can prepare you for more advanced careers in international fields or a future in academia. A master's in Russian and East European Studies is a multidisciplinary degree that weaves together courses on the complex cultural, economic, social, political and historical aspects of the region, alongside advanced classes in Russian and other Eastern European languages.
Students at the graduate level typically work with an advisor to develop their own course of study tailored to their interests that meets their school's degree requirements, though some schools do follow a more structured format. In a flexible graduate degree program, you may choose to focus on an area like Polish Language and Literature, Czech Language and Cinema, or Russian Language and History.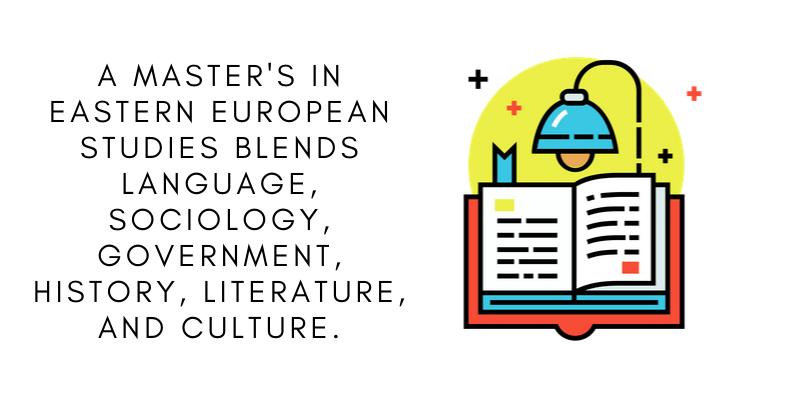 Students do not need to hold a bachelor's in Russian and East European Studios to earn a master's in this field, but will need to demonstrate language competency through testing and satisfy program prerequisites. If you hold a bachelor's in a different discipline, such as comparative literature, history, or linguistics, you'll probably need to take additional classes in Russian language, literature, and history before beginning a master's program in this field. A master's degree traditionally takes two years to complete on a full-time basis, and usually consists of 36 credits. Most master's degree programs require students to complete a capstone course and research-based or project-based thesis. The goal of the capstone and thesis is to integrate all of a student's prior learning into a culminating academic project. In many schools, students must also present their thesis before a panel of student peers and department faculty before graduating.
A master's in Russian can open the door to higher-level careers in international fields, from private businesses, to nonprofit agencies, to journalism, to government. Graduates can have an impact in areas like immigration, foreign relations, human rights, and development, as well as performing translation for literature or publications. A master's in Russian and East European Studies can also form the basis for careers in translation, research and education. Those who want to teach Russian can do so at the college level with a master's degree in Russian and East European studies as an associate professor. However, most post-secondary schools give preference to job candidates with a PhD, so students who are interested in professorship may wish to continue in their studies after earning their master's.
What Can I do with a PhD in Russian?
If you're interested in deeply understanding an area of East European Language or Slavic Studies, a postgraduate doctoral degree is the way to go. As we've noted, a PhD in Russian and East European Studies is the best degree for those interested in a future in research and academia, or who wish to become top experts in a particular aspect of East European linguistics, philology, literature, sociology, history, or politics.
Very few people in America hold a PhD in Russian and East European Studies. PhDs are generally long, difficult, and expensive degrees, and this particular subject is one of the less common disciplines in which to earn one. According to census data, about 2% of Americans have a PhD, and only a very small percentage of these hold a PhD in Russian and East European Studies. This means that those who do opt to earn a PhD in Russian and East European Studies will be among a small and elite group of experts who are uniquely qualified to conduct research, provide high-level instruction, give insights into current affairs, and contribute to progress in international issues.
To earn a PhD in Russian, you'll need to complete an original thesis in a particular aspect of Russian or East European Studies which offers a significant new contribution to the body of knowledge in that particular subject. This will necessarily be a highly specific niche area of research, which you will select with input from a department thesis advisor provided by your graduate school. You'll conduct a literature review, surveying the current scholarship in your thesis area, then spend several years conducting research in this field, and analyzing your results. Next, you'll write a scholarly thesis to present your findings, submit it as a dissertation, and defend your dissertation before an expert panel. The entire process can take between two and seven years, though some people take as many as nine. When you've completed your PhD, you'll have earned a terminal degree, and achieved the highest possible level of education in the field.
A PhD in Russian and East European Studies can lead to high-level careers in any of the fields discussed above, such as foreign policy, literature translation, or international business. But it is more common for those with a PhD to find work in academia. With a PhD in Russian and Eastern European Studies, you'll be able to apply for full professorship in a college or university, including tenure-track positions. You can expect to teach classes, conduct and publish research, and perform duties within a school's department of Slavic Studies. You may also become involved in Eastern Europe study abroad programming. Such positions tend to be few and far between, however, and you may need to be prepared to take a different job, such as associate professor or translator, while waiting for one to open up. It will also help your job prospects if you're willing to relocate. Those who do become professors tend to find their jobs highly rewarding. Positions such as Professor of Russian allow a high level of personal satisfaction and intellectual freedom; you'll be able to study and teach on your topics of greatest interest and act as a mentor to students.
Further Reading: